---
equidaily.com: Opinion
www.equidaily.com
---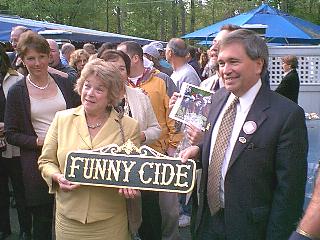 Jump on the Funny Cide bandwagon!
This ride is too good for racing -- and racing fans -- to miss
---
6/5/03 While the majority of racing fans are looking forward to Saturday and rooting heartily for the next Triple Crown winner -- a cursory perusal across some of the internet fan forums shows that there are still holdouts. Some folks just refuse to join the revelry in what is clearly one of the best racing stories to come around in years. To them I can only say, jump onboard the bandwagon, it's not too late!

I'll be the first to say that this year's 3YO class is still mostly unproven. The year started with the top three 2YO's from last season, Toccet, Vindication, and Sky Mesa, serving extended bench-time and none of the trio has entered the starting gate up to this point in 2003. But while those that remained, and those that developed as this season progressed, have shown flashes of talent, no individuals stepped forward prior to the Triple Crown to really make a claim for the crown of "top dog". Therefore we're really going to have to wait until late summer and into the fall to get a firm handle on just how good this crop is that Funny Cide has beaten in the Kentucky Derby and Preakness.

That said, his feat will still be worthy of respect if he can manage to win the Belmont this weekend. Last year I was siding with those rooting against War Emblem. I thought his one-dimensional running style left him very vulnerable in the event things didn't set up just his way. That turned out to be true as the year progressed. On the other hand Funny Cide looks like the real deal. As I say, the Triple Crown itself might not elevate him to greatness -- we'll have to wait and see how the rest of the year plays out -- but it seems clear he has enough talent to make his own breaks and I expect him to be a contender most times he steps on the track from here on out, as long as he stays healthy.

However, the reason I'm on the Funny Cide bandwagon goes way beyond the horse itself -- I'm there because this is one for the rest of us... All of us fans who for years have perhaps invested a modest sum in a racehorse, or who dream of someday getting a group of family and friends together and buying a thoroughbred. If you're a fan of the game that thought has crossed your mind at some point.

And this one is for us. We can all root vicariously through the members of Sackatoga Stable -- the group of partners that owns Funny Cide. Even if you cheered for War Emblem to get the job done last year the fervor just wasn't the same. It's hard to identify with a prince who can decide a month before the Derby to write a million dollar check and buy himself a contender.

Similarly, Bob and Beverly Lewis seem like very nice people -- but again, they're playing the game at a different level than most of us can aspire to. So we might have been pulling for Silver Charm but it just wasn't the same as it will be this weekend.

This year we're rooting for a group of guys who are just like us. The partnership includes a school teacher, a caterer and some retirees among the ten participants -- and while none is a pauper, they're pretty much middle-class guys who were just hoping to have some fun. Their goal wasn't to win the Triple Crown, it was simply to perhaps someday be able to get their picture taken in the winner's circle at Saratoga after winning a state-bred race.

Jack Knowlton is the managing partner of Sackatoga. He got into the game about twenty years ago by partnering up with a couple of other guys and paying $2500 for a harness horse.Then about eight years ago Jack convinced some old high-school buddies and a couple more friends to form Sackatoga Stables. They invested $5000 each.

Fast-forward to this week. That original $5000 investment has morphed into shares in Funny Cide. The Derby-Preakness winner has bankrolled $1.8 million so far in his career. A win on Saturday -- with the purse from the Belmont plus a Triple Crown bonus -- will add over $5.5 million to that total. These guys are living the dream.

From a partner on a $2500 trotter, to a $5000 per share partnership, to being a race away from collecting a life-changing pot of money. If you're a fan you've had the dream -- and these guys are living it.

Let's face it, if the Saudi prince had won last year, or the Lewis' in '97 or '99, well, they would have been thrilled, racing fans would have been excited -- but ultimately, for those owners, it's just another trophy on the mantle. Not to make light of the accomplishment or how much they would have enjoyed it, but Thoroughbred Corp for instance earned over $8 million in 2001. The bottom line for the partners of Sackatoga is a little closer to yours and mine and, for us, turning $5000 into a few hundred thousand is tantamount to hitting the lottery.

And realistically this is their shot. Sure, they can probably buy a few nice horse with a portion of their winnings -- but they still won't have the firepower to follow up Point Given with War Emblem. They would really need lightning to strike twice. And that doesn't happen often.

While they probably have a shot a some big purses down the road with Funny Cide, the Belmont with the Triple Crown bonus is the biggest single payday they'll encounter -- and it's played on the most public stage they'll ever be on because of the media hype surrounding the series.

So I'm onboard. I'm rooting for these guys to bring it home for all of us. A group of guys who couldn't afford a chartered bus to take them from their hotel to Churchill Downs so they rented a school bus instead. A group of guys who donated Funny Cide items to a charity event in Saratoga this week. A group of guys who have been loyal to trainer and jock throughout Funny Cide's eight-race career -- which included a three-race losing streak to begin this year. A group of guys who are having the time of their lives and sharing it tirelessly with the media in a way that is portraying the sport in the best light possible -- on mainstream media outlets that might otherwise have little interest in horse racing.

And PS, a note on an internet forum over the weekend said that a couple of the Sackatoga partners were spotted at the Saratoga Equine Center (that's the glitzy name for "the harness track" in town) doing what they usually do on the weekend -- enjoying the simulcast races with the rest of the 'regular Joe's".

Hop on the bandwagon and enjoy the ride -- it's not too late.

---
equidaily.com
| | |
| --- | --- |
| | Note: Pages on this site are labeled with the equidaily.com logo. Some links are for information only and lead to pages at other sites. equidaily.com is responsible only for the pages on this site. equidaily.com assumes no responsibility for errors or omissions. Always check with official sources to verify info. |
E-mail any questions, comments, or suggestions:

Copyright 2003 Twosprings Productions
---