Racing news from across the country and around the globe
---
www.equidaily.com
---

The fans speak!
---
Our occasional trip around the internet to sample some of the topics and opinions being discussed
---
2004 New Orlean Handicap
Fans cry, "Foul!"
---
2/29/04... The 2004 G2 $500K New Orleans Handicap at Fair Grounds ended in controversy Sunday.

From The Bloodhorse: "Peace Rules proved to be the toughest in Sunday's controversial Fair Grounds rodeo... In the first mishap, Peace Rules broke quickly while attempting to clear the field and get position at the rail before entering the first turn. It appeared Peace Rules may have cut it a little close and Saint Liam, in tight, failed to negotiate the turn cleanly while averting clipping heels, colliding with Sir Cherokee, who was carried out and banged Ten Most Wanted off stride and extremely wide... But after reviewing the stretch run, in which there was considerable bumping, as well as [the] chain reaction incident heading into the first turn that all but eliminated Sir Cherokee and Ten Most Wanted, there was no change to original order of finish."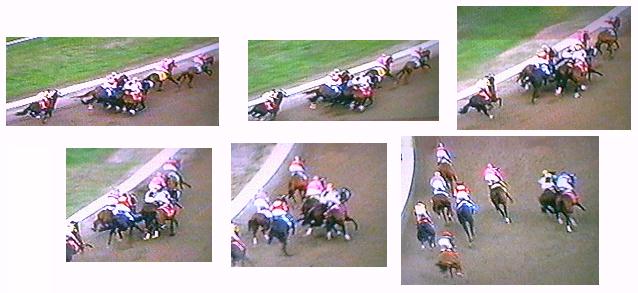 Peace Rules with Jerry Bailey leads into the first turn. Saint Liam and Edgar Prado are just behind (pink silks, yellow saddle cloth). As they reach the turn Peace Rules moves to the rail and Saint Liam appears to react to that and ducks out -- causing a chain reaction which sends Ten Most Wanted widest of all.

Racing fans across the internet focused on the incident on the first turn and many seemed upset that the Fair Grounds stewards took no action...
I thought PEACE RULES should have been DQ'D. Didn't bet the race so I think I can be objective. Do you think it might have anything to do with the BAILEY/FRANKEL connection? Hey, did you ever see MICHAEL JORDAN foul out of an NBA game?
When's the last time Bailey was taken down on an inquiry or objection? When is the last time he served a riding suspension?
No question that Peace Rules should have come down, IMO. I had Saint Laim, so I am biased. But, also Corey Black on TVG was all over the race before the inquiry sign went up. There appears to be two fouls, on the clubhouse turn when PR was not clear when he cut over and down the stretch when Bailey switched stick hands. SL did appear to come back in contact with PR in the stretch after PR initiated contact. The head on was never shown so can't tell.
St. Liam made contact with Sir Cherokee causing the chain reaction that sent TMW toward the parking lot. It appeared that to me that the move by PR caused SL to take a check step or two. Bailey did look back, but after he had started his move to the rail.
One of the Fair Grounds three stewards is William Hartack who has 5 Kentucky Derbies wins as a jockey. I think he knows what he is looking at, having been there many times himself.
My initial reaction was my usual (ask my kids) yelling "days for Bailey" at the TV. Upon calmer reflection, I dunno. It certainly was a rather aggressive ride, to say the least.
Anybody but Frankel and Bailey and the horse would have been DQ'd before he got back to the circle. Think Bobby is shipping in his stable of stars if he gets DQ'd in a big race?
I saw the race on TVG and thought that it was too close to call into the first turn.
Terrible call by the stewards. Peace Rules should've definitely come down, placed back as far as behind Ten Most Wanted possibly. Very bad call.
Don't you think Pat Day caused some of the problems inside of him, prior to the incident with Peace Rules crossing over in front of Saint Liam? I loved Corey Black's comments and agree with everything he said. PR was not clear of Saint Liam, first of all, and Pat Day was all over poor Sir Cherokee.
In my humble view, it looked like Jerry B. and Peace Rules was trying to put Edgar P. and Saint Liam into the turf course going into the 1st turn!
I've watched [the replay] over and over again, and Peace Rules was well clear of Saint Liam, who ducked out a little, which made Sir Cherokee duck out a LOT. Peace Rules had nothing to do with that commotion.
It pays to be Bailey and Frankel, the #5 Peace Rules SHOULD have been D'Q'd twice!
Took long enough to post 'official,' I thought there would be a change.... BS...
That's what I said - a very strange race. Don't know what the stewards are on.
This is what I don't understand: NEITHER Peace Rules NOR Saint Liam were disqualified for what happened to their competitors on the first turn. How can this POSSIBLY be???
Folks its like the Yankees, Bailey and Frankel have a different set of standards.
Bailey looked and still came over, what the hell was that?
Robbery in broad daylight. If you can't take down a horse for that why ever take one down?
Prior to the clubhouse turn, Sir Cherokee, who was between horses, and Ten Most Wanted, were already bumping each other. I'm sure the stewards saw that and used it as the reason for Sir Cherokee blowing the turn and taking out Ten Most Wanted.
Sir Cherokee did not blow the turn, he was knocked off stride by St Liam.
The whole incident to me appeared to be caused by Peace Rules and st Liam. I think they should have come down.
When horses get knocked off stride that much, when all are going into a corner like that, there needs to be some sort of ruling on which horse fouled who.
---
equidaily.com
| | |
| --- | --- |
| | Note: Pages on this site are labeled with the equidaily.com logo. Some links are for information only and lead to pages at other sites. equidaily.com is responsible only for the pages on this site. equidaily.com assumes no responsibility for errors or omissions. Always check with official sources to verify info. |
E-mail any questions, comments, or suggestions:

Copyright 2003 Twosprings Productions
---