Sun results: Ben's Duchess closes to win G3 $100K LA Woman
Sat results: Wild Dude rallies late to claim G1 $300K SA Sprint
Sat results: No Silent best in G3 $100K Eddie D

---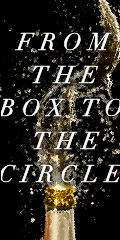 ---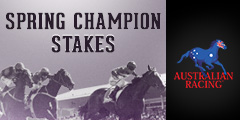 ---
AUS: Preview of this week's action - including Caulfield Guineas Day from Caulfield
Stepitup blitzes rivals in G1 Kranji Mile in Singapore
Weekend feature winners receive Caulfield and Melbourne Cup penalties
Sat results: Magic Hurricane wins G1 The Metropolitan at Randwick... Caps big day for Godolphin
Sat results: Winx overcomes trouble to score in G1 Epsom Hcp at Randwick

---
Current forecasts for N American tracks
---
Racetrack abbreviation codes
---
[AUS] FOXSPORTS.AU
[AUS] RACING AND SPORTS
[AUS] SMH.COM.AU
[AUS/NZ] THOROUGHBRED NEWS
[AUS] VIRTUAL FORM GUIDE
[ASIA] S CHINA MORNING POST
BALTIMORE SUN
BLOOD HORSE
CBS.SPORTSLINE
CHICAGO SUN-TIMES
DAILY RACING FORM
ESPN
FOX SPORTS
FRANCE GALOP
[JAPAN] HORSERACING IN JAPAN
KENTUCKY.COM
LA TIMES
LOUISVILLE COURIER JOURNAL
MIAMI HERALD
MSNBC
NY DAILY NEWS
NY POST
NY TIMES
THE RACING BIZ [Mid-Atlantic region]
SEATTLE TIMES
SIGNONSANDIEGO.COM
SINGAPORE TURF CLUB
SOUTH AFRICAN HORSERACING
THISISHORSERACING.COM
ThoroughbredRacing.com
TIMES PICAYUNE
[U.K.] BBC
[U.K.] GUARDIAN
[U.K.] RACING POST
[U.K.] SPORTINGLIFE.COM
[U.K.] TELEGRAPH
[U.K.] TIMES
USA TODAY
WASHINGTON POST

Stallion Eskendereya sold to Japan
---
Jockey killed at race after fall in Czech Republic
---
Latest weekly NTRA poll: No change
---
Keeneland ready for historic fall meet
---
Closer look at Keeneland's opening weekend
---
Curry: Sixteen reasons to love Keeneland
---
HBPA editorial: 'Guilty Until Proven Innocent'... Spelling out the issues of the strict standard that trainers are held to for drug positives and overages of therapeutic medication in this era of increasingly sensitive drug testing
---
Illinois: Racing Board approves consolidation plan
---
Rees: A reminder of Illinois' racing decline
---
West: In Texas, even the mess is big
---
Bloodhorse comment: Big step backward - racing looks on warily as some state's take greedy look at slots $$$
---
Midwest Thoroughbreds honcho says shift in focus "is about finding other jobs for all these horses after racing. It's overwhelming, it's like having a full time job. There are only so many hours in a day."
---
White: Updated Top 100 of the 20th and 21st Centuries to have raced in North America
---
Plonk: What to watch in final BC preps
---
Baffert scores on ESPN with college football picks!
---
Is legalized pari-mutuel betting on horses in Georgia nearing the starting gate?
---
Ky: Random number generator raises questions on legality of Instant Racing machines
---
Nebraska: Group wants to legalize casino gambling at state's tracks
---
Monmouth meet holds up in face of competition
---
Churchill meet recap: Lanerie top jock... Asmussen and Romans tie for top trainer
---
Woman from Saratoga Springs named to NYRA board
---
New NYRA board member outlines priorities
---
Lexington Herald-Leader: At the Red Mile, horse racing evolves into something that looks like a casino
---
Rees: Runhappy races improbable track to stardom
---
Racing Post: Beholder mirrors Zenyatta in Classic prep
---
The real globetrotters: 10 of the world's best travelling racehorses... Some of those horses who have come to prominence for their global antics over the last 25 years
---
UPI weekend stakes recaps
---
7% takeout turns off bettors?? -- apparently for slots players!... Casino gamblers appear to be shunning stingier slot machines that don't offer as many payouts
---
Mission accomplished??? Singapore racing explains away discontinuation of two big money international stakes by saying, "the objectives set out for the two races have been achieved."
---
Bayern retired
---
Take Charge Brandi retired
---
The Big Beast shut down until 2016
---
International: Solow set for QEII at Ascot after public work on Monday in France
---
Sidelined Toast Of New York looks set to be better than ever next season
---
VIDEO: Bloomberg scribe visits the Keeneland Sept Sale
---
Keeneland Sept Sale yield strong results
---
Jess's Dream, Rachel Alexandra's son and a remarkable debut winner at Saratoga, to miss the rest of 2015
---
Dwyre: American Pharoah vs Secretariat: Breeders' Cup Classic is legacy race
---
Pa. House addresses race horse industry 'in jeopardy'
---
Prix de l'Arc de Triomphe: Historic Longchamp bets on futuristic $145M grandstand
---
Secret Gesture team fail in Beverly D appeal
---
Meanwhile, Brit authorities overturn St Leger DQ
---
...VIDEO: Stewards' post-race interviews with St Leger jocks
---
Toby Keith and race horses... "Racing is my hobby. I'm infatuated with the whole thing."
---
Jumps: Bob Le Beau Eclipse front runner after winning last Thur's G1 Lonesome Glory at BEL
---
Vespe: Graded stakes, country racing, and Virginia's future
---
Jock Victor Espinoza eliminated from ABC's 'Dancing With the Stars'
---
Road trip to visit California Chrome
---
History of Aksarben: Agriculture and community service, with hockey and horse racing in between
---
History: How a little cotton wool put supermare Shuvee on the path to greatness
---
Yeesh! Drunk Brit race fans arrested after breaking into jock's room and assaulting a rider and valet
---
Montana: State legislator wants horse racing back at the Missoula fair... "There's been such an outpouring of support, it's just amazing."
---
Photo gallery: Saturday at Belmont
---
Turfway, Ellis Park join Aftercare Alliance
---
Film review: AP McCoy bio 'Being AP' - a fitfully insightful sports doc that's as much about the trials of winning as the triumph
---
Training and breeding: rare insights from Criquette Head-Maarek
---
Story of the family that has won the Arc one year in every six
---
Empire Maker coming home to Kentucky
---
Sat preview/international: Cirrus Des Aigles aims for Prix Dollar at Longchamp
---
94YO trainer ponders Breeders' Cup for filly sprinter
---
Gulfstream's Rainbow 6 hit for $130K on Sunday
---
California Chrome back to Sherman next month
---
UK: High quality contingent prepare to travel to Australia for the Mel Cup
---
Albuquerque Downs offering more than $1mil in purses on final weekend, "This weekend will be the richest in the history racing here in Albuquerque, and our history dates back to 1938."
---
New York adopts rule to limit use of NSAIDs
---
Sun results: Shotgun Kowboy takesG3 $400K Oklahoma Derby at Remington
---
Sulky side: Wiggle It Jiggleit wins epic stretch duel to capture Little Brown Jug [with VIDEO REPLAY]
---
Sun results: Heavy favorite Gold Rush Dancer wins $65K Gottstein Futurity at Emerald Downs
---
Del Mar prez/CEO Harper addresses lagging numbers, "We have to find out what is bugging our patrons."
---
Cronley: "What could horse racing learn from fantasy football? How to market. Horse race tracks have forgotten how to make the fan feel special."
---
Canterbury Park bucks national downward trend in horse racing... The track wound up its season Saturday with upticks showing in all the right places
---
Santa Anita offers horse racing fans diverse lineup for Autumn Meet
---
White: "The Super Derby, sad to say, no longer is super."
---
Veitch: The 2015 Saratoga all-stars... Here are my selections of the best of the best
---
Scott: Four horses to keep tabs on this fall
---
Bev D DQ appeal begins Wed... Cauthen to appear as expert witness
---
American Pharoah puts in first post-Travers work on Mon morn
---
American Pharoah remains highest rated Dirt horse [2nd overall] in weekly Racing Post Rankings
---
Scribe labels horse racing handicapper as "the least stressful job in the world ... Who knew you could make a living being wrong most of the time?"
---
Jock Watch: Up-and-comer Flavien Prat better after horrific spill at LosAl on Thurs
---
Nahill: Prat's presence will be missed
---
Trainer Watch: Wayne Lukas gets interim pacemaker
---
Brilliant Orfevre joins Japan's Hall of Fame
---
Plonk: Beholder to BC Classic - "That's awfully sporting."
---
Nadeau: A fantasy morning line for the Breeders' Cup Classic
---
SoCal racing scribe Wilson's list of Top Ten most memorable races... "Any favorites list has to be influenced some by the heart..."
---
Joy and sadness for I'm a Chatterbox connections
---
Virginia: Six days of racing - two flat, four harness - set for 'Virginia Downs' at Great Meadow
---
Horse racing Hong Kong-style still a long way off for mainland China
---
Delaware horsemen cautiously hopeful for racing circuit
---
3YO Watch: Texas Red sidelined with bone bruise
---
9YO Md-bred millionaire Eighttofasttocatch transitions to new career
---
Riding legend Willie Carson: now he's a breeder with the Arc in his sights
---
Bidding to get the latest equine health information to those who need it most
---
366 cataloged for F-T Fall Sale in Saratoga on Oct 26
---
Ky: The Red Mile unveils new renovations
---
Churchill, Grayson-JC fund Lasix studies
---
Sulky side: Prices up 43 percent at the Morrisville Yearling Sale
---
Treve Vermeille victory better than first thought
---
AUS: Nine year ban for trainer guilty of cobalt offences
---
Eng: High takeouts at Pennsylvania track hurts horseplayers
---
Nebraska: Mike Newlin tabbed as VP/GM at Horsemen's Park
---
VIDEO: Smaller venues / Lcal TV news covers return of racing to central Wyoming Fairgrounds
---
Sheikh Mohammed's eldest son dies at age 33
---
Jock Watch: Kieren Fallon back in Britain after US stint
---
...Equibase stats: Kieren Fallon
---
University of Arizona offers $10,000 as part of a contest to encourage new ideas and technologies to improve the horse racing industry
---
Aidan O'Brien considers two for MelCup
---
Karakontie seeking Breeders' Cup Mile repeat at Keeneland
---
Collegiate horse race: Oxford-Cambridge set to square off again... All the riders are current students at Britain's two top universities and many of them had never ridden a racehorse before training for this race began in the spring
---
TCA announces 'Pharoah'-themed fundraiser
---
Wed preview: $34K P6 carryover
---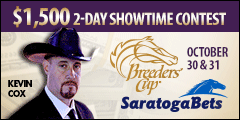 ---
---
Sat results: Esoterique takes G1 Sun Chariot at Newmarket
---
MISCELLANEOUS INDEX:
Where we put things that don't fit into any of the other index categories
---
Track visit/reviews
---
THE FANS SPEAK:
Where we occasionally search the web to explore various discussions and topics
---
OPINION:
equidaily.com's occasional thoughts on various topics regarding the horse racing game

---
equidaily.com's Coast-to-coast
---
Saratoga's Best Bets
---
Click here to e-mail any questions, comments, or suggestions to equidaily.com
---
AQUEDUCT, Jamaica, NY
ARAPAHOE PARK, Aurora, CO
ARLINGTON PARK, Arlington Heights, IL
ASSINIBOIA DOWNS, Winnipeg, Manitoba
BELMONT, Elmont, NY
BELTERRA PARK, Cincinnati, OH
BEULAH PARK, Grove City, OH
CALDER, Miami, FL
CALIFORNIA FAIRS, CA
CANTERBURY PARK, Shakopee, MN
CHARLES TOWN, Charles Town, WV
CHURCHILL DOWNS, Louisville, KY
COLONIAL DOWNS, New Kent, VA
DELAWARE PARK, Wilmington, DE
DEL MAR, Del Mar, CA
DELTA DOWNS, Vinton, LA
DOWNS AT ALBUQUERQUE, Albuquerque, NM
ELLIS PARK, Henderson, KY
EMERALD DOWNS, Auburn, WA
EVANGELINE DOWNS, Opelousas, LA
FAIR GROUNDS, New Orleans, LA
FAIR MEADOWS, Tulsa, OK
FAIRMOUNT PARK, Collinsville, IL
FAIRPLEX, Pomona, CA
FINGER LAKES, Farmington, NY
FORT ERIE, Fort Erie, Ontario
GOLDEN GATE, Albany, CA
GREAT LAKES DOWNS, Muskegon, MI
GULFSTREAM PARK, Hallandale, FL
HASTINGS PARK, Vancouver, BC
HIALEAH PARK, Hialeah, FL
HAWTHORNE RACE COURSE, Cicero, IL
HOLLYWOOD PARK, Inglewood, CA
HOOSIER PARK, Anderson, IN
INDIANA DOWNS, Shelbyville, IN
KEENELAND, Lexington, KY
KENTUCKY DOWNS, Franklin, KY
LAUREL PARK, Laurel, MD
LONE STAR PARK, Grand Prairie, TX
LOUISIANA DOWNS, Bossier City, LA
Los Alamitos, Los Alamitos, CA
MAHONING VALLEY, Youngstown, OH
MARQUIS DOWNS, Saskatoon, Saskatchewan
MEADOWLANDS, E Rutherford, NJ
MONMOUTH PARK, Oceanport, NJ
MOUNTAINEER, Chester, WV
NORTHLANDS PARK, Edmonton, Alberta
OAKLAWN PARK, Hot Springs, AR
PENN NATIONAL, Grantville, PA
PARX, Bensalem, PA
PIMLICO, Baltimore, MD
PINNACLE RACE COURSE, New Boston, MI
PORTLAND MEADOWS, Portland, OR
PRAIRIE MEADOWS, Des Moines, IA
PRESQUE ISLE DOWNS, Erie, PA
REMINGTON PARK, Oklahoma City, OK
RETAMA PARK, San Antonio, TX
RIVER DOWNS, Cincinnati, OH
ROCKINGHAM PARK, Salem, NH
RUIDOSO DOWNS, Ruidoso Downs, NM
SAM HOUSTON, Houston, TX
SANTA ANITA, Arcadia, CA
SARATOGA, Saratoga Springs, NY
STAMPEDE PARK, Calgary, Alberta
SUFFOLK DOWNS, Boston, MA
SUNLAND PARK, Sunland Park, NM
SUNRAY PARK, Farmington, NM
TAMPA BAY DOWNS, Tampa, FL
THISTLEDOWN, Cleveland, OH
TURF PARADISE, Phoenix, AZ
TURFWAY PARK, Florence, KY
WILL ROGERS DOWNS, Claremore, Oklahoma
WOODBINE, Rexdale, Ontario
WOODLANDS, Kansas City, KS
YAVAPAI DOWNS, Prescott Valley, AZ
ZIA PARK, Hobbs, NM

---


Note: Pages on this site are labelled with the equidaily.com logo. Some links lead to pages at other sites. equidaily.com is responsible only for the pages on this site. equidaily.com assumes no responsibility for errors or omissions. Always check with official sources to verify info.

---
Copyright 2015 equidaily.com

---