Stakes invaders add special spice to Thanksgiving Week racing
Sun results: Solid wager wins $100K Cary Grant
Sat results: Rusty Slipper wins G3 $100K Red Carpet

---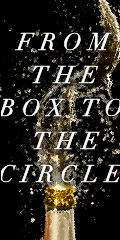 ---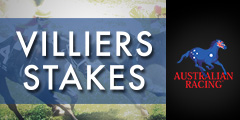 ---
Oz: Chris Waller's season G1 count at ten
Sun results: Maurice wins G1 Mile Championship in Japan
Sun results: HOTY Able Friend burnt by Beauty Flame but on track for Hong Kong Mile defence

---
Current forecasts for N American tracks
---
Racetrack abbreviation codes
---
[AUS] FOXSPORTS.AU
[AUS] RACING AND SPORTS
[AUS] SMH.COM.AU
[AUS/NZ] THOROUGHBRED NEWS
[AUS] VIRTUAL FORM GUIDE
[ASIA] S CHINA MORNING POST
BALTIMORE SUN
BLOOD HORSE
CBS.SPORTSLINE
CHICAGO SUN-TIMES
DAILY RACING FORM
ESPN
FOX SPORTS
FRANCE GALOP
[JAPAN] HORSERACING IN JAPAN
KENTUCKY.COM
LA TIMES
LOUISVILLE COURIER JOURNAL
MIAMI HERALD
MSNBC
NY DAILY NEWS
NY POST
NY TIMES
THE RACING BIZ [Mid-Atlantic region]
SEATTLE TIMES
SIGNONSANDIEGO.COM
SINGAPORE TURF CLUB
SOUTH AFRICAN HORSERACING
THISISHORSERACING.COM
ThoroughbredRacing.com
TIMES PICAYUNE
[U.K.] BBC
[U.K.] GUARDIAN
[U.K.] RACING POST
[U.K.] SPORTINGLIFE.COM
[U.K.] TELEGRAPH
[U.K.] TIMES
USA TODAY
WASHINGTON POST

Hayward: This patchwork system of medication polices will be US racing's downfall
---
White: For those folks who place considerable emphasis on speed figures, American Pharoah's 120 Beyer in this year's BC Classic is significant in terms of trying to gauge his greatness
---
Canceled big bet at Del Mar sparks investigation
---
CNN: American Pharoah - The equine 'Beatle' set for a long goodbye
---
Gabby Gaudet, Andy Serling join Gulfstream Championship Meet broadcast team; Join Collmus, Nicoletti for 2015-2016 Meet
---
Davidowitz: Mainstream racing coverage dwindles - but "a couple of terrific racing writers ... are putting out useful facts and commentary in relatively limited forums."
---
Beyer: Change coming to turf Beyer figures
---
Powell: International buyers continue to bolster American sales
---
Horseman Ken Ramsey buys historic Chaumiere du Prairie estate in Jessamine County
---
Bobby's Kitten readied for European campaign
---
Indiana schedules first Summit on Racing... Seeking feedback from racing stakeholders on ways to improve the economics and promotion of horse racing in the state
---
At the Red Mile, horse racing evolves into something that looks like a casino
---
NY: Jockey Victor Espinoza's $15K fine for unauthorized ads in Travers reduced to $2500
---
Fair Grounds opens 144th season Thurs
---
Inside the Owner's Box with Auerbach, Restrepo and Seitz
---
Final Breeders' Cup handle figures down 2.4%
---
Angst/Bloodhorse: Computer-Robotic Wagering... "Pari-mutuel wagering is declining or flat and CRW players are part of the reason..."
---
Courier-Journal: Churchill's strong Fall Meet years in making
---
Virginia denies Colonial a limited license
---
Virginia Racing Commission to hold five key hearings
---
Virginia: Colonial Downs asks court to clarify law in horse racing standoff... Hopes of resuming live racing next year
---
Is this the world's most beautiful racecourse?... Chile's Club Hipico de Santiago
---
Jumps: $500K bonus offered in Cheltenham-US link... Hope to rekindle links between British and American jump racing
---
Hearing close on rewrite of Pa. racing bill
---
California Chrome works easy at Los Al on Saturday
---
Wyoming panel OKs historical racing games
---
Jock Watch/international: Retired AP McCoy missing the racing buzz as he swings into action for new role
---
The relentless worldwide advance of big-spending China Horse Club shows no sign of easing off
---
AUS: New whip rule poised to come into play despite jockeys, trainers seeking further consultation
---
Saratoga's Oklahoma training track closes for the season
---
Apprentice Watch: 21YO Keiber Rengifo hopes to parlay hard work to racing success
---
Mike Battaglia named KTO's Horseman of the Year
---
NY Times: Investing in racehorses, despite the long odds
---
Gural asks tracks to lead on integrity
---
Ohio Racing Commission investigates 'accidental ringer' at Mahoning Valley
---
Jock Watch: PVal back riding in Louisiana
---
Keen Ice 'strong possibility' for Clark
---
'Big races' planned for Ride On Curlin
---
UPI weekend stakes recaps
---
Innovative way to help Old Friends
---
Award will recognize New Owner of the Year
---
Jock Watch: Javier Castellano breaks own jockey earnings mark
---
Veterinarian fined for improper administration of Lasix that lead to BC scratch of Talmada
---
Australia: Father-son G1 winning trainers hit with biggest doping penalties in history as culture changes
---
Haskin: Veterans Day - Love, war, and a Derby dream
---
KEE Nov: Average, gross up, median declines
---
Montana: Turf Club ramps up horse-racing pitch to Missoula County for 2016 dates
---
Virginia: SPCA gets $15k from horse racing meet
---
Tapit leads by 2015 book quality
---
---
Sat preview: Exaggerator ML choice for G3 $1mil Delta Jackpot
---
Free PPs: G3 $1mil Delta Jackpot [see Sat Delta Downs R7]
---
World's Best Racehorse Rankings: American Pharoah remains #1 over Golden Horn
Latest LIST: World's Best Racehorse Rankings

---
Golden Horn named HOTY at Tuesday's Cartier Awards in London
---
Canepa: American Pharoah great, just not the greatest... No 4YO campaign. Never carried more that 126. "Comparing horsie eras is impossible."
---
Beyer: With Breeders' Cup win, American Pharoah cements his place in history... "But the final race of his career ... would have been more satisfying if he had been forced to overcome a formidable challenge instead of winning in a cakewalk."
---
What the American Pharoah experience says about the health of US racing
---
Haskin: A morning in the Kentucky sun... "it was just me, American Pharoah, and Barnes with not another soul."
---
Farewell to Pharoah... On a brisk but beautiful autumn morning, trainer Bob Baffert hugged American Pharoah goodbye
---
Ehalt: "It takes a race to make a champion, yet to fully comprehend what happened to the sport of Thoroughbred racing during the last six months, you only needed a Friday morning gallop at Saratoga."
---
USA Today: Now Baffert gets to start all over
---
Davidowitz: Fighting the good fight for Borell
---
Ex-Runhappy trainer files lawsuit vs owner
---
Gimme Da Lute euthanized after surgery
---
Stews question Kent Desormeaux about perceived lackluster finish
---
Desormeaux fires back about ride
---
Shared Belief returns to track
---
Songbird looks to have what it takes to fill Pharoah's shoes
---
Profile: Jim Cornes - a lifetime spent with horses... He reminisces about his incredible life from upstate New York to Dubai and all around the world
---
Children of Secretariat: the son who ran the fastest Melbourne Cup ever
---
Ehalt: Is the BC Juvenile the kiss of death for a horse's Triple Crown chances?
---
Triple Crown impact? Analyzing Nyquist
---
Total handle, field size up at Belmont meet
---
Michigan: Senate bill calls for horse racing purse payout changes
---
Pa: Accord would avert stoppage of horse racing... Plan would fix chronic shortfalls in revenue to regulate industry
---
Ohio racing benefits from misfortune in W Va
---
Texas: Sign of progress in fight between legislators and Racing Commission
---
Bike to horse: Brit Olympic gold-medal winning cyclist Victoria Pendleton continues her Betfair-sponsored Switching Saddles regime... Now schooling over fences in preparation for a point-to-point jockey campaign this winter
---
How an international agenda has been key in establishing one of the world's top stud farms
---
How WinStar stallions stay fit in the off-season
---
NY: New synthetic opioid found by New York racing lab
---
Red Cadeaux on mend and will retire in Australia
---
International: Xi Jinping's purge on golf a lesson for horse-racing dreams in China... Those betting on a mainland gold rush would do well to tread warily
---
Pat Eddery: Eleven-time Flat racing champion jockey dies aged 63
---
Carson, Cauthen and Peslier pay tribute to Eddery
---
Sporting Life: Pat Eddery - farewell to a legend
---
Harness: USTA partners with DerbyWars
---
Sulky side/international: Less than a week after a female jock won the MelCup Kerryn Manning became the first woman driver to win the $750K New Zealand Trotting Cup
---
Illinois: Rep. Jones launches effort to keep Balmoral, Maywood open
---
Update: Townhouses replace Bay Meadows racetrack
---
Scott: Stud fees on the rise
---
Godolphin vs Ballydoyle: is battle about to resume?
---
Sexism a complex issue but MelCup winning jock Michelle Payne entitled to speak out
---
SheKnows.com - self-described as "a community that inspires and empowers women..." offers: Five reasons Melbourne Cup winner Michelle Payne is our new favorite
---
Michelle Payne's Melbourne Cup triumph reflects changing landscape
---
VIDEO: Jockey Michelle Payne First female winner of the Melbourne Cup - Winner's Speech
---
NYSGC to screen racehorses for heart issues
---
Youthful racing fan remembers a happy chance meeting with jockey Garrett Gomez before the 2010 Breeders' Cup
---
Racing Post: There are a number of reasons the Brits have never won the Melbourne Cup...
---
'Town hall' to highlight busy Maryland week... Stronach COO, "I believe the town hall will bring everyone together for a positive and productive discussion."
---
A King walks into a Crab Feast: Recap of weekend's Maryland Racing Media Assoc awards dinner
---
Delaware Park horsemen hope to fill stable area year-round
---
Crist: Imagine that - a formful Breeders' Cup
---
Film review: 'Palio' is "an enthusiastic introduction to this delirious event"
---
International: Shadwell continue strong support of Jebel Ali racing
---
Deauville and Arqana's October yearling sale: Is this the best place for value when buying yearlings?
---
Breeders' Cup perks: Smoked salmon, Kentucky Bourbon, celebs
---
TV: Highest rated Breeder's Cup in 20 years
---
What will be Pharoah's lasting impact on sport?
---
Davidowitz: Pharoah finest since Secretariat
---
West: Search begins for the sport's next hero
---
Ryan Moore wins BC's Bill Shoemaker Award
---
Female MelCup winning jock delivered a powerful - and empowering - post-race message about women in sport
---
Mitchell: "Plenty of hands were wringing when Keeneland was initially announced as host for this year's Breeders' Cup. Now people can't wait for the championships to return."
---
Haskin: American Pharoah - Into the Pantheon
---
Mongolian raid likely on Hong Kong Sprint after Breeders' Cup success... BC Turf Sprint winner looks set to travel from the United States to Sha Tin
---
UPI: Weekend stakes recaps
---
Cronley: BC handicapping review
---
$6mil Take Charge Brandi fuels Keeneland gains
---
Stonestreet buys Runhappy's dam for $1.6mil
---
Les Bois Park plans to cancel 2016 race meet
---
California artist gets American Pharaoh commission
---
NYRA announces 2016 Aqueduct winter/spring stakes schedule
Sun results: Sheriffa wins $125K New York Stallion
Sat results: Mr Maybe wins G3 $250K Red Smith Hcp decisively
Wed 11/10 results: Tommy Macho tops Pletcher exacta in G3 $150K Discovery Hcp

---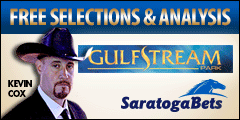 ---
---
Leopardstown benefits from $UK4.7mil grant
---
MISCELLANEOUS INDEX:
Where we put things that don't fit into any of the other index categories
---
Track visit/reviews
---
THE FANS SPEAK:
Where we occasionally search the web to explore various discussions and topics
---
OPINION:
equidaily.com's occasional thoughts on various topics regarding the horse racing game

---
equidaily.com's Coast-to-coast
---
Saratoga's Best Bets
---
Click here to e-mail any questions, comments, or suggestions to equidaily.com
---
AQUEDUCT, Jamaica, NY
ARAPAHOE PARK, Aurora, CO
ARLINGTON PARK, Arlington Heights, IL
ASSINIBOIA DOWNS, Winnipeg, Manitoba
BELMONT, Elmont, NY
BELTERRA PARK, Cincinnati, OH
BEULAH PARK, Grove City, OH
CALDER, Miami, FL
CALIFORNIA FAIRS, CA
CANTERBURY PARK, Shakopee, MN
CHARLES TOWN, Charles Town, WV
CHURCHILL DOWNS, Louisville, KY
COLONIAL DOWNS, New Kent, VA
DELAWARE PARK, Wilmington, DE
DEL MAR, Del Mar, CA
DELTA DOWNS, Vinton, LA
DOWNS AT ALBUQUERQUE, Albuquerque, NM
ELLIS PARK, Henderson, KY
EMERALD DOWNS, Auburn, WA
EVANGELINE DOWNS, Opelousas, LA
FAIR GROUNDS, New Orleans, LA
FAIR MEADOWS, Tulsa, OK
FAIRMOUNT PARK, Collinsville, IL
FAIRPLEX, Pomona, CA
FINGER LAKES, Farmington, NY
FORT ERIE, Fort Erie, Ontario
GOLDEN GATE, Albany, CA
GREAT LAKES DOWNS, Muskegon, MI
GULFSTREAM PARK, Hallandale, FL
HASTINGS PARK, Vancouver, BC
HIALEAH PARK, Hialeah, FL
HAWTHORNE RACE COURSE, Cicero, IL
HOLLYWOOD PARK, Inglewood, CA
HOOSIER PARK, Anderson, IN
INDIANA DOWNS, Shelbyville, IN
KEENELAND, Lexington, KY
KENTUCKY DOWNS, Franklin, KY
LAUREL PARK, Laurel, MD
LONE STAR PARK, Grand Prairie, TX
LOUISIANA DOWNS, Bossier City, LA
Los Alamitos, Los Alamitos, CA
MAHONING VALLEY, Youngstown, OH
MARQUIS DOWNS, Saskatoon, Saskatchewan
MEADOWLANDS, E Rutherford, NJ
MONMOUTH PARK, Oceanport, NJ
MOUNTAINEER, Chester, WV
NORTHLANDS PARK, Edmonton, Alberta
OAKLAWN PARK, Hot Springs, AR
PENN NATIONAL, Grantville, PA
PARX, Bensalem, PA
PIMLICO, Baltimore, MD
PINNACLE RACE COURSE, New Boston, MI
PORTLAND MEADOWS, Portland, OR
PRAIRIE MEADOWS, Des Moines, IA
PRESQUE ISLE DOWNS, Erie, PA
REMINGTON PARK, Oklahoma City, OK
RETAMA PARK, San Antonio, TX
RIVER DOWNS, Cincinnati, OH
ROCKINGHAM PARK, Salem, NH
RUIDOSO DOWNS, Ruidoso Downs, NM
SAM HOUSTON, Houston, TX
SANTA ANITA, Arcadia, CA
SARATOGA, Saratoga Springs, NY
STAMPEDE PARK, Calgary, Alberta
SUFFOLK DOWNS, Boston, MA
SUNLAND PARK, Sunland Park, NM
SUNRAY PARK, Farmington, NM
TAMPA BAY DOWNS, Tampa, FL
THISTLEDOWN, Cleveland, OH
TURF PARADISE, Phoenix, AZ
TURFWAY PARK, Florence, KY
WILL ROGERS DOWNS, Claremore, Oklahoma
WOODBINE, Rexdale, Ontario
WOODLANDS, Kansas City, KS
YAVAPAI DOWNS, Prescott Valley, AZ
ZIA PARK, Hobbs, NM

---


Note: Pages on this site are labelled with the equidaily.com logo. Some links lead to pages at other sites. equidaily.com is responsible only for the pages on this site. equidaily.com assumes no responsibility for errors or omissions. Always check with official sources to verify info.

---
Copyright 2015 equidaily.com

---