Sat results: McKinzie wins G1 $300K Los Al Futurity via Solomini's DQ
Sat results: Dream Tree easily in G1 $300K Starlet

---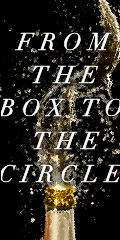 ---
Sha Tin Diary - Reflections
Joao Moreira happy to share some inside information with the International Jockeys' Championship rookies
Bowman back to defend his HK International Jockeys Championship crown
HKIR Flashback: Silent Witness

---
Current forecasts for N American tracks
---
Racetrack abbreviation codes
---
[AUS] FOXSPORTS.AU
[AUS] RACING AND SPORTS
[AUS] SMH.COM.AU
[AUS/NZ] THOROUGHBRED NEWS
[AUS] VIRTUAL FORM GUIDE
[ASIA] S CHINA MORNING POST
BALTIMORE SUN
BLOOD HORSE
CBS.SPORTSLINE
CHICAGO SUN-TIMES
DAILY RACING FORM
ESPN
FOX SPORTS
FRANCE GALOP
[JAPAN] HORSERACING IN JAPAN
KENTUCKY.COM
LA TIMES
LOUISVILLE COURIER JOURNAL
MIAMI HERALD
MSNBC
NY DAILY NEWS
NY POST
NY TIMES
THE RACING BIZ [Mid-Atlantic region]
SEATTLE TIMES
SIGNONSANDIEGO.COM
SINGAPORE TURF CLUB
SOUTH AFRICAN HORSERACING
THISISHORSERACING.COM
ThoroughbredRacing.com
TIMES PICAYUNE
[U.K.] BBC
[U.K.] GUARDIAN
[U.K.] RACING POST
[U.K.] SPORTINGLIFE.COM
[U.K.] TELEGRAPH
[U.K.] TIMES
USA TODAY
WASHINGTON POST

Haskin: A Time For Heroes
---
Equine death toll from San Luis Rey fire at 46
---
sat results: Ortiz, Douglas Star in Clasico Internacional del Caribe at GP
---
Jock Watch: Francisco Torres retires to pursue career as agent
---
>>> TOBA announces US graded and listed stakes for 2018
>>> List: 2018 graded stakes
>>> Four Midlantic stakes downgraded for 2018
---
University of Arizona Race Track Industry Program's Global Symposium on Racing Dec 4-6, 2017
Symposium website
>>> Racing needs to be ready for sports wagering
>>> Differing DQ standards on display at Symposium... Domestic policies over interference depart from many international jurisdictions
>>> Racing on TV: Ratings, networks anachronistic?
>>> Symposium panel calls for reduced takeout rates

---
>>> VIDEO/Local ABC affiliate: Ranch hands trying to rescue 500 horses from the San Luis Rey Training Center amid Lilac Fire
>>> Horses killed, barns destroyed as fire sweeps through San Luis Rey Downs
>>> VIDEO: San Luis Rey Training Center - trainers letting panicking horses free after failed attempts to coax them to safety
>>> VIDEO: Spooked horses near the fast-moving fire ran in circles through the thick smoke, trying to escape the flames
>>> Twitter feeds following San Luis Rey Downs situation

---
Massachusetts reduces thoroughbreds' cut of Fund
---
NY Times: From Ireland to Hong Kong, Highland Reel goes the distance
---
Hong Kong: Joy and frustration as luck plays her hand at HKIR barrier draw
---
Field sizes: How the US is trailing most nations at the top level
---
Saratoga season book-ending downtown events - Hat's Off and Final Stretch - undergoing major changes
---
Female jockeys: Slowly but surely they're getting more opportunities
---
New Jersey eyes cutting in horse tracks on internet gambling
---
Laurel Park barn fire leaves one horse dead, backstretch shaken
---
Fipke families shining bright
---
Veitch, Whitaker, Nagler named to National Museum of Racing's Media Honor Roll
---
Longtime horse racing figure Charles J. Cella dies at 81
---
...Obituary: Cella loved getting fans to Oaklawn Park
---
Hong Kong International Races take the global spotlight at Sha Tin Racecourse on Sunday
---
Castellano, Birzer, Ferrer, Prescott, Talamo named George Woolf Award finalists - honors achievements to racing both on and off the track
---
Wed results/international: Zac Purton claims his first Hong Kong International Jockeys Championship crown
---
Final scoreboard - International Jockeys Championship... US rep Prat finishes 5th
---
Hall of Famers Velazquez and Castellano among jockeys visiting St Mary's Hospital for Children on Tues
---
Whoops! Euro-jock Hayley Turner runs afoul of BHA due to betting account opened during brief retirement stint
---
Valiant effort VIDEO: Jump jock hangs on desperately, as long as possible, after being unseated
---
Dozen enter Clasico del Caribe at Gulfstream Park
---
Toast of New york - winner of 2014 G2 UAE Derby and 2nd in BC Classic - returns to winner's circle after 3-year absence from racing
---
Queen's Plate moved to Saturday
---
Winners of the Horse Racing Ireland Awards revealed
---
Aidan and Joseph O'Brien were both honored for their achievements in 2017 at the HRI Awards lunch at Leopardstown racecourse
---
Champion mare Stellar lined up for shock return in Pegasus World Cup
---
Appelbaum named NYTHA President
---
Celeb-owner Bobby Flay's daughter Sophie gets first win as an owner, "I've definitely developed a love of racing from him."
---
Jock Watch: Jose Ortiz expected to quickly bounce back from knee surgery
---
Why gender makes no difference to the Josie Carroll success story
---
How Amy Starkey helped reinvent Newmarket as a racecourse for the future
---
Kentucky hopes to benefit from renewed horse sales to China
---
List: The ten richest races in the world
---
Ohio advances fantasy sports bill but excluding horse racing contests
---
Broodmare prospect Marsha smashes European auction record
---
1582 horses cataloged for Keeneland January Sale
---
Coolmore: The New York Yankees of horse racing
---
Addition of ADW lifts Minnesota Breeder Awards
---
Fasig-Tipton Midlantic December mixed sale posts big gains
---
Sulky side: Eliminating the disconnect between track management, horsemen
---
Santa Anita to expand super high five betting
---
Jockeys' Guild conclave to talk safety
---
Haskin: Vox Populi Award gaining its niche in history
---
UPI: Weekend stakes recaps
---
LA Times: Tim Ritvo, "We believe the industry is stagnant. We're going to lay out some things that we need to try."
---
Watchmaker: Thoughts on recent racing and news... "Sharp Azteca was the most consistently brilliant miler we saw this year."... And, why downgrade DelCap to G2?
---
Jock Watch: For Jose Ortiz, a quiet end to 'unbelievable' year
---
Jock Watch: Rafael Hernandez bounces back after scary spill at Woodbine, "We handle 2,000-pound horses every day and go 35 to 40 mph and you hit the ground and you come back like nothing happened. It's part of the business."
---
'Toys for Tots' raises thousands of dollars and collects hundreds of toys at Aqueduct
---
Trainer Watch/international: Joseph O'Brien is clearly cut from his father's cloth
---
2YO Watch: Options abound for Catholic Boy
---
Sharp Azteca will likely run next in Pegasus World Cup
---
West Point, others buy maiden winner Septimius Severus
---
Stronach Group expects 12 Pegasus runners
---
Fasig-Tipton mixed: 'Something for everyone'
---
How has world racing missed Ryan Moore's wonder 2017?
---
Shulman: Time to give proper Eclipse voting credit to partnership owners... "It seems to us when compiling year-end statistics for the purpose of awards voting, a person or partnership entity should be given credit, in one place, for the accomplishments of their runners."
---
Penn National considers purchase of Pinnacle... Both racing and gaming companies confirmed discussions
---
Gulfstream announces purse increase for December
---
Drefong retired, will stand stud at Japan's Shadai Stallion Station
---
2016 Queen's Plate winner Sir Dudley Digges aiming for 2018 Sandy Lane Gold Cup in Barbados
---
S Africa: Horse racing rides to the rescue of troubled professional boxing
---
New Zealand: New racing minister vowing to work with the $1.6bil industry to help it reverse falling attendance numbers
---
Major administrative shakeup looming at Monmouth Park
---
Monmouth Park announces changes to 2018 racing calendar
---
>>> Part 2: Sports betting - Racing's friend or foe?
---
>>> Finley/Part 1: Sports betting and racing - will the marriage work?
---
In nearly $1bil deal, Churchill sells mobile gaming unit Big Fish... CDI will focus on racing and gaming operations
---
Churchill fall meet handle declines 1 percent
---
Gulfstream West's handle increases
---
Jock Watch: Support injured jockey Jenn Miller has received from the racing community has been incredible
---
Out of retirement: Toast Of New York set for return after 3-year absence... Winner of 2014 G2 UAE Derby and 2nd in BC Classic
---
Photo gallery: Hawthorne Gold Cup Day
---
Recruitment efforts pay off For Breeders' Cup... "Even the people who had a horse who didn't run too well could look at me and say, 'man we had a blast,' and, 'we'll be back.'"
---
Five weekends to experience during Gulfstream's Championship Meet
---
Pegasus just one of the big days planned for Gulfstream
---
Hong Kong comment: Jockey Club stewards must stop go-slow tactics before someone is seriously hurt... "The commonly held perception that making the leader go as slow as possible for as long as possible helps it to win is only correct up to a certain point..."
---
Jock Watch: Tracy Hebert secures 4000th career win
---
Penn Racing Commission Breeders Fund awards, Sire Stakes deadlines set
---
2YO Watch: Plenty of appeal in Kentucky Derby hopeful Enticed
---
Chicago Trib: Cubs-themed Bryzzo a Ky Derby hopeful, "I think we'd have a lot of fans if we can qualify to make Kentucky. We know how many worldwide fans there are of the Chicago Cubs."
---
Olympian to help retrain racehorses with Godolphin
---
Coolmore again Breeders' Cup's Outstanding Breeder
---
Hawthorne makes commitment to open stakes, "We were able to bring back a couple of the open stakes and still maintain our overnight purses."
---
Giving Tuesday - and holiday-time - horse-related charities to consider
---
Turfway Park holiday meet begins Nov 29
---
Another track bites the dust? S Dakota: Racing in Fort Pierre unlikely in 2018... Track has hosted racing since 1948
---
Ha! Have laugh with racing-themed jokes
---
Grayson-Jockey Club research gets WinStar boost
---
>>> The New Yorker/mag profiles Ortiz brothers... The two young jockeys are dominating the racetrack. What makes them so good?
---
Churchill fall met recap: Lanerie, Cox, Ramseys meet leaders
---
Del Mar met recap:
---
Del Mar meet leaders: Miller, Prat
---
UPI: Weekend stakes recaps
---
Jock Watch: Gary Stevens to ride at Oaklawn
---
Jock Watch: Alan Garcia to Oaklawn
---
BCBC inquiry could spur needed contest change
---
Watchmaker Watch: Weekly divisional ratings
---
NY: Gotham among Aqueduct stakes with distance adjustments for 2018
---
NY: Stewards discipline three jockeys for rides
---
Santa Anita's newly announced 'Ship and Stay' program attracting prominent outifits
---
Why the momentum is growing for more American horses to compete on the world stage
---
$1.8mil 2016 auction purchase South Beach working towards debut
---
Point Given pensioned, joins Kentucky Horse Park
---
Pedigree insights: Mo Town demonstrates Uncle Mo's turf potential
---
Glen Hill Farm horses shipping out of SoCal... Cite lack of opportunities
---
Fipke to have two slots in Pegasus?
---
Hovdey: Brown follows mentor in conquering Matriarch
---
---
Sat results: Quezon takes $100K Garland of Roses
---
---
Predicting the top horses for the 2018 Cheltenham Festival
Ruby Walsh confident of Cheltenham return following broken leg

---
MISCELLANEOUS INDEX:
Where we put things that don't fit into any of the other index categories
---
Track visit/reviews
---
THE FANS SPEAK:
Where we occasionally search the web to explore various discussions and topics
---
OPINION:
equidaily.com's occasional thoughts on various topics regarding the horse racing game

---
equidaily.com's Coast-to-coast
---
Saratoga's Best Bets
---
Click here to e-mail any questions, comments, or suggestions to equidaily.com
---
AQUEDUCT, Jamaica, NY
ARAPAHOE PARK, Aurora, CO
ARLINGTON PARK, Arlington Heights, IL
ASSINIBOIA DOWNS, Winnipeg, Manitoba
BELMONT, Elmont, NY
BELTERRA PARK, Cincinnati, OH
BEULAH PARK, Grove City, OH
CALDER [GPW}, Miami, FL
CALIFORNIA FAIRS, CA
CANTERBURY PARK, Shakopee, MN
CHARLES TOWN, Charles Town, WV
CHURCHILL DOWNS, Louisville, KY
COLONIAL DOWNS, New Kent, VA
DELAWARE PARK, Wilmington, DE
DEL MAR, Del Mar, CA
DELTA DOWNS, Vinton, LA
DOWNS AT ALBUQUERQUE, Albuquerque, NM
ELLIS PARK, Henderson, KY
EMERALD DOWNS, Auburn, WA
EVANGELINE DOWNS, Opelousas, LA
FAIR GROUNDS, New Orleans, LA
FAIR MEADOWS, Tulsa, OK
FAIRMOUNT PARK, Collinsville, IL
FAIRPLEX, Pomona, CA
FINGER LAKES, Farmington, NY
FORT ERIE, Fort Erie, Ontario
GOLDEN GATE, Albany, CA
GREAT LAKES DOWNS, Muskegon, MI
GULFSTREAM PARK, Hallandale, FL
GULFSTREAM PARK WEST, Miami, FL
HASTINGS PARK, Vancouver, BC
HIALEAH PARK, Hialeah, FL
HAWTHORNE RACE COURSE, Cicero, IL
HOLLYWOOD PARK, Inglewood, CA
HOOSIER PARK, Anderson, IN
INDIANA GRAND, Shelbyville, IN
KEENELAND, Lexington, KY
KENTUCKY DOWNS, Franklin, KY
LAUREL PARK, Laurel, MD
LONE STAR PARK, Grand Prairie, TX
LOUISIANA DOWNS, Bossier City, LA
Los Alamitos, Los Alamitos, CA
MAHONING VALLEY, Youngstown, OH
MARQUIS DOWNS, Saskatoon, Saskatchewan
MEADOWLANDS, E Rutherford, NJ
MONMOUTH PARK, Oceanport, NJ
MOUNTAINEER, Chester, WV
NORTHLANDS PARK, Edmonton, Alberta
OAKLAWN PARK, Hot Springs, AR
PENN NATIONAL, Grantville, PA
PARX, Bensalem, PA
PIMLICO, Baltimore, MD
PINNACLE RACE COURSE, New Boston, MI
PORTLAND MEADOWS, Portland, OR
PRAIRIE MEADOWS, Des Moines, IA
PRESQUE ISLE DOWNS, Erie, PA
REMINGTON PARK, Oklahoma City, OK
RETAMA PARK, San Antonio, TX
RIVER DOWNS, Cincinnati, OH
ROCKINGHAM PARK, Salem, NH
RUIDOSO DOWNS, Ruidoso Downs, NM
SAM HOUSTON, Houston, TX
SANTA ANITA, Arcadia, CA
SARATOGA, Saratoga Springs, NY
STAMPEDE PARK, Calgary, Alberta
SUFFOLK DOWNS, Boston, MA
SUNLAND PARK, Sunland Park, NM
SUNRAY PARK, Farmington, NM
TAMPA BAY DOWNS, Tampa, FL
THISTLEDOWN, Cleveland, OH
TURF PARADISE, Phoenix, AZ
TURFWAY PARK, Florence, KY
WILL ROGERS DOWNS, Claremore, Oklahoma
WOODBINE, Rexdale, Ontario
WOODLANDS, Kansas City, KS
YAVAPAI DOWNS, Prescott Valley, AZ
ZIA PARK, Hobbs, NM

---


Note: Pages on this site are labelled with the equidaily.com logo. Some links lead to pages at other sites. equidaily.com is responsible only for the pages on this site. equidaily.com assumes no responsibility for errors or omissions. Always check with official sources to verify info.

---
Copyright 2017 equidaily.com

---