Sat results: American Anthem wins G3 $100K Barrera
---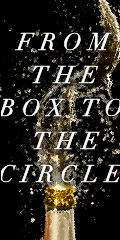 ---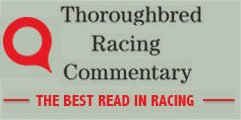 ---
Winx to enter Aussie Racing Hall of fame
Eleven inductees into the Australian Racing Hall of Fame

---
Current forecasts for N American tracks
---
Racetrack abbreviation codes
---
[AUS] FOXSPORTS.AU
[AUS] RACING AND SPORTS
[AUS] SMH.COM.AU
[AUS/NZ] THOROUGHBRED NEWS
[AUS] VIRTUAL FORM GUIDE
[ASIA] S CHINA MORNING POST
BALTIMORE SUN
BLOOD HORSE
CBS.SPORTSLINE
CHICAGO SUN-TIMES
DAILY RACING FORM
ESPN
FOX SPORTS
FRANCE GALOP
[JAPAN] HORSERACING IN JAPAN
KENTUCKY.COM
LA TIMES
LOUISVILLE COURIER JOURNAL
MIAMI HERALD
MSNBC
NY DAILY NEWS
NY POST
NY TIMES
THE RACING BIZ [Mid-Atlantic region]
SEATTLE TIMES
SIGNONSANDIEGO.COM
SINGAPORE TURF CLUB
SOUTH AFRICAN HORSERACING
THISISHORSERACING.COM
ThoroughbredRacing.com
TIMES PICAYUNE
[U.K.] BBC
[U.K.] GUARDIAN
[U.K.] RACING POST
[U.K.] SPORTINGLIFE.COM
[U.K.] TELEGRAPH
[U.K.] TIMES
USA TODAY
WASHINGTON POST

'World's Best Racehorse Ranking': Always Dreaming ties at #6 after Ky Derby win
---
Dave Rodman: Thrill never gets old for 'Voice of the Preakness'
---
UPI: Weekend stakes previews
---
Pennsylvania op-ed: Subsidizing horse racing - Time to end fund's run
---
Louisiana bill would cut subsidies to horseracing purses
---
Monmouth Park opens Saturday: Needs a $$ infusion
---
Monmouth Park asks for more support from horsemen
---
DRF: Monmouth takes action to stem declining business
---
Meadowlands Racetrack, Monmouth Park might benefit from new Governor in 2018
---
Pimlico opens amid rain, and more rain
---
Pimlico's 12-day Preakness meet begins Thurs
---
Songbird tunes up for seasonal debut
---
3YO Filly Watch: Paradise Woods to undergo precautionary scan
---
International/Singapore: Facelift for horse racing key to revival
---
Ryan Moore and Galileo back on top of the world after Guineas glory
---
Silver Charm, the horse who made me fall in love with racing
---
Trainer Watch: Keith Nations barn looks to build on 2016 Delaware Park success
---
NTRA weekly polls: Always Dreaming atop 3YO poll... Joins overall poll at #5
---
TV: Kentucky Derby scores second-best overnight in 25 years
---
Toronto Star: Will a 'city within a city' at Woodbine ever happen?
---
Derby closer-look: Horse-by-horse - What happened to the other 19?
---
Derby chart gets a Hovdey-update: "This observer needed a score or more of stop-and-start viewings to cobble together a very unofficial set of comments on the 143rd Kentucky Derby."
---
Haskin: Derby recap - Johnny on the pony
---
Owner Kaleem Shah, trainer Doug O'Neill part ways - four months after leaving the Baffert barn
---
Abel Tasman's silks snafu part of the Ky Oaks winner's story
---
NY: State's agriculture dept looking to promote growth of standardbred racing
---
Churchill to Trump - the horses named after famous leaders
---
Laurel winter meet handles number soar
---
Jim McCue to receive MJC Special Award of Merit
---
McCarthy, Rice, Magee claim Laurel Winter-Spring meet titles
---
Pimlico's shortened meet opens Thurs
---
DRF's Dunleavy honored with Old Hilltop Award
---
Hawthorne numbers mixed
---
VIDEO: Local TV covers season opening of Idaho's Pocatello Downs
---
Derby day in Alaska means fancy hats, mint juleps and a stick-horse race in the alley
---
Finley: 1-for-45 stat forgotten ... "The subject, some day, is going to be whether [Todd Pletcher will] win his sixth Derby, tying Ben Jones for most wins in the race. Count on it."
---
Factoid: Since Churchill instituted a qualifying points system in 2013, the favorite has won every year: Orb (2013), California Chrome (2014), American Pharoah (2015), Nyquist (2016) and now Always Dreaming
---
AUDIO/NPR: As interest in horse racing declines, Churchill turns to other options
---
'White-haired guy' Baffert defines horse racing, even amid Kentucky Derby miss
---
Sat results: Derby undercard stakes recaps
---
Sat results/international: Churchill wins G1 2000 Guineas at Newmarket
---
Ky Oaks post-script: Checking in with the winner and also-rans the day after
---
Despite wet weather, near-record handle for Oaks Day
---
Fri results: Abel Tasman storms home to win G1 $1mil Ky Oaks
---
Bustle: Nine brilliant feminist moments from horse racing history
---
Is horse racing more deadly for women? There is no evidence to support the claim
---
How the Kentucky Derby 2017 horses got their names
---
3YO Filly Watch: Paradise Woods - this filly looked 'something special' from the start. This week she's ready to prove it
---
Olympic skier Bode Miller hopes to revolutionize racehorse training
---
Latest weekly NTRA polls
---
The breeders who keep making the impossible happen (and they may have two shots at Kentucky Derby glory)
---
The NYRA allowance race program where British turf horses could compete for NINE times more prize money
---
Wicklow Brave: Is this the world's most versatile racehorse?
---
DW Lukas collection to Derby Museum
---
White: Remembering the LA riots 25 years later... "It was the first -- and I hope last -- time that I have ever left a racetrack in my car and thought that I might be injured or possibly even killed."
---
At Churchill Downs, immigration crackdown causes unease on the backstretch
---
Jason Blewitt to join Gulfstream broadcast team... Joins Nicoletti and Courtney beginning May 4
---
VIDEO: Local news profiles Churchill Downs Racing Club ownership group
---
Louisville man behind handmade equipment for the biggest names in horse racing
---
Smaller venues: Pocatello Downs in Idaho kicks off its horse racing season this weekend, and horsemen say a changing of the guard has been a big boost
---
VIDEO: Local TV news profiles trainer Greg Foley
---
Racing... uh... trivia? 1843 Grand National winner Vanguard had his hide made into a sofa
---
Sat stakes recaps
---
---
Thurs results: Permian wins G2 Dante at York
---
MISCELLANEOUS INDEX:
Where we put things that don't fit into any of the other index categories
---
Track visit/reviews
---
THE FANS SPEAK:
Where we occasionally search the web to explore various discussions and topics
---
OPINION:
equidaily.com's occasional thoughts on various topics regarding the horse racing game

---
equidaily.com's Coast-to-coast
---
Saratoga's Best Bets
---
Click here to e-mail any questions, comments, or suggestions to equidaily.com
---
AQUEDUCT, Jamaica, NY
ARAPAHOE PARK, Aurora, CO
ARLINGTON PARK, Arlington Heights, IL
ASSINIBOIA DOWNS, Winnipeg, Manitoba
BELMONT, Elmont, NY
BELTERRA PARK, Cincinnati, OH
BEULAH PARK, Grove City, OH
CALDER, Miami, FL
CALIFORNIA FAIRS, CA
CANTERBURY PARK, Shakopee, MN
CHARLES TOWN, Charles Town, WV
CHURCHILL DOWNS, Louisville, KY
COLONIAL DOWNS, New Kent, VA
DELAWARE PARK, Wilmington, DE
DEL MAR, Del Mar, CA
DELTA DOWNS, Vinton, LA
DOWNS AT ALBUQUERQUE, Albuquerque, NM
ELLIS PARK, Henderson, KY
EMERALD DOWNS, Auburn, WA
EVANGELINE DOWNS, Opelousas, LA
FAIR GROUNDS, New Orleans, LA
FAIR MEADOWS, Tulsa, OK
FAIRMOUNT PARK, Collinsville, IL
FAIRPLEX, Pomona, CA
FINGER LAKES, Farmington, NY
FORT ERIE, Fort Erie, Ontario
GOLDEN GATE, Albany, CA
GREAT LAKES DOWNS, Muskegon, MI
GULFSTREAM PARK, Hallandale, FL
HASTINGS PARK, Vancouver, BC
HIALEAH PARK, Hialeah, FL
HAWTHORNE RACE COURSE, Cicero, IL
HOLLYWOOD PARK, Inglewood, CA
HOOSIER PARK, Anderson, IN
INDIANA DOWNS, Shelbyville, IN
KEENELAND, Lexington, KY
KENTUCKY DOWNS, Franklin, KY
LAUREL PARK, Laurel, MD
LONE STAR PARK, Grand Prairie, TX
LOUISIANA DOWNS, Bossier City, LA
Los Alamitos, Los Alamitos, CA
MAHONING VALLEY, Youngstown, OH
MARQUIS DOWNS, Saskatoon, Saskatchewan
MEADOWLANDS, E Rutherford, NJ
MONMOUTH PARK, Oceanport, NJ
MOUNTAINEER, Chester, WV
NORTHLANDS PARK, Edmonton, Alberta
OAKLAWN PARK, Hot Springs, AR
PENN NATIONAL, Grantville, PA
PARX, Bensalem, PA
PIMLICO, Baltimore, MD
PINNACLE RACE COURSE, New Boston, MI
PORTLAND MEADOWS, Portland, OR
PRAIRIE MEADOWS, Des Moines, IA
PRESQUE ISLE DOWNS, Erie, PA
REMINGTON PARK, Oklahoma City, OK
RETAMA PARK, San Antonio, TX
RIVER DOWNS, Cincinnati, OH
ROCKINGHAM PARK, Salem, NH
RUIDOSO DOWNS, Ruidoso Downs, NM
SAM HOUSTON, Houston, TX
SANTA ANITA, Arcadia, CA
SARATOGA, Saratoga Springs, NY
STAMPEDE PARK, Calgary, Alberta
SUFFOLK DOWNS, Boston, MA
SUNLAND PARK, Sunland Park, NM
SUNRAY PARK, Farmington, NM
TAMPA BAY DOWNS, Tampa, FL
THISTLEDOWN, Cleveland, OH
TURF PARADISE, Phoenix, AZ
TURFWAY PARK, Florence, KY
WILL ROGERS DOWNS, Claremore, Oklahoma
WOODBINE, Rexdale, Ontario
WOODLANDS, Kansas City, KS
YAVAPAI DOWNS, Prescott Valley, AZ
ZIA PARK, Hobbs, NM

---


Note: Pages on this site are labelled with the equidaily.com logo. Some links lead to pages at other sites. equidaily.com is responsible only for the pages on this site. equidaily.com assumes no responsibility for errors or omissions. Always check with official sources to verify info.

---
Copyright 2016 equidaily.com

---