Sat results: Boozer all the way in $100K California Flag Hcp
---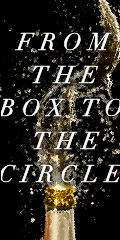 ---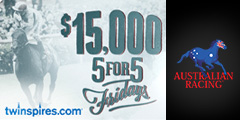 ---
Sun preview: G1 Japanese St Leger
Sat preview: Side Glance after second AUS G1 in Cox Plate
Godolphin eye top Australia's Cox Plate trophy with Sweynesse
Unlikely owner-trainer/horse duo heading to Cox Plate... Small-time trainer calls his $10K purchase 'my best friend'
Weekend results/Australia: Caulfield Cup
>>> Historic win for Japan's Admire Rakti in G1 Caulfield Cup

>>> Chart: Caulfield Cup [click on race name - R9 - for chart]
>>> VIDEO replay: Caulfield Cup
>>> Jockey quotes: Caulfield Cup
>>> Sat preview/Australia: Caulfield Cup PPs and horse-by-horse comments

---
Current forecasts for N American tracks
---
Racetrack abbreviation codes
---
[AUS] FOXSPORTS.AU
[AUS] RACING AND SPORTS
[AUS] SMH.COM.AU
[AUS/NZ] THOROUGHBRED NEWS
[AUS] VIRTUAL FORM GUIDE
[ASIA] S CHINA MORNING POST
BALTIMORE SUN
BLOOD HORSE
CBS.SPORTSLINE
CHICAGO SUN-TIMES
DAILY RACING FORM
ESPN
FOX SPORTS
FRANCE GALOP
[JAPAN] HORSERACING IN JAPAN
KENTUCKY.COM
LA TIMES
LOUISVILLE COURIER JOURNAL
MIAMI HERALD
MSNBC
NY DAILY NEWS
NY POST
NY TIMES
THE RACING BIZ [Mid-Atlantic region]
SEATTLE TIMES
SIGNONSANDIEGO.COM
SOUTH AFRICAN HORSERACING
THISISHORSERACING.COM
ThoroughbredRacing.com
TIMES PICAYUNE
[U.K.] BBC
[U.K.] GUARDIAN
[U.K.] RACING POST
[U.K.] SPORTINGLIFE.COM
[U.K.] TELEGRAPH
[U.K.] TIMES
USA TODAY
WASHINGTON POST

Roanoke Times: What next for silent Colonial Downs racetrack?
---
Talking horse racing and Shared Belief with Jim Rome
---
Powell: "I have said many times that I believed that the old system of 'a foul is a foul' is the best and that all riding infractions need to be punished."
---
Illinois casino group exec pens opinion piece: "The [racing] industry wants to pass a large gaming expansion bill that uses thousands of slot machines to subsidize the sport that in turn would take money away from local government budgets and classrooms. This is something we simply cannot afford."
---
Top-class turf: Woodbine's EP Taylor Course celebrates 20 years
---
Britain's Channel 4 commissions Frankel documentary
---
Forbes values Derby brand at $99mil
---
For Massachusetts slots parlor, all bets could be off after Nov 4
---
Charismatic's Belmont cited by NY sports scribe as being among NY's worst sports injuries [along with the likes of Mickey Mantle, Patrick Ewing and Frank Gifford]
---
Q&A with Guy Torsilieri - the guy behind Far Hills
---
Sat results: Russell Road rallies to win third West Virginia Breeders' Classic
---
Sat results: Md Millions results at LRL
---
Tom Durkin paid $440K for 100 days calling races in 2014
---
Kentucky Downs, Churchill Downs reach dates deal
---
Jockey Club research takes closer look at uniform medication and testing standards
---
New Mexico Racing Commission announces super testing and extensive video surveillance
---
Colonial Downs surrenders racing license
---
Colonial closure to affect nearly 200 track employees
---
Hong Kong scribe revels in Rich Tapestry's win in Santa Anita stake... Ouch! "Part of the tapestry now is the delicious 'no lasix' aspect to the Group One win at Santa Anita last weekend, with the runner-up trained by Doug O'Neill, who has been barred from entering horses for this year's Breeders' Cup meeting as it takes place while he serves suspension for a medication-related infraction."
---
Bill Nader: Rich Tapestry's win "has laid the lasix debate out for everyone to see... If it was grey before, it's black and white now."
---
Handle, attendance down at Keeneland
---
Keeneland and partner maneuvering to acquire racetrack license and offer Instant Racing games
---
Brit's Champions Day bring debt to shareholder racecourses that is set to peak in the coming months at $6 million
---
UK: In light of a $6mil debt, is the Champions Series rather too liberal with its spending?
---
Irish Racing receives significant budget boost
---
Battaglia won't work Breeders' Cup broadcast for NBC
---
Horse racing has long interested the hockey world
---
Jock Watch: Kieren Fallon plans move to ride in US as he seeks to recover 'buzz'
---
California Chrome team feted at Big Fresno Fair
---
OBS fall mixed sale has a rough day two
---
Business declines at OBS fall mixed opener
---
Godolphin preparing to become 'top dogs' again
---
Horse care, younger generations focus of Thoroughbred Ownership conference
---
Racehorse owners schooled on horse health, care issues
---
The scary thing for the rest of racing: Aidan O'Brien is getting even stronger
---
West: The greatness of Wise Dan
---
Racing history: All Along - on top of the world in 41 days
---
Fair Hill hyperbaric passes 10,000 hr milestone
---
US owner-breeder Strawbridge relishes European success
---
Retired Racehorse Project proves why education is key in successful racehorse rehoming
---
Gelo Hall - a man who's had a front row seat to some of Maryland's most important racing history - has been named the winner of the 2014 Joe Kelly Unsung Hero Award
---
Weekend preview: Far Hills - The best in US jump racing
---
>>> Apprentice Juan Saez, 17, dies of head trauma
>>> Jockeys' Guild statement
>>> NTRA statement
>>> Equibase stats page: Juan Saez
>>> Indiana Grand press release
>>> At Indiana Grand Racing, teen jockey's death called 'worst day'... Memorial to be held Thurs
>>> Apprentice jockey Juan Saez was always smiling... Agent, "If I start crying, you'll have to bear with me."
>>> Juan Saez received proper care after spill
>>> Ellis Park officials mourn loss of young, beloved jockey
>>> Racing community mourns death of apprentice Saez
---
Wise Dan out of Breeders' Cup with ankle injury
---
Treve out of retirement to chase third Prix de l'Arc de Triomphe win
---
Europe: Dual Derby winner Australia retires to stud but Treve is back on track
---
Jury is still out after Australia's early exit... Dual Derby winner's early retirement leaves his legacy incomplete
---
UK: Champions Day looks short of champions
---
UK: Ascot does not expect rain to disrupt Champions Day
---
Europe: Summer stars Taghrooda and Mukhadram retired
---
Pennsylvania op-ed: Casinos never lived up to their hype... "Casino gambling could deliver noticeably bigger tax relief if so much of the money didn't go to subsidize Pennsylvania's horse racing industry."
---
Trainer Doug O'Neill issues statement in response to suspension: "Some folks have been asking me why I didn't choose to fight the New York, Breeders' Cup or California decisions -- since I knew I didn't give my horse a drug I never heard of, and that my team never gave our horse a drug they never even heard of..."
---
Virginia op-ed: "Colonial Downs has struggled... We do not believe the present economic model can be sustained... We incline toward the track's position but would embrace legitimate alternatives. The survival of Colonial Downs is at stake."
---
Eugene Melnyk leaves horse racing with no regrets... After more than 20 years in the sport where his horses have won many of its top prizes, the Ottawa Senators owner says he's finished with the track
---
Pa TV reporter receives an Emmy for an in-depth investigative series on the drug culture within Pennsylvania's horse-racing industry
---
Ky: 2015 race dates decision looms... Ky Downs/Churchill await
---
Announcer John Imbriale finally gets Prime Time exposure
---
Jazil, winner of 2006 Belmont Stakes, dies after accident in paddock
---
Fresno woman with terminal cancer spends dream day with California Chrome
---
Take a tour of Bill Gates' new 228-acre ranch, complete with a horse-racing track
---
Trainer Chad Brown looking to dominate with European imports
---
Ryan Nugent Hopkins may be a NHL thoroughbred, but he has one of his own... Burnaby native and Oilers star's racehorse Zenya is based at Vancouver's Hastings Racecourse
---
The soccer phenom turned owner-breeder bidding to score big at Woodbine
---
Buyers just can't get enough of the top European bloodstock
---
McPeek: The time to help horse racing is NOW
---
Australia: German ace Protectionist new MelCup favourite
---
Apprentice Watch: Fray Martinez following his dream – and Victor Carrasco's footsteps
---
Statement by Gulfstream Park President Tim Ritvo on resolving simulcast wagering issues: "Gulfstream Park management was made aware of [difficulties]... for some bettors at simulcast facilities around North America to wager on races at Gulfstream Park West."
---
2YO Filly Watch: Euro trainer excited to take on US foes in BC
---
Photo: Fair Hill aerial view
---
>>> Wash Post: Bode Miller to ditch skiing to race horses with help of trainer Bob Baffert
>>> VIDEO: Bode Miller talks career change
>>> Miller teams with Leonie Seesing - They're an interesting team
---
>>> Sun results: Orphee Des Blins wins the 4.25m Velka Pardubicka for the third year in a row
>>> VIDEO REPLAY: 2014 Velka Pardubicka
>>> NY Times: Steeplechase's most historic jump is also its most controversial
---
>>> LA Daily News: Cigar grabbed sports fans like few athletes can
>>> Switch to dirt turned Cigar into a monster
>>> On Cigar: Even the greatest legends are mortal
>>> Scott: Cigar - Racing loses one of the greats
---
>>> The rivalry between Oxford and Cambridge has found a new arena, as the first ever Varsity Flat race has been confirmed
>>> Varsity Horseracing: 2014 preview
>>> Facebook: Oxford Varsity Horse Racing
>>> Facebook: Cambridge Varsity Horse Racing
>>> Twitter: Varsity Horserace
Sat results: NY Showcase Day stakes
---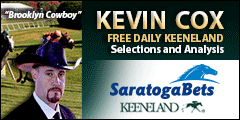 ---
---
Richard Hughes will be champion jockey for a third consecutive year after it emerged Ryan Moore will not be riding in Britain again this season
2YO Watch: Belardo will have to defy history to win 2000 Guineas
Trainer Philip Fenton to appear in court on anabolic steroids charges

---
MISCELLANEOUS INDEX:
Where we put things that don't fit into any of the other index categories
---
Track visit/reviews
---
THE FANS SPEAK:
Where we occasionally search the web to explore various discussions and topics
---
OPINION:
equidaily.com's occasional thoughts on various topics regarding the horse racing game

---
equidaily.com's Coast-to-coast
---
Saratoga's Best Bets
---
Click here to e-mail any questions, comments, or suggestions to equidaily.com
---
AQUEDUCT, Jamaica, NY
ARAPAHOE PARK, Aurora, CO
ARLINGTON PARK, Arlington Heights, IL
ASSINIBOIA DOWNS, Winnipeg, Manitoba
BELMONT, Elmont, NY
BEULAH PARK, Grove City, OH
CALDER, Miami, FL
CALIFORNIA FAIRS, CA
CANTERBURY PARK, Shakopee, MN
CHARLES TOWN, Charles Town, WV
CHURCHILL DOWNS, Louisville, KY
COLONIAL DOWNS, New Kent, VA
DELAWARE PARK, Wilmington, DE
DEL MAR, Del Mar, CA
DELTA DOWNS, Vinton, LA
DOWNS AT ALBUQUERQUE, Albuquerque, NM
ELLIS PARK, Henderson, KY
EMERALD DOWNS, Auburn, WA
EVANGELINE DOWNS, Opelousas, LA
FAIR GROUNDS, New Orleans, LA
FAIR MEADOWS, Tulsa, OK
FAIRMOUNT PARK, Collinsville, IL
FAIRPLEX, Pomona, CA
FINGER LAKES, Farmington, NY
FORT ERIE, Fort Erie, Ontario
GOLDEN GATE, Albany, CA
GREAT LAKES DOWNS, Muskegon, MI
GULFSTREAM PARK, Hallandale, FL
HASTINGS PARK, Vancouver, BC
HIALEAH PARK, Hialeah, FL
HAWTHORNE RACE COURSE, Cicero, IL
HOLLYWOOD PARK, Inglewood, CA
HOOSIER PARK, Anderson, IN
INDIANA DOWNS, Shelbyville, IN
KEENELAND, Lexington, KY
KENTUCKY DOWNS, Franklin, KY
LAUREL PARK, Laurel, MD
LONE STAR PARK, Grand Prairie, TX
LOUISIANA DOWNS, Bossier City, LA
Los Alamitos, Los Alamitos, CA
MARQUIS DOWNS, Saskatoon, Saskatchewan
MEADOWLANDS, E Rutherford, NJ
MONMOUTH PARK, Oceanport, NJ
MOUNTAINEER, Chester, WV
NORTHLANDS PARK, Edmonton, Alberta
OAKLAWN PARK, Hot Springs, AR
PENN NATIONAL, Grantville, PA
PARX, Bensalem, PA
PIMLICO, Baltimore, MD
PINNACLE RACE COURSE, New Boston, MI
PORTLAND MEADOWS, Portland, OR
PRAIRIE MEADOWS, Des Moines, IA
PRESQUE ISLE DOWNS, Erie, PA
REMINGTON PARK, Oklahoma City, OK
RETAMA PARK, San Antonio, TX
RIVER DOWNS, Cincinnati, OH
ROCKINGHAM PARK, Salem, NH
RUIDOSO DOWNS, Ruidoso Downs, NM
SAM HOUSTON, Houston, TX
SANTA ANITA, Arcadia, CA
SARATOGA, Saratoga Springs, NY
STAMPEDE PARK, Calgary, Alberta
SUFFOLK DOWNS, Boston, MA
SUNLAND PARK, Sunland Park, NM
SUNRAY PARK, Farmington, NM
TAMPA BAY DOWNS, Tampa, FL
THISTLEDOWN, Cleveland, OH
TURF PARADISE, Phoenix, AZ
TURFWAY PARK, Florence, KY
WILL ROGERS DOWNS, Claremore, Oklahoma
WOODBINE, Rexdale, Ontario
WOODLANDS, Kansas City, KS
YAVAPAI DOWNS, Prescott Valley, AZ
ZIA PARK, Hobbs, NM

---


Note: Pages on this site are labelled with the equidaily.com logo. Some links lead to pages at other sites. equidaily.com is responsible only for the pages on this site. equidaily.com assumes no responsibility for errors or omissions. Always check with official sources to verify info.

---
Copyright 2014 equidaily.com

---