Sat results: Ring Weekend wins G2 $200K Seabiscuit Hcp to cap big day for Motion, Van Dyke
Sat results: Journey Home wins wild edition of G3 $100K Jimmy Durante

---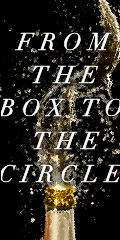 ---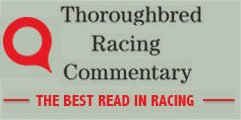 ---
Three overseas entries eye No 27 G1 Japan Cup
---
Current forecasts for N American tracks
---
Racetrack abbreviation codes
---
[AUS] FOXSPORTS.AU
[AUS] RACING AND SPORTS
[AUS] SMH.COM.AU
[AUS/NZ] THOROUGHBRED NEWS
[AUS] VIRTUAL FORM GUIDE
[ASIA] S CHINA MORNING POST
BALTIMORE SUN
BLOOD HORSE
CBS.SPORTSLINE
CHICAGO SUN-TIMES
DAILY RACING FORM
ESPN
FOX SPORTS
FRANCE GALOP
[JAPAN] HORSERACING IN JAPAN
KENTUCKY.COM
LA TIMES
LOUISVILLE COURIER JOURNAL
MIAMI HERALD
MSNBC
NY DAILY NEWS
NY POST
NY TIMES
THE RACING BIZ [Mid-Atlantic region]
SEATTLE TIMES
SIGNONSANDIEGO.COM
SINGAPORE TURF CLUB
SOUTH AFRICAN HORSERACING
THISISHORSERACING.COM
ThoroughbredRacing.com
TIMES PICAYUNE
[U.K.] BBC
[U.K.] GUARDIAN
[U.K.] RACING POST
[U.K.] SPORTINGLIFE.COM
[U.K.] TELEGRAPH
[U.K.] TIMES
USA TODAY
WASHINGTON POST

Ten reasons why things are looking up for American racing
---
White: "Considering what he did in the Breeders' Cup Classic at Santa Anita Park on Nov. 5, perhaps his name should be changed to Arro-great."
---
Songbird deserving of Horse of the Year consideration
---
Mythbuster: Thoroughbred racing on more than many think during TV's golden age
---
Powell: A few more post-Breeders' Cup impressions
---
For De Francis family, a big day, and memories of dad
---
NJ legislator backs Monmouth, "Monmouth Park is an important part of our town, and I would love for it to have a shot."
---
2YOs: who are the most effective trainers, and the top sires?
---
What it's like to own a filly beyond compare
---
Steeplechase: Jump jockeys' race down to final day
---
Saratoga training season ends
---
Annual muckraker award goes to Ransom for Borell expose... Award sponsor tips cap to author but adds, "the website that published the story is for an offshore wagering company that contributes nothing to the racing industry."
---
Runhappy retired
---
Track owner Jeff Gural to be Honored with Galbreath Award
---
Attracting (and retaining) youth to racing... "What if inside that [Kenneland College Day] goody bag was a guide to handicapping?"
---
Australia: Godolphin have been trying to win the Melbourne Cup since 1998 without success. But their overwhelming dominance away from the Cup this year suggests they might have opened the door on the next phase of international involvement at Melbourne's Spring Carnival
---
Ohio man charged with defrauding NFL players through horse-racing scheme
---
Range of topics planned for annual Jockeys' Guild Assembly
---
Canada: Scary harness racing accident leaves three drivers injured
---
Aussie stewards quiz punter Anthony Gardiner over relationship with Godolphin's #1 jockey James McDonald in Astern betting scandal
---
Slots as savior: Plainridge Park Casino has given new life to its accompanying horse racetrack since the slots venue opened in June of 2015
---
Nuovo Record is rare Japanese import at Del Mar
---
Jicha: Gulfstream to be blanked at Eclipse Awards?... Also, bad call in SoCal; unacceptable double standard for workout descriptions; and, follow the money to explain a Japanese runner in the Derby
---
AUDIO: The extreme diet of a jockey
---
Maryland Racing Commission okays 162 live days in 2017
---
Gulfstream trainers suspended for medication violations
---
Churchill raising Kentucky Derby, Oaks general-admission prices
---
Churchill Downs plans more homestretch suites with artist renderings
---
Eng: Phil Georgeff brought 96,131 memories to Chicago horse racing
---
Florent Geroux to rep US in Hong Kong Jockey Challenge
---
Oz: Racing Victoria and Tabcorp back the growth and development of women in racing
---
Why Hong Kong racing fans are beginning to think Happy Valley track is cursed
---
Happy Valley's racetrack might not be 'cursed', but it's got a crazy history
---
UPI horse racing weekend preview
---
LA Times: Breeders' Cup success doesn't fix the problems that remain in racing
---
Del Mar-bound Breeders' Cup flirts with $100 million impact... "Del Mar really checks all the boxes."
---
California Chrome retains first-place in final NTRA weekly poll
---
California Chrome still favorite for Horse of the Year honor
---
Hovdey: Battle to Arrogate, but Chrome's still a war hero
---
Racing Post: Arrogate ran to an RPR of 136, which should see him crowned world champion at the end of the year
---
The best horse? Arrogate. HOY? Chrome
---
Arrogate's 2017 racing schedule up in the air
---
Lessons learned this weekend
---
Weekly wrap: Breeders' Cup musings
---
Control of Stronach Group transitioning to Frank's daughter, Belinda
---
Santa Anita closes with solid gains in all categories
---
NYRA completes mobile-first redesign of NYRA.com
---
Trump victory speech includes racing reference: "... like Secretariat — if Secretariat came in second, Secretariat would not have that big, beautiful bronze bust at the track at Belmont."
---
Cartier Awards: Minding named horse of the year
---
NJ voters overwhelmingly reject North Jersey casino proposal
---
NJ: Horse racing leaders OK purse subsidy deal
---
Royal Ascot target For Almanzor
---
Quality sells at Fasig November
---
Arrogate and 'Chrome' in fine form Sunday
---
VIDEO: See what it takes to become Champion Jump Jockey.
---
Horror injuries to UK-based jock leave horseracing stunned
---
Why German-breds are sweeping all before them in the world's most glamorous races
---
Salute the mastery of Baffert as 'relentless' Arrogate achieves the seemingly impossible
---
Uncle Mo fee doubled to $150K
---
Jock Watch: Rising star Drayden Van Dyke celebrates first success at Churchill Downs
---
Ky Derby: BC Juv 1-2 finishers both 14-1 on early line
---
Beholder retired and will visit Uncle Mo
---
Tables are turned! Ha! Photos of the fotogs!
---
Photo: Chrome's Alan Sherman congratulates Baffert after BC Classic win
---
Saratoga runners won seven of the thirteen BC races
---
Phil Georgeff, Chicago horse racing legend, dead at 85
---
Longtime Keeneland bugler George 'Bucky' Sallee passes away at 87
---
Del Mar meet opens with new jackpot pick six
---
Privman, Novak win BC writing awards
---
Celebs at the Breeders' Cup
---
Keeneland November: Breeding stock sale opens strong
---
Fasig-Tipton November: Sale posts across-the-board gains
---
Watchmaker: Breeders' Cup clarifies most Eclipse Award categories
---
Total Breeders' Cup handle rises slightly
---
Gary Stevens fined $500 for missing mount to attend post-Distaff press conference
---
Mandella: Beholder is Unlike Any Other
---
Mike Smith wins third Shoemaker Award
---
Attendance, handle up for Saturday
---
Handle on Breeders' Cup Friday races up 5.2 percent
---
Sat results: Connect wins G1 $500K Cigar in a thriller
Sat results: Mo Town turns in big effort to win G2 $300K Remsen
Sat results: Miss Sky Warrior takes G2 $300K Demoiselle
Sat results: Verve's Tale upsets G3 $250K Comely

---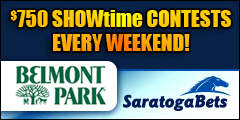 ---
---
Five things we learned from Saturday's racing
---
MISCELLANEOUS INDEX:
Where we put things that don't fit into any of the other index categories
---
Track visit/reviews
---
THE FANS SPEAK:
Where we occasionally search the web to explore various discussions and topics
---
OPINION:
equidaily.com's occasional thoughts on various topics regarding the horse racing game

---
equidaily.com's Coast-to-coast
---
Saratoga's Best Bets
---
Click here to e-mail any questions, comments, or suggestions to equidaily.com
---
AQUEDUCT, Jamaica, NY
ARAPAHOE PARK, Aurora, CO
ARLINGTON PARK, Arlington Heights, IL
ASSINIBOIA DOWNS, Winnipeg, Manitoba
BELMONT, Elmont, NY
BELTERRA PARK, Cincinnati, OH
BEULAH PARK, Grove City, OH
CALDER, Miami, FL
CALIFORNIA FAIRS, CA
CANTERBURY PARK, Shakopee, MN
CHARLES TOWN, Charles Town, WV
CHURCHILL DOWNS, Louisville, KY
COLONIAL DOWNS, New Kent, VA
DELAWARE PARK, Wilmington, DE
DEL MAR, Del Mar, CA
DELTA DOWNS, Vinton, LA
DOWNS AT ALBUQUERQUE, Albuquerque, NM
ELLIS PARK, Henderson, KY
EMERALD DOWNS, Auburn, WA
EVANGELINE DOWNS, Opelousas, LA
FAIR GROUNDS, New Orleans, LA
FAIR MEADOWS, Tulsa, OK
FAIRMOUNT PARK, Collinsville, IL
FAIRPLEX, Pomona, CA
FINGER LAKES, Farmington, NY
FORT ERIE, Fort Erie, Ontario
GOLDEN GATE, Albany, CA
GREAT LAKES DOWNS, Muskegon, MI
GULFSTREAM PARK, Hallandale, FL
HASTINGS PARK, Vancouver, BC
HIALEAH PARK, Hialeah, FL
HAWTHORNE RACE COURSE, Cicero, IL
HOLLYWOOD PARK, Inglewood, CA
HOOSIER PARK, Anderson, IN
INDIANA DOWNS, Shelbyville, IN
KEENELAND, Lexington, KY
KENTUCKY DOWNS, Franklin, KY
LAUREL PARK, Laurel, MD
LONE STAR PARK, Grand Prairie, TX
LOUISIANA DOWNS, Bossier City, LA
Los Alamitos, Los Alamitos, CA
MAHONING VALLEY, Youngstown, OH
MARQUIS DOWNS, Saskatoon, Saskatchewan
MEADOWLANDS, E Rutherford, NJ
MONMOUTH PARK, Oceanport, NJ
MOUNTAINEER, Chester, WV
NORTHLANDS PARK, Edmonton, Alberta
OAKLAWN PARK, Hot Springs, AR
PENN NATIONAL, Grantville, PA
PARX, Bensalem, PA
PIMLICO, Baltimore, MD
PINNACLE RACE COURSE, New Boston, MI
PORTLAND MEADOWS, Portland, OR
PRAIRIE MEADOWS, Des Moines, IA
PRESQUE ISLE DOWNS, Erie, PA
REMINGTON PARK, Oklahoma City, OK
RETAMA PARK, San Antonio, TX
RIVER DOWNS, Cincinnati, OH
ROCKINGHAM PARK, Salem, NH
RUIDOSO DOWNS, Ruidoso Downs, NM
SAM HOUSTON, Houston, TX
SANTA ANITA, Arcadia, CA
SARATOGA, Saratoga Springs, NY
STAMPEDE PARK, Calgary, Alberta
SUFFOLK DOWNS, Boston, MA
SUNLAND PARK, Sunland Park, NM
SUNRAY PARK, Farmington, NM
TAMPA BAY DOWNS, Tampa, FL
THISTLEDOWN, Cleveland, OH
TURF PARADISE, Phoenix, AZ
TURFWAY PARK, Florence, KY
WILL ROGERS DOWNS, Claremore, Oklahoma
WOODBINE, Rexdale, Ontario
WOODLANDS, Kansas City, KS
YAVAPAI DOWNS, Prescott Valley, AZ
ZIA PARK, Hobbs, NM

---


Note: Pages on this site are labelled with the equidaily.com logo. Some links lead to pages at other sites. equidaily.com is responsible only for the pages on this site. equidaily.com assumes no responsibility for errors or omissions. Always check with official sources to verify info.

---
Copyright 2016 equidaily.com

---