Sun results: Distinctiv Passion wins off-turf $75K Hernandez
Sat results: Bettys Bambino takes $100K Sensational Star

---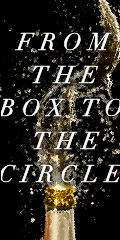 ---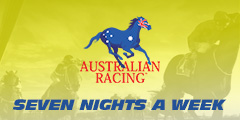 ---
World Class: Aussies still top even if Ascot joy eludes them
Trainer Mark Riley banned for three years on eve of Of The Brave's Blue Diamond bid
AUS: Latest Golden Slipper order of entry
Oz: The Cleaner begins autumn assault in George Adams Plate
International results: Parranda storms away to win inaugural $3mil Singapore Cup
Sat results: Deep Field 'beaten by a better horse on the day' in G1 Black Caviar Lightning Stakes... Lankan Rupee wins

---
Current forecasts for N American tracks
---
Racetrack abbreviation codes
---
[AUS] FOXSPORTS.AU
[AUS] RACING AND SPORTS
[AUS] SMH.COM.AU
[AUS/NZ] THOROUGHBRED NEWS
[AUS] VIRTUAL FORM GUIDE
[ASIA] S CHINA MORNING POST
BALTIMORE SUN
BLOOD HORSE
CBS.SPORTSLINE
CHICAGO SUN-TIMES
DAILY RACING FORM
ESPN
FOX SPORTS
FRANCE GALOP
[JAPAN] HORSERACING IN JAPAN
KENTUCKY.COM
LA TIMES
LOUISVILLE COURIER JOURNAL
MIAMI HERALD
MSNBC
NY DAILY NEWS
NY POST
NY TIMES
THE RACING BIZ [Mid-Atlantic region]
SEATTLE TIMES
SIGNONSANDIEGO.COM
SINGAPORE TURF CLUB
SOUTH AFRICAN HORSERACING
THISISHORSERACING.COM
ThoroughbredRacing.com
TIMES PICAYUNE
[U.K.] BBC
[U.K.] GUARDIAN
[U.K.] RACING POST
[U.K.] SPORTINGLIFE.COM
[U.K.] TELEGRAPH
[U.K.] TIMES
USA TODAY
WASHINGTON POST

Courier-Journal Ky Derby Media Poll: Weekend action see Itsaknockout at #7, International Star #9
---
Ky Derby points leaderboard
---
San Diego Union-Trib inaugural 2015 Derby Watch: Dortmund #1
---
Betfair jumping for joy after $UK47mil acquisition of HRTV network
---
>>> WOW! Handicapper played $9.60 ticket to win $363,424 in Golden Pick 6 at Golden Gate on Fri
---
Oaklawn purses get a second boost
---
TVG deal could lead to coordinated post times
---
America's forgotten black horsemen: Finding new audiences
---
Hovdey: "Three and a half months after Bayern's number was left up in the Classic following an agonizing stewards' inquiry ... the California Horse Racing Board spent the better part of an hour Wednesday publicly debating the need for a change in the rules of racing that would ... well, that's not exactly clear."
---
Beyer: Chad Brown's patient approach both an asset, hindrance
---
LaMarra/Bloodhorse: Is growing this business really a priority?
---
Md: Tim Ritvo - Man in a methodical hurry... Exploring the Stronach Group s vision, goals and strategy with horse racing and the Maryland Jockey Club
---
Va: Pair of bills could breathe new life into Colonial Downs
---
Eleven lady jockeys will get to test their riding skills on the frozen lake in St Moritz in Switzerland Sunday when they compete in Shaikha Fatima Bint Mubarak Ladies World Championship
---
West: Eclipse Award changes... "This is wise and good and, most of all, auspicious..."
---
Frankie Dettori set for Toast Of New York in Dubai World Cup
---
Cinema: 'Seabiscuit' among sports movies that haven't fared well in Academy Awards' Best Picture race
---
Laminitis treatment advancements from an unlikely source - a zebra
---
Nebraska: Fonner Park provides strong economic benefits to Grand Island area
---
Four appointed to Maryland Racing Commission
---
Blind police horse finds new purpose at riding center
---
Jock Watch: Oft-injured Sheldon Russell nears riding milestone
---
Jocks Q&A: SoCal regulars Smith and Talamo...Q: Name five things you cannot live without... A: SMITH: My lord and savior, a good woman, a good glass of wine, a really fast horse, and a little money doesn't hurt. Not necessarily in that order!
---
3YO Filly Watch: Take Charge Brandi works at OP on Sat morn
---
NY: Legislators petition state to up Vernon Downs' cut of video lottery profits
---
S Africa: Legendary Horse Chestnut dies aged 19
---
Study: Genetic differences in racing, cutting quarter horses
---
Older Male and Older Female Eclipse Awards categories renamed Older Dirt Male and Older Dirt Female
---
Former jockey Rosie Napravnik enjoying retirement, life as expectant mother
---
Hayward: "Horse racing industry [still] suffering from widespread cheating"
---
Va: Legislation aims to restore racing to Colonial Downs
---
Horsemen close to reopening Suffolk Downs
---
Jock Watch: Kieren Fallon happy with move to SoCal, "The sun is shining on you here, you know. That's the difference."
---
Hovdey: Main Sequence gets back in the picture
---
Officials discuss TVG purchase of HRTV
---
Eng: TVG/HRTV merger good for racing fans
---
Florida Senate approves bill for uniform drug rules
---
California board moves closer to third-party Lasix administration
---
Canada begins testing for high cobalt levels
---
Who is the most valuable racehorse in Australia? Closer look...
---
Pimlico unveils $4.2mil stakes schedule
---
Ky: $10mil in incentives awarded to state's thoroughbred breeders
---
Arizona: Upgrades at Rillito Park drawing fans
---
Crist: Fountain of Youth's past has classic look
---
Haskin's Derby Dozen: American Pharoah #1
---
White: Latest Derby Twenty... Keeping Texas Red at #1 despite ding, "I was not as pessimistic about Texas Red's situation after I read what Desormeaux had to say to Ed Golden in last Friday's Santa Anita stable notes."
---
Plonk: "Forget about the points talk. Texas Red with no preps has no chance in Louisville. And I'm his biggest fan."
---
DRF's Derby Watch: Dortmund, Upstart 1-2
---
Kentucky Derby: Who's hot, who's not for Feb. 18
---
Trainer Watch: Kiaran McLaughlin on Derby Trail with four contenders
---
Davidowitz: "Through most of Pletcher's remarkable career, he has won far too many major [Derby] prep races only to reach Churchill Downs with his best horses on a downward cycle."
---
Trainer Watch: Larry Jones shrugs off near-tragedy to resume winning ways
---
International Jock Watch: Andrea Atzeni - How a Sardinian farmer's son became one of the world's hottest jockeys
---
Mitchell/Bloodhorse: An election mulligan - The New York Thoroughbred Horsemen's Assoc must hold another election
---
Leading trainers continue support for TAA
---
California betting increases for January, board reports
---
Portland Meadows 2014-15 meet sees average daily handle increases
---
Mahoning Valley overnight purses get 5 percent boost
---
Fonner launches 62nd season with eight-race card Friday
---
Small purses offered at 31-date Hawthorne meet opening Fri
---
Arapahoe Park to give bonuses for large fields
---
Magna 5 wager to return with a few tweaks
---
Sulky side: USTA Broadcast Committee met to consider future television and other broadcast options for the harness racing industry
---
Sulky side: Tim Tetrick ready for World Driving Championship
---
Track announcer Dan Jukich is in his 25th year of calling the races at Hastings Racecourse, "After calling three races, I told my father that I didn't feel comfortable and didn't want to do it any more. But as dads will do, he told me to persevere."
---
Near-tragedy at Charles Town yields 'good start' for safety
---
Cobalt: Eroding the integrity of racing in Australia
---
Pimlico to host 'Ultimate Girls Day Out' on Fri May 15
---
Greyhound rescuer teams with Baptists, Humane Society to fight dog racing in Alabama
---
Florida offers ... SHARK RACING!!! Yeah. Sharks. Racing.
---
AP's first 2015 Derby Ten: Dortmund #1
---
Courier-Journal's Derby Media Poll: Dortmund #1, Lord Nelson #20
---
Derby Watch: Itsaknockout takes swing at Derby prep
---
Oaklawn re-schedules G3 Southwest for Sunday... Monday card canceled due to weather
---
Idaho: State Senate votes to repeal historic horse racing, sends it to House of Representatives
---
Idaho: Les Bois Park chief blasts Senate vote, says gambling machines are legal
---
Idaho: Quotes from senators... "I think the horse racing industry is in desperation right now."
---
Update the 1978 Interstate Horse Racing Act - survival of the US industry depends upon it
---
New racing economics show inadequacies of 1978 Interstate Horse Racing Act
---
Finley: A long, cold winter at Aqueduct... It's time to put New York winter racing out of its misery
---
Q&A with owner Maggi Moss: "I would absolutely make it paramount to do whatever is possible to get rid of the people that cheat and hurt horses."
---
>>> Betfair's TVG Buys HRTV
---
Jicha: 'Super Saturdays': Too much of a good thing one week, too little the next
---
Jock Watch: Among Homeister's legion of fans, one matters most... "The joy of my life and the love of my life is [daughter] Victoria Rose, and that's why I want to be the best I can be."
---
NJ: Court orders changes to NJSEA contract for horse race betting
---
Looking back: The lost tracks of the San Francisco Bay Area
---
Smart horses no guarantee of trouble-free training - study
---
UPI: Holiday weekend racing recap
---
This is Horse Racing's "Here and There" - Feb 17 edition
---
Photo gallery: Fritchie weekend at LRL
---
Charles Town cancels Wed/Thurs due to anticipated weather
---
Legislation could open the starting gate to the paint horse breed in Kentucky
---
Hoosier Park accepting applications for two internship opportunities with the Race Marketing Department for the upcoming 2015 live harness racing season
---
NBC Sports adds radio to it's live coverage of the Kentucky Derby, Preakness and Belmont Stakes
---
American Pharoah's work impresses Baffert
---
Bahamas: Former Bahamian hotel executive has called for the government to consider the restoration of horse racing in the country "because there's no entertainment for the tourists."
---
Scott: US horses look to Dubai
---
Ron the Greek wins in Saudi Arabia
---
Sat results: Metaboss grabs Derby point winning G3 $200K El Camino Real Derby at GG
---
Mon results: Misconnect up late in G2 $250K Gen George Hcp at LRL
---
>>> VIDEO: Australian investigative program does feature greyhound racing expose
>>> Make no mistake, greyhound racing in Australia is teetering on the brink of destruction
>>> Greyhound Racing NSW have dropped the ball on integrity, says Racing NSW chief executive Peter V'landys
---
>>> Belmont Stakes tix on sale
---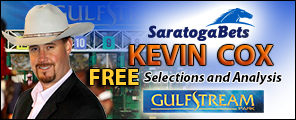 ---
---
Paul Nicholls' horse-by-horse guide to his Cheltenham Festival runners
---
MISCELLANEOUS INDEX:
Where we put things that don't fit into any of the other index categories
---
Track visit/reviews
---
THE FANS SPEAK:
Where we occasionally search the web to explore various discussions and topics
---
OPINION:
equidaily.com's occasional thoughts on various topics regarding the horse racing game

---
equidaily.com's Coast-to-coast
---
Saratoga's Best Bets
---
Click here to e-mail any questions, comments, or suggestions to equidaily.com
---
AQUEDUCT, Jamaica, NY
ARAPAHOE PARK, Aurora, CO
ARLINGTON PARK, Arlington Heights, IL
ASSINIBOIA DOWNS, Winnipeg, Manitoba
BELMONT, Elmont, NY
BEULAH PARK, Grove City, OH
CALDER, Miami, FL
CALIFORNIA FAIRS, CA
CANTERBURY PARK, Shakopee, MN
CHARLES TOWN, Charles Town, WV
CHURCHILL DOWNS, Louisville, KY
COLONIAL DOWNS, New Kent, VA
DELAWARE PARK, Wilmington, DE
DEL MAR, Del Mar, CA
DELTA DOWNS, Vinton, LA
DOWNS AT ALBUQUERQUE, Albuquerque, NM
ELLIS PARK, Henderson, KY
EMERALD DOWNS, Auburn, WA
EVANGELINE DOWNS, Opelousas, LA
FAIR GROUNDS, New Orleans, LA
FAIR MEADOWS, Tulsa, OK
FAIRMOUNT PARK, Collinsville, IL
FAIRPLEX, Pomona, CA
FINGER LAKES, Farmington, NY
FORT ERIE, Fort Erie, Ontario
GOLDEN GATE, Albany, CA
GREAT LAKES DOWNS, Muskegon, MI
GULFSTREAM PARK, Hallandale, FL
HASTINGS PARK, Vancouver, BC
HIALEAH PARK, Hialeah, FL
HAWTHORNE RACE COURSE, Cicero, IL
HOLLYWOOD PARK, Inglewood, CA
HOOSIER PARK, Anderson, IN
INDIANA DOWNS, Shelbyville, IN
KEENELAND, Lexington, KY
KENTUCKY DOWNS, Franklin, KY
LAUREL PARK, Laurel, MD
LONE STAR PARK, Grand Prairie, TX
LOUISIANA DOWNS, Bossier City, LA
Los Alamitos, Los Alamitos, CA
MARQUIS DOWNS, Saskatoon, Saskatchewan
MEADOWLANDS, E Rutherford, NJ
MONMOUTH PARK, Oceanport, NJ
MOUNTAINEER, Chester, WV
NORTHLANDS PARK, Edmonton, Alberta
OAKLAWN PARK, Hot Springs, AR
PENN NATIONAL, Grantville, PA
PARX, Bensalem, PA
PIMLICO, Baltimore, MD
PINNACLE RACE COURSE, New Boston, MI
PORTLAND MEADOWS, Portland, OR
PRAIRIE MEADOWS, Des Moines, IA
PRESQUE ISLE DOWNS, Erie, PA
REMINGTON PARK, Oklahoma City, OK
RETAMA PARK, San Antonio, TX
RIVER DOWNS, Cincinnati, OH
ROCKINGHAM PARK, Salem, NH
RUIDOSO DOWNS, Ruidoso Downs, NM
SAM HOUSTON, Houston, TX
SANTA ANITA, Arcadia, CA
SARATOGA, Saratoga Springs, NY
STAMPEDE PARK, Calgary, Alberta
SUFFOLK DOWNS, Boston, MA
SUNLAND PARK, Sunland Park, NM
SUNRAY PARK, Farmington, NM
TAMPA BAY DOWNS, Tampa, FL
THISTLEDOWN, Cleveland, OH
TURF PARADISE, Phoenix, AZ
TURFWAY PARK, Florence, KY
WILL ROGERS DOWNS, Claremore, Oklahoma
WOODBINE, Rexdale, Ontario
WOODLANDS, Kansas City, KS
YAVAPAI DOWNS, Prescott Valley, AZ
ZIA PARK, Hobbs, NM

---


Note: Pages on this site are labelled with the equidaily.com logo. Some links lead to pages at other sites. equidaily.com is responsible only for the pages on this site. equidaily.com assumes no responsibility for errors or omissions. Always check with official sources to verify info.

---
Copyright 2015 equidaily.com

---