Mon results: Hard Not to Like skims rail, takes G1 $300K Gamely
Mon results; Distinctiv Passion wires field in G3 $100K Los Angeles
Sun results: Ashleyluvssugar rallies to win G2 $200K Whittingham
Sun preview: $127K P6 carryover
Sat results: Recaps of Gold Rush Day stakes
Sun 5/16 preview: $80K P6 carryover

---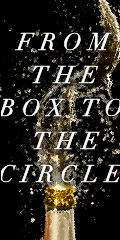 ---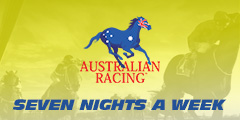 ---
Hong Kong's dominance of the Kranji features will have Singapore - and the Jockey Club - concerned
Sat results: Boban takes G1 Doomben 10,000

---
Current forecasts for N American tracks
---
Racetrack abbreviation codes
---
[AUS] FOXSPORTS.AU
[AUS] RACING AND SPORTS
[AUS] SMH.COM.AU
[AUS/NZ] THOROUGHBRED NEWS
[AUS] VIRTUAL FORM GUIDE
[ASIA] S CHINA MORNING POST
BALTIMORE SUN
BLOOD HORSE
CBS.SPORTSLINE
CHICAGO SUN-TIMES
DAILY RACING FORM
ESPN
FOX SPORTS
FRANCE GALOP
[JAPAN] HORSERACING IN JAPAN
KENTUCKY.COM
LA TIMES
LOUISVILLE COURIER JOURNAL
MIAMI HERALD
MSNBC
NY DAILY NEWS
NY POST
NY TIMES
THE RACING BIZ [Mid-Atlantic region]
SEATTLE TIMES
SIGNONSANDIEGO.COM
SINGAPORE TURF CLUB
SOUTH AFRICAN HORSERACING
THISISHORSERACING.COM
ThoroughbredRacing.com
TIMES PICAYUNE
[U.K.] BBC
[U.K.] GUARDIAN
[U.K.] RACING POST
[U.K.] SPORTINGLIFE.COM
[U.K.] TELEGRAPH
[U.K.] TIMES
USA TODAY
WASHINGTON POST

Racing conference's gala dinner to benefit equine research
---
Hayward: 'Big Days' are all the rage in US racing, but should they be?
---
Beyer: Tax rules on horse track winnings in desperate need of modification
---
Haskin: Why I want a Triple Crown winner
---
Sun preview/internatonal: Solow and Cirrus Des Aigles clash in the Prix d'Ispahan at Longchamp
---
Can a Pharoah lead horse racing to brand gold?... Better promotion of personalities like jockeys, trainers and horses can now be a driver and a resource for many
---
American Pharoah owners seek trademarks... Owner, "It is my duty to protect his legacy."
---
Ahmed Zayat - owner of American Pharoah - named in gambling debt lawsuit
---
Calif: CHRB meeting recap from Thurs
---
Smaller venues: Arapahoe Park keeps horse racing interests alive... Defeat of racino legislation was a setback rather than a death knell
---
Canterbury Park thrives as other tracks struggle
---
Les Bois: Veto on instant horse racing machine ban made season possible
---
Questions - but few answers - in Virginia's season of change
---
Sat results/international: Gleneagles joins elite club with Guineas victory... Becomes only the eighth horse to win both Classics in England and Ireland
---
BBC: Horse racing in Scotland appears to be in a strong position... So how does the industry plan to stay ahead of the field in the aftermath of hard economic times?
---
Ireland's season set to burst into life at 'the Place of the Running Horse'
---
Palm Meadows to remain open for summer
---
Robert Geller the new voice of Woodbine
---
Jock Watch: Joe Bravo reaches 5000-win milestone on Sat at MTH
---
Apprentice Watch: 21YO Tyler Conner making an impression... Moved to racing after stint in motocross motorcycle racing
---
Jock Watch: Elvis Trujillo to move tack to Monmouth
---
Oooph!NY Times letter to editor: "American Pharoah does not want to be ridden and forced to run ... He wants to be on a plain or meadow with a herd, walking 20 miles a day in search of the tastiest plants and listening to the wind whispering in his ears. Shame on us for sanctioning horse racing."
---
W Va: State legislators agree on importance of horse racing to Jefferson County
---
Pennsylvania benchmark report shows declines – but why?
---
Voice of America: Closer look at horse-racing phrases that have worked their way into the American lexicon
---
NoCal: Oak Tree horse racing returns to Alameda County Fair
---
TCA announces May Award of Merit winners
---
Newsday: It was a wild ride for racing's greatest rivals - Affirmed and Alydar
---
Latest NTRA polls [pdf]... American Pharoah unanimous #1 on 3YO poll - #2 overall, but outpolls Shared Belief for first-place votes
---
Why American Pharoah could be a special case in the annals of Triple Crown history
---
Opinion: Don't tinker with the Triple Crown
---
Wall Street Journal: The Triple Crown: We want answers... A roundtable discussion about American Pharoah's chances at the Belmont Stakes; will Charlie Brown finally kick the ball?
---
NJ newspaper: Triple Crown great for racing, but maybe not the Haskell
---
Balt Sun: What really caused the bathroom issues at Saturday's Preakness... City public works spokesman, "There wasn't any kind of exterior problem."
---
Interesting: Last year's Hong Kong-invader/Santa Anita Sprint Championship winner deterred from return trip by tax bite to winning purse! Hong Kong scribe's comment, "...any future American trips are unlikely after the IRS went to town on the earnings from the Grade One win - the local press say Chang barely won enough to buy one of his precious cigars."
---
Mitchell/Bloodhorse: "Can we worry later about how American Pharoah's final times may affect his place in history? ... For now, let's enjoy the ride."
---
NY sports columnist comment: Horce racing needs an American Pharoah win at Belmont
---
TV: Preakness rating down 8% from 2014... Also, top local markets for broadcast
---
NY Times/TV Sports: With Triple Crown possible, Belmont can expect a big draw
---
Closer look: NYRA Saratoga Race Course Redevelopment Plan
---
Frank Mirahmadi living dream at Monmouth
---
VIDEO: Local Fox affiliate reports on opening day at Presque Isle downs
---
Zenyatta offspring Ziconic, Cozmic One at Belmont
---
Canada: Assiniboia Downs cancels Mon racing due to -- wait for it -- snow!
---
Weather forces Les Bois to cancel opening day
---
HA! Final 'Mad Men' scene a hidden tribute to t-bred breeder and former ad man Bill Backer
---
...Real Coca-Cola ad writer a racehorse breeder
---
Average, median rise as F-T Midlantic opens
---
Fasig-Tipton Mid-Atlantic sale: Consignors hope for improved mid-market
---
Hong Kong Jockey Club chief wants to keep on track... When the going gets tough, Hong Kong must retain its famous 'can-do spirit', says the man overseeing its famous betting institution
---
Women hold their own as jockeys at Hazel Park
---
Stud farms competing for Triple Crown contender... Offers of more than $20mil have already been made to Zayat Stables for the breeding rights to TC hope American Pharoah
---
Suffolk requests three days of live racing
---
Ellis Park renames G3 Gardenia for champ Groupie Doll
---
Keeneland set for induction into Kentucky Athletic Hall of Fame
---
For Teaneck NJ - home of owner Zayat - American Pharoah's Triple Crown quest is personal... Mayor, "It's definitely a lot of buzz locally."
---
Houston weekly touts a trip to the local track - Sam Houston Park... "You could say we were balling out-of-control."
---
10YO millionaire Be Bullish claimed by Repole, retired to Old Friends Cabin Creek after winning career finale at BEL
---
Churchill Downs claims in lawsuit Daily Racing Form took illegal bets on Kentucky Derby
---
Top Ten reasons it's been 37 years since the last Triple Crown
---
Hialeah Park's $60mil expansion project moves forward
---
>>> Satish Sanan used to be big into horse racing. But the entrepreneur said he sold his horses and is devoting himself to his new medical startup, Inspirata Inc
---
VIDEO: Victor Espinoza poses for photos and signs for fans outside of the 'TODAY' show on Monday
---
Photos: Ubiquitous superfan Marlins Man was everywhere at the Preakness
---
>>> Preakness may move to Laurel... After 140 years at Pimlico, Stronach Group looking to move middle jewel of Triple Crown
>>> Balt Sun: Is sun setting on Preakness at Pimlico?
>>> Moving Preakness would require change in state law, officials say
---
>>> Belmont Stakes reserved seating sold out... General admission still available exclusively through Ticketmaster
>>> Q&A with new NYRA board chair Anthony Bonomo, "The overall thought of making a track a destination spot where there's a lot more to do between races plays an important role ... there's nothing more exciting than racing. But we also have to find something that excites you between races."
>>> MTA and NYRA must make sure a Belmont mess doesn't play out again
---
TCA to benefit from fantasy racing game
---
Latest 'World's Best Racehorse' rankings... Shared Belief tied at #1, American Pharoah jumps to #3
---
Pimlico attendance, handle take significant jumps on Black-Eyed Susan day
---
Will American Pharoah run in the Belmont? All depends on the Preakness, says trainer Bob Baffert
---
Jockey barred from Parx after illegal electrical device is found
---
Follow-up: Parx jockey Angel Castillo granted a stay
---
Canterbury stewards to interact with public... Will respond to questions on racetrack website's blog
---
Sporting News tabs best moments in Preakness history
---
After 30 years, a forgotten Preakness worth remembering... Derby winner Spend a Buck avoids
---
Powell: "In April of 2014, I wrote a scathing column in this space ridiculing the Jockey Club's announcement that a bunch of owners and trainers were going to voluntary submit veterinary records..."... Also, NBC's Derby Day feature on California Chrome was lacking
---
HOF Jockey Randy Romero has stomach tumor
---
Old Friends' farm office robbed and trashed
---
Mon results: NY-bred stakes recaps
Sat results: A Lot wins $100K Paradise Creek
Fri preview: $22K P6 carryover

---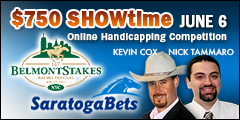 ---
---
Cirrus likely to bypass Epsom
Sun results: Veteran Al Kazeem wins G1 Tattersalls Gold Cup at the Curragh for the second time
Sun results: Solow slams Cirrus with impressive G1 d'Ispahan win at Longchamp
Sun results: Queen's Jewel remains unbeaten with win in G1 Prix Saint-Alary at Longchamp
Sat results: Pleascach wins G1 Irish 1000 Guineas
Sat results: Class sees Gleneagles complete Guineas double
Derby 2015: Sixteen horses go forward for Epsom feature after scratchings deadline

---
MISCELLANEOUS INDEX:
Where we put things that don't fit into any of the other index categories
---
Track visit/reviews
---
THE FANS SPEAK:
Where we occasionally search the web to explore various discussions and topics
---
OPINION:
equidaily.com's occasional thoughts on various topics regarding the horse racing game

---
equidaily.com's Coast-to-coast
---
Saratoga's Best Bets
---
Click here to e-mail any questions, comments, or suggestions to equidaily.com
---
AQUEDUCT, Jamaica, NY
ARAPAHOE PARK, Aurora, CO
ARLINGTON PARK, Arlington Heights, IL
ASSINIBOIA DOWNS, Winnipeg, Manitoba
BELMONT, Elmont, NY
BELTERRA PARK, Cincinnati, OH
BEULAH PARK, Grove City, OH
CALDER, Miami, FL
CALIFORNIA FAIRS, CA
CANTERBURY PARK, Shakopee, MN
CHARLES TOWN, Charles Town, WV
CHURCHILL DOWNS, Louisville, KY
COLONIAL DOWNS, New Kent, VA
DELAWARE PARK, Wilmington, DE
DEL MAR, Del Mar, CA
DELTA DOWNS, Vinton, LA
DOWNS AT ALBUQUERQUE, Albuquerque, NM
ELLIS PARK, Henderson, KY
EMERALD DOWNS, Auburn, WA
EVANGELINE DOWNS, Opelousas, LA
FAIR GROUNDS, New Orleans, LA
FAIR MEADOWS, Tulsa, OK
FAIRMOUNT PARK, Collinsville, IL
FAIRPLEX, Pomona, CA
FINGER LAKES, Farmington, NY
FORT ERIE, Fort Erie, Ontario
GOLDEN GATE, Albany, CA
GREAT LAKES DOWNS, Muskegon, MI
GULFSTREAM PARK, Hallandale, FL
HASTINGS PARK, Vancouver, BC
HIALEAH PARK, Hialeah, FL
HAWTHORNE RACE COURSE, Cicero, IL
HOLLYWOOD PARK, Inglewood, CA
HOOSIER PARK, Anderson, IN
INDIANA DOWNS, Shelbyville, IN
KEENELAND, Lexington, KY
KENTUCKY DOWNS, Franklin, KY
LAUREL PARK, Laurel, MD
LONE STAR PARK, Grand Prairie, TX
LOUISIANA DOWNS, Bossier City, LA
Los Alamitos, Los Alamitos, CA
MAHONING VALLEY, Youngstown, OH
MARQUIS DOWNS, Saskatoon, Saskatchewan
MEADOWLANDS, E Rutherford, NJ
MONMOUTH PARK, Oceanport, NJ
MOUNTAINEER, Chester, WV
NORTHLANDS PARK, Edmonton, Alberta
OAKLAWN PARK, Hot Springs, AR
PENN NATIONAL, Grantville, PA
PARX, Bensalem, PA
PIMLICO, Baltimore, MD
PINNACLE RACE COURSE, New Boston, MI
PORTLAND MEADOWS, Portland, OR
PRAIRIE MEADOWS, Des Moines, IA
PRESQUE ISLE DOWNS, Erie, PA
REMINGTON PARK, Oklahoma City, OK
RETAMA PARK, San Antonio, TX
RIVER DOWNS, Cincinnati, OH
ROCKINGHAM PARK, Salem, NH
RUIDOSO DOWNS, Ruidoso Downs, NM
SAM HOUSTON, Houston, TX
SANTA ANITA, Arcadia, CA
SARATOGA, Saratoga Springs, NY
STAMPEDE PARK, Calgary, Alberta
SUFFOLK DOWNS, Boston, MA
SUNLAND PARK, Sunland Park, NM
SUNRAY PARK, Farmington, NM
TAMPA BAY DOWNS, Tampa, FL
THISTLEDOWN, Cleveland, OH
TURF PARADISE, Phoenix, AZ
TURFWAY PARK, Florence, KY
WILL ROGERS DOWNS, Claremore, Oklahoma
WOODBINE, Rexdale, Ontario
WOODLANDS, Kansas City, KS
YAVAPAI DOWNS, Prescott Valley, AZ
ZIA PARK, Hobbs, NM

---


Note: Pages on this site are labelled with the equidaily.com logo. Some links lead to pages at other sites. equidaily.com is responsible only for the pages on this site. equidaily.com assumes no responsibility for errors or omissions. Always check with official sources to verify info.

---
Copyright 2015 equidaily.com

---