Fri results: Home Run Kitten takes G3 $100K Eddie D
---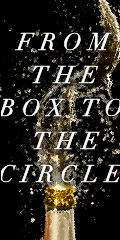 ---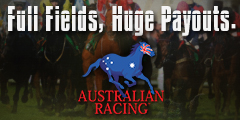 ---
Latest markets for the Caulfield Cup and Cox Plate
First batch of European runners are reported to have arrived in Australia ahead of the Spring Carnival meeting
Sat results: Trust In A Gust held off a fast finishing Dissident to claim the $400K G1 Sir Rupert Clarke at Caulfield
Fri results: Disappointing Lankan Rupee proves he's far from best sprinter in the world with G1 Moir Stakes flop at Moonee Valley

---
Current forecasts for N American tracks
---
Racetrack abbreviation codes
---
[AUS] FOXSPORTS.AU
[AUS] RACING AND SPORTS
[AUS] SMH.COM.AU
[AUS/NZ] THOROUGHBRED NEWS
[AUS] VIRTUAL FORM GUIDE
[ASIA] S CHINA MORNING POST
BALTIMORE SUN
BLOOD HORSE
CBS.SPORTSLINE
CHICAGO SUN-TIMES
DAILY RACING FORM
ESPN
FOX SPORTS
FRANCE GALOP
[JAPAN] HORSERACING IN JAPAN
KENTUCKY.COM
LA TIMES
LOUISVILLE COURIER JOURNAL
MIAMI HERALD
MSNBC
NY DAILY NEWS
NY POST
NY TIMES
THE RACING BIZ [Mid-Atlantic region]
SEATTLE TIMES
SIGNONSANDIEGO.COM
SOUTH AFRICAN HORSERACING
THISISHORSERACING.COM
ThoroughbredRacing.com
TIMES PICAYUNE
[U.K.] BBC
[U.K.] GUARDIAN
[U.K.] RACING POST
[U.K.] SPORTINGLIFE.COM
[U.K.] TELEGRAPH
[U.K.] TIMES
USA TODAY
WASHINGTON POST

UK newspaper: US racing looks to track conditions to lower injury rates
---
Queen's horse Estimate disqualified from Ascot Gold Cup second place and loses $UK80,000 prize in morphine case
---
Finley: Palace, best claim ever?... Claimed for $20K and has earned over $1.3mil
---
Ontario horse breeders claim victory in legal battle with province
---
Relationships, nominations key to Breeders' Cup international strategy
---
White: A great horse who received hate mail...
---
Powell: "There is no way Espinoza could have outsprinted Bayern going into the first turn but after breaking well, he should have used California Chrome's natural speed..."
---
Hovdey: Racing measures up on Saturday's sports calendar
---
Crist: 3YOs vs older not the post-Labor Day bonanza it once was
---
NY: Tioga Downs says it has 'inside track' for casino license
---
Trainer Eric Guillot [Moreno] ending his time in Saratoga to move on to the JCGC in NY and on to Santa Anita, "I heard it was like 105 the other day at Santa Anita... It'll cool down soon though, down to like 90, 95, perfect weather, like summer starting all over again."
---
Q&A with Mike Repole: "I want to hire great people, a great team. It starts with Jim Martin my racing manager, Jim Crupi at Crupi's New Castle, Ed Rosen my pedigree guy, Todd Pletcher my trainer, Johnny Velazquez and Javier Castellano my jockeys. There's a system here."
---
Wet weather forces Meadowlands t-bred cancellation on Thurs
---
Harness champion Captaintreacherous retired
---
Eng: Horse racing's postseason begins this weekend
---
Sun preview: 13 to tackle Wildcat Red in G3 $400K Oklahoma Derby
---
>>> Suffolk Downs closing marks end of the line for thoroughbred horse racing in New England
>>> Upstate NY NPR affiliate looks at possible impact Suffolk closure could have on NY racing
>>> Boston NPR: Where 700 horses at Suffolk Downs will go after the races shut down
>>> Boston NPR: The Demise of Suffolk Downs... "I am saddened more than somewhat by this development..."
>>> Mass: State gambling commission seeks to keep door open for thoroughbred racing
>>> Horse racing fans on edge as deadline looms
>>> NECN: Horse racing fights for a Massachusetts future
>>> Gaming chairman urges horse-racing applicants to 'get creative'
---
Suffolk Downs adds race day for tribute
---
Suffolk: Horsemen urge fight against repeal of casino law
---
Finley: Goodbye, old friend... Suffolk Down will seemingly close down after the current meet ends
---
Ehalt: Loss tarnishes California Chrome
---
Hovdey: For California Chrome, it was 'They're off, you lose'
---
Watchmaker: Hard to get handle on Bayern
---
Jerardi: Mission accomplished for Pennsylvania Derby Day
---
Chrome' eyes BC Classic, Bayern has options
---
Haskin: Shared Belief needs to be Awesome... Again
---
Beholder fires bullet for Zenyatta defense
---
Santa Anita to await CHRB ruling on whipping
---
Palace Malice might be returned to training next year
---
Nebraska op-ed: Something needs to change if horse racing is to be saved. But the problems with historic horse racing make it appear that it may not be the change that's needed
---
Foster winner Moonshine Mullin sidelined
---
International: Taghrooda set for Arc following pleasing gallop
---
Ruidoso Downs announces strict new policies to ensure integrity for next horse racing season
---
Looking back: Slew o' Gold's brilliant autumn
---
China Jockey Club launched
---
Suffolk open to possibility of horsemen leasing track
---
Brockton Fairgrounds to apply for Massachusetts racing dates
---
Suffolk CEO calls Gaming Commission statement 'too little, too late'
---
House Speaker Robert DeLeo said the loss of the track is 'a severe blow to our community.'
---
Anxiety, anger as Suffolk Downs closes
---
Princess of Sylmar retired at 4
---
Game On Dude retired from racing
---
New Jersey adopts uniform medication rules
---
Oaklawn to give bonuses for winning without Lasix
---
New hard line on steroids: Keeneland sale unaffected; hope for US runners in Britain
---
Steroids in racing: Why a total ban is logical - and necessary
---
North American foal crop expected to continue decline in 2014
---
The Keeneland Library: An uncommon collection
---
Ohio's final racino opens outside of Youngstown
---
Scottish referendum: Scottish racing welcomes 'No' vote
---
Why racing professionals flock to the equine 'beauty contests' of rural France
---
Crist: History says California Chrome is a bad bet
---
Hovdey: Rich history, big money put Parx in spotlight
---
Del Mar November stakes schedule worth $2.25mil
---
Rachel Alexandra's son Jess's Dream has first Belmont work
---
>>> Bayern sets track record in Pennsylvania Derby triumph
>>> Layden/Sports Illustrated: California Chrome loses the Pennsylvania Derby
>>> West: When the going gets tough... California Chrome could not overcome a good field in the Pa Derby
>>> NY Times: A record run upstages the return of California Chrome
>>> Veitch: "If the voting were held today, I think California Chrome would win the Eclipse Award... However, if Shared Belief wins the Breeders' Cup Classic and remains unbeaten..."
>>> Sat results: Untapable holds off Sweet Reason in G1 $1mil Cotillion at PARX

---
>>> Limelight Beach wins Little Brown Jug
>>> Charts: Jug Day card [Thurs Card 2]
>>> Generosity is part of the Jug
>>> Photo gallery: Little Brown Jug Day
---
>>> UK newspaper The Mirror front page: Shocking picture shows racehorse champion Wigmore Hall destroyed at packed course
>>> RSPCA defends horse racing in Wigmore Hall incident
>>> Racing outraged by Daily Mirror front page image
---
Fair Grounds slashes purses for 2014-15 season, cancels 15 stakes races
---
Fair Grounds says purse reductions a result of pending litigation
---
Less is more: Hong Kong scribes celebrates that racing jurisdiction's mandated off-season
---
The furosemide debate: Why it's not such a big issue in Europe
---
Poor Irish Champion ride on Australia a valuable lesson for Joseph O'Brien
---
Ohio: Austintown's Hollywood racino off to a good start
---
Sat preview: Miss Behaviour looks to topple Charles Town Oaks
---
In Virginia dates dispute, if you can't beat 'em, ultimatum
---
Kentucky Derby winning trainer Art Sherman already working on 2016
---
Billionaire Gerry Harvey simply a true blue thoroughbred champion of Aussie racing
---
Weekend preview/Oz: G1 George Main Stakes 2014
---
>>> Boston comment: Can Suffolk Downs be saved?
>>> Suffolk Downs officials detail shut-down plans
>>> Boston Business Journal: Gaming panel gave minimal weight to saving Suffolk's horse-racing jobs
>>> Boston Herald: What a ride
>>> Jockey Tammi Piermarini shares her memories of Suffolk Downs, "I was overwhelmed driving to work by the news of us losing the casino license. I thought the casino could save us. I almost had an anxiety attack. I felt like getting sick."
Future bleak for Suffolk Downs:
>>> Suffolk Downs on wrong end of decision for lone Boston-area casino license
>>> Suffolk Downs to 'wind down racing operations'... COO, "This is such a devastating decision."
>>> "The Beatles played here. It's a historic place."
>>> Boston Herald editorial: "Even as a glittering casino rises, trainers and grooms and exercise riders will be looking for other work. That may be 'progress,' but it's still sad."
>>> Suffolk Downs: History
>>> VIDEO: NECN covers story of Suffolk Downs decision

---
Sun results: Maiden Imperia gets first career win taking the G3 $200K Pilgrim
---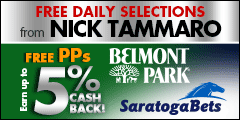 ---
---
John Gosden believes the retirement of Kingman will rule him out of winning a second trainers' championship
Frankie Dettori believes this year's Prix de l'Arc de Triomphe could be a 'vintage' renewal with a handful of horses in with a chance of Longchamp glory
---
MISCELLANEOUS INDEX:
Where we put things that don't fit into any of the other index categories
---
Track visit/reviews
---
THE FANS SPEAK:
Where we occasionally search the web to explore various discussions and topics
---
OPINION:
equidaily.com's occasional thoughts on various topics regarding the horse racing game

---
equidaily.com's Coast-to-coast
---
Saratoga's Best Bets
---
Click here to e-mail any questions, comments, or suggestions to equidaily.com
---
AQUEDUCT, Jamaica, NY
ARAPAHOE PARK, Aurora, CO
ARLINGTON PARK, Arlington Heights, IL
ASSINIBOIA DOWNS, Winnipeg, Manitoba
BELMONT, Elmont, NY
BEULAH PARK, Grove City, OH
CALDER, Miami, FL
CALIFORNIA FAIRS, CA
CANTERBURY PARK, Shakopee, MN
CHARLES TOWN, Charles Town, WV
CHURCHILL DOWNS, Louisville, KY
COLONIAL DOWNS, New Kent, VA
DELAWARE PARK, Wilmington, DE
DEL MAR, Del Mar, CA
DELTA DOWNS, Vinton, LA
DOWNS AT ALBUQUERQUE, Albuquerque, NM
ELLIS PARK, Henderson, KY
EMERALD DOWNS, Auburn, WA
EVANGELINE DOWNS, Opelousas, LA
FAIR GROUNDS, New Orleans, LA
FAIR MEADOWS, Tulsa, OK
FAIRMOUNT PARK, Collinsville, IL
FAIRPLEX, Pomona, CA
FINGER LAKES, Farmington, NY
FORT ERIE, Fort Erie, Ontario
GOLDEN GATE, Albany, CA
GREAT LAKES DOWNS, Muskegon, MI
GULFSTREAM PARK, Hallandale, FL
HASTINGS PARK, Vancouver, BC
HIALEAH PARK, Hialeah, FL
HAWTHORNE RACE COURSE, Cicero, IL
HOLLYWOOD PARK, Inglewood, CA
HOOSIER PARK, Anderson, IN
INDIANA DOWNS, Shelbyville, IN
KEENELAND, Lexington, KY
KENTUCKY DOWNS, Franklin, KY
LAUREL PARK, Laurel, MD
LONE STAR PARK, Grand Prairie, TX
LOUISIANA DOWNS, Bossier City, LA
Los Alamitos, Los Alamitos, CA
MARQUIS DOWNS, Saskatoon, Saskatchewan
MEADOWLANDS, E Rutherford, NJ
MONMOUTH PARK, Oceanport, NJ
MOUNTAINEER, Chester, WV
NORTHLANDS PARK, Edmonton, Alberta
OAKLAWN PARK, Hot Springs, AR
PENN NATIONAL, Grantville, PA
PARX, Bensalem, PA
PIMLICO, Baltimore, MD
PINNACLE RACE COURSE, New Boston, MI
PORTLAND MEADOWS, Portland, OR
PRAIRIE MEADOWS, Des Moines, IA
PRESQUE ISLE DOWNS, Erie, PA
REMINGTON PARK, Oklahoma City, OK
RETAMA PARK, San Antonio, TX
RIVER DOWNS, Cincinnati, OH
ROCKINGHAM PARK, Salem, NH
RUIDOSO DOWNS, Ruidoso Downs, NM
SAM HOUSTON, Houston, TX
SANTA ANITA, Arcadia, CA
SARATOGA, Saratoga Springs, NY
STAMPEDE PARK, Calgary, Alberta
SUFFOLK DOWNS, Boston, MA
SUNLAND PARK, Sunland Park, NM
SUNRAY PARK, Farmington, NM
TAMPA BAY DOWNS, Tampa, FL
THISTLEDOWN, Cleveland, OH
TURF PARADISE, Phoenix, AZ
TURFWAY PARK, Florence, KY
WILL ROGERS DOWNS, Claremore, Oklahoma
WOODBINE, Rexdale, Ontario
WOODLANDS, Kansas City, KS
YAVAPAI DOWNS, Prescott Valley, AZ

ZIA PARK, Hobbs, NM

---


Note: Pages on this site are labelled with the equidaily.com logo. Some links lead to pages at other sites. equidaily.com is responsible only for the pages on this site. equidaily.com assumes no responsibility for errors or omissions. Always check with official sources to verify info.

---
Copyright 2014 equidaily.com

---