Sun results: Conquest Farenheit scores in $75K Pasadena
Sat results: Vale Dori puts away Finest City in G1 $400K Santa Margarita

---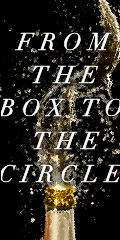 ---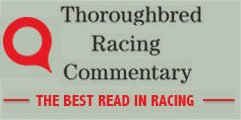 ---
Sat results: Winx supreme in G1 George Ryder at Rosehill
Sat results: Gingernuts takes G1 Rosehill Guineas
Reflections on Golden Slipper Day
Japan: Arc hope Satono Diamond shines at Hanshin on return
AUS: Trainers cleared of cobalt charges
Sat results: Filly of the Year Bonneval reigns supreme in G1 New Zealand Oaks
Sat results: Rapper Dragon makes history with G1 Hong Kong Derby victory - first to win HK Triple Crown
Sat results: She Will Reign takes the G1 Golden Slipper at Rosehill

---
Current forecasts for N American tracks
---
Racetrack abbreviation codes
---
[AUS] FOXSPORTS.AU
[AUS] RACING AND SPORTS
[AUS] SMH.COM.AU
[AUS/NZ] THOROUGHBRED NEWS
[AUS] VIRTUAL FORM GUIDE
[ASIA] S CHINA MORNING POST
BALTIMORE SUN
BLOOD HORSE
CBS.SPORTSLINE
CHICAGO SUN-TIMES
DAILY RACING FORM
ESPN
FOX SPORTS
FRANCE GALOP
[JAPAN] HORSERACING IN JAPAN
KENTUCKY.COM
LA TIMES
LOUISVILLE COURIER JOURNAL
MIAMI HERALD
MSNBC
NY DAILY NEWS
NY POST
NY TIMES
THE RACING BIZ [Mid-Atlantic region]
SEATTLE TIMES
SIGNONSANDIEGO.COM
SINGAPORE TURF CLUB
SOUTH AFRICAN HORSERACING
THISISHORSERACING.COM
ThoroughbredRacing.com
TIMES PICAYUNE
[U.K.] BBC
[U.K.] GUARDIAN
[U.K.] RACING POST
[U.K.] SPORTINGLIFE.COM
[U.K.] TELEGRAPH
[U.K.] TIMES
USA TODAY
WASHINGTON POST

Arrogate, Winx ties atop latest 'World's Best Thoroughbred Rankings'
---
List: 'World's Best Thoroughbred Rankings'
---
National Museum of Racing announces 2017 Hall of Fame finalists
---
Commentary: Racing's integrity? Some officials just don't give a damn... "In the aftermath of the Jamie Ness suspension, the horse racing industry shoots itself in the foot - again."
---
Angst: Too many holes in racing's rule net
---
Jock Watch/international: Why Joao Moreira is racing's closest thing to Frankie Dettori since Frankie Dettori
---
Hong Kong: Moreira rides eight winners on Sha Tin program
---
VIDEO: Watch again Joao Moreira and his record eight wins at Sha Tin
---
The Pegasus, the 'blockbuster effect' and the 'super user'
---
Wow! 18YO apprentice Carlos Carrasco wins his first two races!
---
Interest brewing for 'The Everest' - Australia's $10mil turf sprint in Oct
---
Racing and technology: Shot down? Brit bookmaker hoped save bettors from long lines by delivering winnings -- via drone!
---
Shulman: "How am I supposed to know my Derby horse when they don't show up under silks?"
---
White: "Confusing is a good word to describe what the Kentucky Derby picture is following recent developments."
---
Nadeau: What we learned from the Fountain of Youth
---
Powell: Spotlight on Mastery in San Felipe... Arrogate training splendidly toward Dubai
---
Not bad! Pensioner turns 20p [about $US.25] into almost 458-thousand pounds [over half a million US dollars)
---
Amazing trainer tale: Kidnapped for 36 days in his native Venezuela, trainer Antonio Sano continues remarkable journey with Fountain of Youth winner Gunnevera
---
Serendipity: Steve Wigmore went to the Keeneland September Sale on vacation, no really, and became a racehorse owner
---
Soccer player set to ride in charity horse race... "It has been a long-term ambition of mine to learn how to ride and race."
---
Ugh! College newspaper column - 'Uncovering the horrors of horse racing'... "There is no denying that horse racing is a form of animal torture."
---
Derby Watch: Shirreffs having double the fun this year
---
Dandelion leaves and Derby preps: that's life with John Shirreffs for two live Kentucky hopes
---
3YO Watch: Girvin is improving, but it's a big step up to contend at Churchill Downs
---
History: The day a colt supplemented for $40,000 yet scorned by the experts won the Big Cap at 50-1
---
Gary Stevens returns to riding after hip surgery
---
Gary Stevens hopeful for Del Mar Breeders' Cup ride
---
Retired jock Larry Melancon making progress in recovery from stroke
---
TVG increases Australian racing coverage
---
2016 2YO filly champ Champagne Room recovering from surgery, no training until June
---
No intentional wrongdoing found in case of swapped horse identities in La
---
Mohaymen prepping for 4YO debut
---
'Voice of Meadowlands' Sam McKee passes away
---
Slots bonanza/Sulky side: Plainridge will hold the richest harness race in state history July 28 - the $250K Spirit of Massachusetts Trot
---
Saratoga season tickets go on sale Mar 15
---
Pair say Suffolk Downs sale reached
---
Ouch! G1 winner taken from trainer over silks mix-up!... "It's a pretty heartless thing to do."
---
McCraken to miss Tampa Derby with minor injury
---
Derby/Oaks Future Pool final odds: Derby/'All others' 5-1, McCraken 6-1... Oaks/Unique Bella 1-1
---
Arrogate headed to Dubai World Cup
---
Would Arrogate have anything to fear from Japanese stakes winner Gold Dream?
---
US racing desperately needs to address the conflicts-of-interest issue... Should racing commissioner be 'conflict-free'
---
Commentary: Is the RCI's new integrity compliance panel just another gimmick?
---
Aussie star Winx wins 15th in a row - repeats in G1 Chipping Norton at Randwick
---
History in the making? Hugh Bowman believes Winx can chase down Black Caviar's 25-run winning streak
---
Breeder's Cup worth $100mil to San Diego economy
---
Breeders' Cup to cap Del Mar event at 37,500 each day
---
Oscar-worthy achievements in horse movies
---
Five share bullet :10 at Fasig Gulfstream under-tack preview
---
Endurance horse riding: The Sport of Perry Como (probably)
---
Jay Cronley, horse racing columnist and author, dies at 73
---
Unique Bella tops Kentucky Oaks noms
---
Woodbine's HPItv to remain on air
---
Fan favorite Bear's Pearl: Why the fans just can't get enough of this tiny mint-loving filly with the 'puppy-dog' eyes
---
White Turf Races: The horse race with an alpine edge
---
Jockey stable after scary fall at White Turf event
---
How two superstar performances affected the TRC Global Rankings
---
Watchmaker: Girvin beat suspect group in Risen Star
---
Trainer Motion hoping for good dilemma with Irish War Cry
---
Finger Lakes season could be on line at Feb 27 meeting
---
3YO Watch: After breeze, all systems go for El Areeb
---
Questions and answers: Future of Pimlico report
---
At Monmouth, holding on in troubled times
---
Md. Commission rejects trainer's appeal on over weight DQ
---
Behind the scenes: Duo of young women are track photographers at Charles Town
---
Remembering Roosevelt Raceway
---
Why a low-level Arizona stakes race means so much to so many people
---
Jock Watch/international: Silvestre De Sousa on a high after Hong Kong but plays down UK title talk
---
Churchill Downs Inc shows strong numbers in 2016
---
Finger Lakes, horsemen reach agreement on race meet
---
NY: Suffolk County Off-Track Betting Corp's slot-machine parlor to open in March
---
Florida consent order sees trainer Jamie Ness suspended 100 days
---
Woodbine's HPItv to remain on air
---
Haskin's Derby Dozen... Girvin at #12
---
Angst: Looking East, to Far East, for classic starters
---
Haskin: Stewart Elliott's award reopens the Smarty story
---
Breeding: No sophomore slump for Uncle Mo
---
Mahoning Valley plans another purse increase
---
Trump's migrant crackdown risks horse racing's future
---
Here's what happened when regular, non-greyhound dogs tried racing at Derby Lane... "The results were sort of hilarious."
---
Pinhooking Zayats? "When you take a $400,000 yearling and bring them to the 2-year-old sales, sometimes people may look at you like you have two heads."
---
Former Derby, Preakness winner Charismatic dies
---
Jock Watch/international: 22YO Katelyn Mallyon - truly mixing it with the best
---
How the money can keep rolling in if you've got a New York-bred like Mind Your Biscuits
---
Under agreement, trainer Umarov suspended five years
---
San Diego Union-Tribune: Breeders' Cup at Del Mar will be super pricey... "If you were planning to attend, not even your first born could serve as payment."
---
Belmont and Aqueduct: how long can they both survive?
---
Haskin's latest Derby Dozen: McCraken jumps Irish War Cry
---
3YO Watch: Irish War Cry - Holy Bull winner could be formidable over nine furlongs plus
---
Watchmaker: McCraken's perceived potential outrunning the reality
---
Churchill to pick up two stakes from Arlington Park
---
White: Watching Unique Bella win the Las Virgenes, "I found myself thinking of how much she reminds me of Winning Colors."
---
Aussie wonder mare Winx wins again - extends win-streak to 14
---
Two key drivers that took trainer Chris Waller from unknown to Winx and world renown
---
3YO Watch: Royal Mo picking up momentum on Kentucky Derby trail
---
Arrogate back on the work tab
---
A morning with the Juddmonte stallions
---
How Godolphin Flying Start has put me within reach of my dream
---
Trainer Mary Eppler has decision to make with Page McKenney
---
Say what?!? Columnist hypothesizes on the possibility of a California Chrome comeback... "Hear me out for a minute on this."
---
Bud Delp's daughter Pajeen: Why I'm leaving racing... "For the past few years I have worked for people whose standard of horsemanship wasn't what I was accustomed to, and I became frustrated and disheartened."
---
Santa Anita's Vanity Mile renamed for retired champion Beholder
---
Haskin: The inspiration of American Pharoah
---
Plonk: 'Nice guys' among this year's Derby hopeful trainer require horseplayers "to be your own reality checker"
---
Hammonds: Experimental Free Handicap still relevant - although a name-change might be helpful
---
Kentucky Derby BRIS Speed Rating Report February 14... McCraken's numbers improve in Sam Davis victory
---
Powell: Top juvenile performers don't always remain ahead of competition
---
Gary Stevens cleared to return to riding in March
---
12YO owner Hannah Schlenk wins first race
---
Sat results: Clothes Fall Off repeats in $125K Correction
---
---
Cheltenham 2017 Day Two: Winners, runners, riders and results
Tues results: Record sixth Champion Hurdle for trainer Henderson
Three things to take from day one of the Cheltenham festival
Statue honouring AP McCoy unveiled at Cheltenham

---
MISCELLANEOUS INDEX:
Where we put things that don't fit into any of the other index categories
---
Track visit/reviews
---
THE FANS SPEAK:
Where we occasionally search the web to explore various discussions and topics
---
OPINION:
equidaily.com's occasional thoughts on various topics regarding the horse racing game

---
equidaily.com's Coast-to-coast
---
Saratoga's Best Bets
---
Click here to e-mail any questions, comments, or suggestions to equidaily.com
---
AQUEDUCT, Jamaica, NY
ARAPAHOE PARK, Aurora, CO
ARLINGTON PARK, Arlington Heights, IL
ASSINIBOIA DOWNS, Winnipeg, Manitoba
BELMONT, Elmont, NY
BELTERRA PARK, Cincinnati, OH
BEULAH PARK, Grove City, OH
CALDER, Miami, FL
CALIFORNIA FAIRS, CA
CANTERBURY PARK, Shakopee, MN
CHARLES TOWN, Charles Town, WV
CHURCHILL DOWNS, Louisville, KY
COLONIAL DOWNS, New Kent, VA
DELAWARE PARK, Wilmington, DE
DEL MAR, Del Mar, CA
DELTA DOWNS, Vinton, LA
DOWNS AT ALBUQUERQUE, Albuquerque, NM
ELLIS PARK, Henderson, KY
EMERALD DOWNS, Auburn, WA
EVANGELINE DOWNS, Opelousas, LA
FAIR GROUNDS, New Orleans, LA
FAIR MEADOWS, Tulsa, OK
FAIRMOUNT PARK, Collinsville, IL
FAIRPLEX, Pomona, CA
FINGER LAKES, Farmington, NY
FORT ERIE, Fort Erie, Ontario
GOLDEN GATE, Albany, CA
GREAT LAKES DOWNS, Muskegon, MI
GULFSTREAM PARK, Hallandale, FL
HASTINGS PARK, Vancouver, BC
HIALEAH PARK, Hialeah, FL
HAWTHORNE RACE COURSE, Cicero, IL
HOLLYWOOD PARK, Inglewood, CA
HOOSIER PARK, Anderson, IN
INDIANA DOWNS, Shelbyville, IN
KEENELAND, Lexington, KY
KENTUCKY DOWNS, Franklin, KY
LAUREL PARK, Laurel, MD
LONE STAR PARK, Grand Prairie, TX
LOUISIANA DOWNS, Bossier City, LA
Los Alamitos, Los Alamitos, CA
MAHONING VALLEY, Youngstown, OH
MARQUIS DOWNS, Saskatoon, Saskatchewan
MEADOWLANDS, E Rutherford, NJ
MONMOUTH PARK, Oceanport, NJ
MOUNTAINEER, Chester, WV
NORTHLANDS PARK, Edmonton, Alberta
OAKLAWN PARK, Hot Springs, AR
PENN NATIONAL, Grantville, PA
PARX, Bensalem, PA
PIMLICO, Baltimore, MD
PINNACLE RACE COURSE, New Boston, MI
PORTLAND MEADOWS, Portland, OR
PRAIRIE MEADOWS, Des Moines, IA
PRESQUE ISLE DOWNS, Erie, PA
REMINGTON PARK, Oklahoma City, OK
RETAMA PARK, San Antonio, TX
RIVER DOWNS, Cincinnati, OH
ROCKINGHAM PARK, Salem, NH
RUIDOSO DOWNS, Ruidoso Downs, NM
SAM HOUSTON, Houston, TX
SANTA ANITA, Arcadia, CA
SARATOGA, Saratoga Springs, NY
STAMPEDE PARK, Calgary, Alberta
SUFFOLK DOWNS, Boston, MA
SUNLAND PARK, Sunland Park, NM
SUNRAY PARK, Farmington, NM
TAMPA BAY DOWNS, Tampa, FL
THISTLEDOWN, Cleveland, OH
TURF PARADISE, Phoenix, AZ
TURFWAY PARK, Florence, KY
WILL ROGERS DOWNS, Claremore, Oklahoma
WOODBINE, Rexdale, Ontario
WOODLANDS, Kansas City, KS
YAVAPAI DOWNS, Prescott Valley, AZ
ZIA PARK, Hobbs, NM

---


Note: Pages on this site are labelled with the equidaily.com logo. Some links lead to pages at other sites. equidaily.com is responsible only for the pages on this site. equidaily.com assumes no responsibility for errors or omissions. Always check with official sources to verify info.

---
Copyright 2016 equidaily.com

---