Sun results: Champion filly Beholder coasts in $75K Santa Lucia
Santa Anita stewards suspend jockey Orozco

---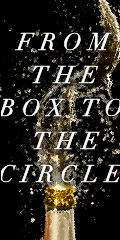 ---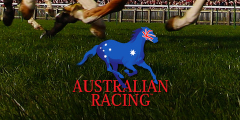 ---
Hong Kong: Lame Akeed Mofeed out of Sunday's QEII Cup
Weather to decide All Aged Stakes start for Snitzerland
Sat preview: G1 Australasian Oaks field
Red Cadeaux back in Japan for G1 Tenno Sho
Stop horsing around, revitalise our winter carnival, says Racing Queensland chief
Sat results: Randwick/The Championships
No Royal Ascot run for It's A Dundeel

---
Current forecasts for N American tracks
---
Racetrack abbreviation codes
---
[AUS] FOXSPORTS.AU
[AUS] RACING AND SPORTS
[AUS] SMH.COM.AU
[AUS/NZ] THOROUGHBRED NEWS
[AUS] VIRTUAL FORM GUIDE
[ASIA] S CHINA MORNING POST
BALTIMORE SUN
BLOOD HORSE
CBS.SPORTSLINE
CHICAGO SUN-TIMES
DAILY RACING FORM
ESPN
FOX SPORTS
FRANCE GALOP
[JAPAN] HORSERACING IN JAPAN
KENTUCKY.COM
LA TIMES
LOUISVILLE COURIER JOURNAL
MIAMI HERALD
MSNBC
NY DAILY NEWS
NY POST
NY TIMES
THE RACING BIZ [Mid-Atlantic region]
SEATTLE TIMES
SIGNONSANDIEGO.COM
SOUTH AFRICAN HORSERACING
THISISHORSERACING.COM
ThoroughbredRacing.com
TIMES PICAYUNE
[U.K.] BBC
[U.K.] GUARDIAN
[U.K.] RACING POST
[U.K.] SPORTINGLIFE.COM
[U.K.] TELEGRAPH
[U.K.] TIMES
USA TODAY
WASHINGTON POST

Courier-Journal's Kentucky Derby Media Poll
---
Ky Derby point leadersboard
---
Ky Derby closer look: Ride On Curlin and trainer Billy Gowan
---
VIDEO: Ride on Curlin and trainer Billy Gowan
---
Photo gallery: Ride On Curlin
---
Cairo Prince drops from Derby contention with mystery ding
---
Road to the Derby: Saez regains ride on Wildcat Red
---
Derby Watch: Ring Weekend working towards Derby decision at Fair Hill
---
Watchmaker: Grading the final Derby preps
---
Allen Jerkens enjoying son's Kentucky Derby run
---
Oaks Watch: Untapable breezes at Churchill Downs
---
Sat results: imperative upsets Game On Dude in G2 $1.5mil CT Classic
---
Sat results: Dynamic Impact nips Midnight Hawk in G3 $500K Illinois Derby
---
Sat results: Kid Cruz wins $100K Tesio, enters Preakness picture
---
Racing regulators begin Asmussen investigations
---
Powell: "Racing still pays lip service to field size. It brags when it is up marginally but despite fewer foals produced, still runs too many races."
---
Kling: Stronach plan "has the potential to sweep away a large part of the suspicion cast over racetrack performances from animals in the hands of what have come to be called 'super-trainers.'"
---
Scott: "This year's [Ky Derby field] will include at most three of last year's juvenile graded winners, and all three have possible issues."
---
Race to breed: Horse racing has it backwards
---
Los Alamitos looking to acquire Fairplex September dates
---
Hovdey: Stronach has it right on medication rules
---
Owners, trainers pledge to make vet records public
---
Delaware adopts new medication rules
---
Easter filly for Horse of the Year Zenyatta
---
Fair Hill Point-To-Point starts new tradition
---
Jumps: 30K attend 49th annual Atlanta Steeplechase
---
Racing history: The story of Old Rosebud, an American tragedy
---
Comment: Colonial Downs impasse absurd
---
Trainer Larry Jones severely injured in fall at Delaware Park
---
NHL and NFL connections involved with Illinois Derby fave Midnight Hawk
---
Lexington result could affect Derby: Cairo Prince defection leaves Ami's Holiday with potential - but owner claim he won't enter if qualified
---
Jumps weekend: Grand National, seven-race card and Temple Gwathmey at Middleburg and Georgia Cup program at Atlanta highlight Saturday's steeplechase scene
---
Syndicate member excited to be heading to Derby with Wicked Strong
---
Kentucky Derby 2014: Tickets still pricey
---
NY: Tioga Downs announces expansion in push for casino bid
---
US racing playing catch-up when it comes to concussions
British Horse Racing Authority's chief medical adviser advancing jockey concussion research

---
Frank Stronach commits his racetracks to stronger medication policies
---
Italy axed from European Pattern... Will have no internationally-recognized Group races from next year
---
Louisiana: Bill aimed at improving New Orleans Fair Grounds moves to State Senate by 94-0 vote
---
Maryland likely to expand void claim rule
---
West Virginia to tackle latest round of model drug rules
---
Instant Racing machines in Ontario?
---
Signs of spring: Saratoga training track opens
---
Ky: Instant Racing sees biggest month in March
---
Racing and the law: New concentration at Albany Law School focuses on equine, racing and gaming issues
---
Finger Lakes set for Fri opener
---
ThistleDown purses up markedly... Ohio Derby worth $300K
---
ThistleDown set to open 90th racing season on Fri
---
Watchmaker Watch: Weekly divisional ratings
---
Mixed reaction to Churchill takeout increase
---
..."Mixed reaction"? ...Comment: "In no business in the entire universe would that title be used in any article about a price hike."
---
Trainer Watch: Larry Jones relocates back to Delaware Park from Kentucky
---
Trainer Watch: Jeff Metz ties record with five wins at Emerald Downs on opening day
---
Behind the scenes: 89YO Fred Tallarico feted at Pimlico - the track where he worked as an usher for 59 years... He escorted Penny Chenery to Secretariat's winner's circle after the '73 Preakness and gave Bill Hartack a leg up on a horse Tallarico trained - a side job - in '65
---
Successful second careers start with soundness
---
Brit trainer's unique concept: Buy cheap racehorses in Britain and Ireland and ship to the US
---
Racing history: 1977 fire consumes Garden State Park's wooden grandstand... Jockeys escaped the second-story jockeys' room by descending fire hose
---
Construction done on Churchill Downs' giant video board
---
VIDEO: Interview with NYRA CFO Susanne Stover
---
'50-1' movie caravan rolls into Kentucky
---
Collecting Derby Fever: Much like owners, trainers and jockeys, collectors of sports memorabilia are not exempt from Kentucky Derby Fever
---
Joe Biden to address this month's American Equine Summit
---
Latest NTRA polls
---
The Jockey Club chairman calls for publicly available veterinary files for Triple Crown contenders
---
Illinois: Fairmount Park president says bill amendment could doom track
---
One for the Roses: Steve Haskin provides the case for Kentucky Derby contender Cairo Prince
---
Jerardi: Charles Town Classic soars to high stature
---
DRF hires Fornatale as tournament editor
---
Haskin's Derby Dozen: Danza at #5
---
---
>>> Ilinois: Horse racing industry wants more out of casino expansion legislation
>>> Illinois: Arlington Park - half the slots won't cut it... "All right, we'll exist... But we will not flourish."
>>> Fairmount Park: Why are we being singled out for no slots?
---
---
>>> ESPN's latest 3YO Power Rankings: Cairo Prince reappears in Top Ten
>>> White's 2014 Ky Derby 'Strike List': "...if a horse has more than two strikes, it's nearly impossible to win the roses."
>>> West: Which Kentucky Derby contender is ready to go the distance for victory?
>>> Derby Watch: Form, pedigree, speed, and red flag analysis of Derby Contenders
>>> Free PPs: Ky Derby contenders [pdf]
>>> VIDEO: Interview with Art Sherman [California Chrome]
>>> "This horse is going to win the Kentucky Derby, not a doubt in my mind." - California Chrome's owner
>>> DRF's Derby Top Twenty: Danza #5
>>> Derby Trail: Florida Derby winner Constitution drops out of contention with injury
>>> Bossert's Derby Fifteen: Danza at #7
>>> Hovdey: Long Kentucky Derby drought for Californians
Sat results: La Verdad convincing in G2 $200K Distaff Hcp
Gutterman signs on as NYRA marketing consultant

---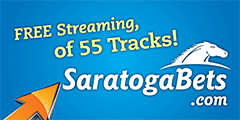 ---
---
Champion jockey Richard Hughes is expected to return to racing this week, less than a month after fracturing his vertebra
---
MISCELLANEOUS INDEX:
Where we put things that don't fit into any of the other index categories
---
Track visit/reviews
---
THE FANS SPEAK:
Where we occasionally search the web to explore various discussions and topics
---
OPINION:
equidaily.com's occasional thoughts on various topics regarding the horse racing game

---
equidaily.com's Coast-to-coast
---
Saratoga's Best Bets
---
Click here to e-mail any questions, comments, or suggestions to equidaily.com
---
AQUEDUCT, Jamaica, NY
ARAPAHOE PARK, Aurora, CO
ARLINGTON PARK, Arlington Heights, IL
ASSINIBOIA DOWNS, Winnipeg, Manitoba
BELMONT, Elmont, NY
BEULAH PARK, Grove City, OH
CALDER, Miami, FL
CALIFORNIA FAIRS, CA
CANTERBURY PARK, Shakopee, MN
CHARLES TOWN, Charles Town, WV
CHURCHILL DOWNS, Louisville, KY
COLONIAL DOWNS, New Kent, VA
DELAWARE PARK, Wilmington, DE
DEL MAR, Del Mar, CA
DELTA DOWNS, Vinton, LA
DOWNS AT ALBUQUERQUE, Albuquerque, NM
ELLIS PARK, Henderson, KY
EMERALD DOWNS, Auburn, WA
EVANGELINE DOWNS, Opelousas, LA
FAIR GROUNDS, New Orleans, LA
FAIR MEADOWS, Tulsa, OK
FAIRMOUNT PARK, Collinsville, IL
FAIRPLEX, Pomona, CA
FINGER LAKES, Farmington, NY
FORT ERIE, Fort Erie, Ontario
GOLDEN GATE, Albany, CA
GREAT LAKES DOWNS, Muskegon, MI
GULFSTREAM PARK, Hallandale, FL
HASTINGS PARK, Vancouver, BC
HIALEAH PARK, Hialeah, FL
HAWTHORNE RACE COURSE, Cicero, IL
HOLLYWOOD PARK, Inglewood, CA
HOOSIER PARK, Anderson, IN
INDIANA DOWNS, Shelbyville, IN
KEENELAND, Lexington, KY
KENTUCKY DOWNS, Franklin, KY
LAUREL PARK, Laurel, MD
LONE STAR PARK, Grand Prairie, TX
LOUISIANA DOWNS, Bossier City, LA
MARQUIS DOWNS, Saskatoon, Saskatchewan
MEADOWLANDS, E Rutherford, NJ
MONMOUTH PARK, Oceanport, NJ
MOUNTAINEER, Chester, WV
NORTHLANDS PARK, Edmonton, Alberta
OAKLAWN PARK, Hot Springs, AR
PENN NATIONAL, Grantville, PA
PARX, Bensalem, PA
PIMLICO, Baltimore, MD
PINNACLE RACE COURSE, New Boston, MI
PORTLAND MEADOWS, Portland, OR
PRAIRIE MEADOWS, Des Moines, IA
PRESQUE ISLE DOWNS, Erie, PA
REMINGTON PARK, Oklahoma City, OK
RETAMA PARK, San Antonio, TX
RIVER DOWNS, Cincinnati, OH
ROCKINGHAM PARK, Salem, NH
RUIDOSO DOWNS, Ruidoso Downs, NM
SAM HOUSTON, Houston, TX
SANTA ANITA, Arcadia, CA
SARATOGA, Saratoga Springs, NY
STAMPEDE PARK, Calgary, Alberta
SUFFOLK DOWNS, Boston, MA
SUNLAND PARK, Sunland Park, NM
SUNRAY PARK, Farmington, NM
TAMPA BAY DOWNS, Tampa, FL
THISTLEDOWN, Cleveland, OH
TURF PARADISE, Phoenix, AZ
TURFWAY PARK, Florence, KY
WILL ROGERS DOWNS, Claremore, Oklahoma
WOODBINE, Rexdale, Ontario
WOODLANDS, Kansas City, KS
YAVAPAI DOWNS, Prescott Valley, AZ

ZIA PARK, Hobbs, NM

---


Note: Pages on this site are labelled with the equidaily.com logo. Some links lead to pages at other sites. equidaily.com is responsible only for the pages on this site. equidaily.com assumes no responsibility for errors or omissions. Always check with official sources to verify info.

---
Copyright 2014 equidaily.com

---