Sat preview: Accelerate looks speediest in G2 $200K Los Al Derby
---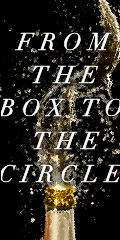 ---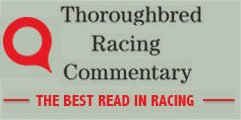 ---
MelCup winning jock Michelle Payne nominated for The Don Award
---
Current forecasts for N American tracks
---
Racetrack abbreviation codes
---
[AUS] FOXSPORTS.AU
[AUS] RACING AND SPORTS
[AUS] SMH.COM.AU
[AUS/NZ] THOROUGHBRED NEWS
[AUS] VIRTUAL FORM GUIDE
[ASIA] S CHINA MORNING POST
BALTIMORE SUN
BLOOD HORSE
CBS.SPORTSLINE
CHICAGO SUN-TIMES
DAILY RACING FORM
ESPN
FOX SPORTS
FRANCE GALOP
[JAPAN] HORSERACING IN JAPAN
KENTUCKY.COM
LA TIMES
LOUISVILLE COURIER JOURNAL
MIAMI HERALD
MSNBC
NY DAILY NEWS
NY POST
NY TIMES
THE RACING BIZ [Mid-Atlantic region]
SEATTLE TIMES
SIGNONSANDIEGO.COM
SINGAPORE TURF CLUB
SOUTH AFRICAN HORSERACING
THISISHORSERACING.COM
ThoroughbredRacing.com
TIMES PICAYUNE
[U.K.] BBC
[U.K.] GUARDIAN
[U.K.] RACING POST
[U.K.] SPORTINGLIFE.COM
[U.K.] TELEGRAPH
[U.K.] TIMES
USA TODAY
WASHINGTON POST

Is Britain's apprentice system making young riders more likely to cheat?
---
Keeneland: recalling an extraordinary figure who lit up every sale
---
Profile: Harold Roth -founder of horse racing image library Horsephotos ... "I could never have envisioned this when I first started. I think we have a very nice history of accomplishment."
---
Japanese horse Makahiki has a perfect warm-up to Prix de l'Arc de Triomphe
---
Trainer Watch/international: Family affair as Intricately gives Joseph O'Brien first G1 success as a trainer... Mother bred the winner, brother rode
---
Laurel's opening weekend a success... Solid handle increase
---
Pravda: A day at the races - Horse Racing, a sport not just for kings!
---
Britain's Jockey Club has announced the return of a 1 million pounds ($1.33 million) jump Triple Crown bonus for the 2016-17 season
---
3YO Watch: Toews On Ice possibly for sale and heading to New Mexico
---
Jock Watch/international: MelCup winning jock Michelle Payne back in saddle after lengthy injury layoff from racing
---
Flintshire, Lady Eli breeze for Brown
---
Breeders' Cup preps spice up Belmont meet
---
Law: Saratoga 2016 postscript
---
Calder fall meet to be conducted as a TV studio... "...there will be no wagering or amenities at Gulfstream Park West."
---
Lady Aurelia works ahead of G1 assignment in Europe... Following up Aug 21 G1 win in France
---
Arc Trials: a filly who rose from sickness and obscurity to win the Vermeille
---
Jorge Abreu, assistant to Chad Brown, training his own stable
---
Servis eager to watch Cathryn Sophia challenge Songbird
---
The latest moves in the battle to end Woodbine's employment crisis
---
Robert L. Evans sells 5000 shares of Churchill Downs Inc stock
---
Jockey Beaucamp critical but stable after Monmouth spill
---
Charles Borell likely to have trial date set at Sept 29 hearing
---
Haskin: The DRF vs Racing Times war of '91
---
Exotic wagering: Winning big with small bet
---
Hovdey: Sheppard shrugs off rare Spa drought
---
Jock Watch: Edwin Maldonado undergoes surgery to repair broken ribs... Out 3-6 months
---
Owner Masterson realizes uniqueness of Tepin
---
New horse-racing convention planned for next summer near Saratoga
---
NY congressman proposes anti-doping rules for horse racing
---
National: Handle trending slightly up through August
---
Lakow new agent for Javier Castellano
---
True grit and French grounding: two reasons Flavien Prat has scaled the heights at Del Mar
---
Why does California seem to have an edge over New York in producing the best 2YOs?
---
Postponed 'bang on course' for Arc bid
---
Postponed show coming to Santa Anita
---
Middle East newspaper declares, "Frosted's eclipse in Woodward Stakes puts brakes on Breeders' Cup Classic ambitions"
---
Tepin excels in advance of Woodbine Mile
---
Five reasons The Melbourne Cup is the world's greatest horse race
---
California Chrome named Del Mar Horse of Meet
---
For trainer Jamie Ness, new operation - same results
---
Maryland Jockey Club to hold players' challenge contest at LRL fall meet
---
Australia: Racing NSW has committed to a multi-million-dollar expansion of its racehorse welfare program as it moves to stave off pressure from an increasingly influential animal rights lobby
---
Legendary English trainer John Gosden stresses importance of long-distance races
---
Children of Secretariat: the son whose mighty Travers record was finally eclipsed by Arrogate
---
Ten things investors can learn from horse-racing bettors
---
Sport picture of the day: horse racing in Indonesia
---
International: Curlin colt lands Austrian Derby
---
Jock Watch: PVal wins Quarter Horse race at Ruidoso
---
International: Newmarket, the home of racing, is getting its House in order
---
Australia: Jock being sued for allegedly causing race-spill in 2010
---
>>> Daley: Rockingham Park, America's eighth oldest racetrack once known as 'Little Saratoga', will shutter its doors on Wednesday
---
California Chrome retains first place in NTRA Top Thoroughbred Poll... Arrogate joins Top Ten
---
Arrogate's Travers victory earns Brisnet.com's highest rating ever
---
Go figure: Baffert horses conquer Saratoga
---
Nyquist, Exaggerator to meet again in Penn Derby, but will it ultimately mean anything?
---
DeRosa: Nyquist still leads 3YO male division even after Arrogate's scintillating Travers victory
---
Jockey, trainer races at Del Mar should come down to the wire
---
NY racing's Maggie Wolfendale and Tom Morley - couple finds success, each other on the backstretch
---
What I learned at the Deauville sale and why I'll be back - by US trainer McPeek
---
Scully: Arrogate - the quintessence of a late-blooming superstar
---
Lady Eli foiled in Ballston Spa - by Strike Charmer, and by tactics?
---
Photo gallery: Exotic animal racing at the Fair Grounds
---
Sat preview: Clement, Brown pair off in G3 $200K Noble Damsel
---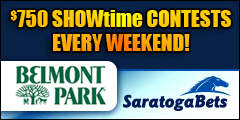 ---
---
ITC to implement cobalt and milkshake testing
---
MISCELLANEOUS INDEX:
Where we put things that don't fit into any of the other index categories
---
Track visit/reviews
---
THE FANS SPEAK:
Where we occasionally search the web to explore various discussions and topics
---
OPINION:
equidaily.com's occasional thoughts on various topics regarding the horse racing game

---
equidaily.com's Coast-to-coast
---
Saratoga's Best Bets
---
Click here to e-mail any questions, comments, or suggestions to equidaily.com
---
AQUEDUCT, Jamaica, NY
ARAPAHOE PARK, Aurora, CO
ARLINGTON PARK, Arlington Heights, IL
ASSINIBOIA DOWNS, Winnipeg, Manitoba
BELMONT, Elmont, NY
BELTERRA PARK, Cincinnati, OH
BEULAH PARK, Grove City, OH
CALDER, Miami, FL
CALIFORNIA FAIRS, CA
CANTERBURY PARK, Shakopee, MN
CHARLES TOWN, Charles Town, WV
CHURCHILL DOWNS, Louisville, KY
COLONIAL DOWNS, New Kent, VA
DELAWARE PARK, Wilmington, DE
DEL MAR, Del Mar, CA
DELTA DOWNS, Vinton, LA
DOWNS AT ALBUQUERQUE, Albuquerque, NM
ELLIS PARK, Henderson, KY
EMERALD DOWNS, Auburn, WA
EVANGELINE DOWNS, Opelousas, LA
FAIR GROUNDS, New Orleans, LA
FAIR MEADOWS, Tulsa, OK
FAIRMOUNT PARK, Collinsville, IL
FAIRPLEX, Pomona, CA
FINGER LAKES, Farmington, NY
FORT ERIE, Fort Erie, Ontario
GOLDEN GATE, Albany, CA
GREAT LAKES DOWNS, Muskegon, MI
GULFSTREAM PARK, Hallandale, FL
HASTINGS PARK, Vancouver, BC
HIALEAH PARK, Hialeah, FL
HAWTHORNE RACE COURSE, Cicero, IL
HOLLYWOOD PARK, Inglewood, CA
HOOSIER PARK, Anderson, IN
INDIANA DOWNS, Shelbyville, IN
KEENELAND, Lexington, KY
KENTUCKY DOWNS, Franklin, KY
LAUREL PARK, Laurel, MD
LONE STAR PARK, Grand Prairie, TX
LOUISIANA DOWNS, Bossier City, LA
Los Alamitos, Los Alamitos, CA
MAHONING VALLEY, Youngstown, OH
MARQUIS DOWNS, Saskatoon, Saskatchewan
MEADOWLANDS, E Rutherford, NJ
MONMOUTH PARK, Oceanport, NJ
MOUNTAINEER, Chester, WV
NORTHLANDS PARK, Edmonton, Alberta
OAKLAWN PARK, Hot Springs, AR
PENN NATIONAL, Grantville, PA
PARX, Bensalem, PA
PIMLICO, Baltimore, MD
PINNACLE RACE COURSE, New Boston, MI
PORTLAND MEADOWS, Portland, OR
PRAIRIE MEADOWS, Des Moines, IA
PRESQUE ISLE DOWNS, Erie, PA
REMINGTON PARK, Oklahoma City, OK
RETAMA PARK, San Antonio, TX
RIVER DOWNS, Cincinnati, OH
ROCKINGHAM PARK, Salem, NH
RUIDOSO DOWNS, Ruidoso Downs, NM
SAM HOUSTON, Houston, TX
SANTA ANITA, Arcadia, CA
SARATOGA, Saratoga Springs, NY
STAMPEDE PARK, Calgary, Alberta
SUFFOLK DOWNS, Boston, MA
SUNLAND PARK, Sunland Park, NM
SUNRAY PARK, Farmington, NM
TAMPA BAY DOWNS, Tampa, FL
THISTLEDOWN, Cleveland, OH
TURF PARADISE, Phoenix, AZ
TURFWAY PARK, Florence, KY
WILL ROGERS DOWNS, Claremore, Oklahoma
WOODBINE, Rexdale, Ontario
WOODLANDS, Kansas City, KS
YAVAPAI DOWNS, Prescott Valley, AZ
ZIA PARK, Hobbs, NM

---


Note: Pages on this site are labelled with the equidaily.com logo. Some links lead to pages at other sites. equidaily.com is responsible only for the pages on this site. equidaily.com assumes no responsibility for errors or omissions. Always check with official sources to verify info.

---
Copyright 2016 equidaily.com

---