Sun results: Iliad wins G2 $200K San Vicente
Sat results: Bolo repeats in G2 $200K Arcadia
Sat results: Vale Dori best in G2 $200K Santa Maria

---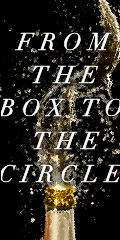 ---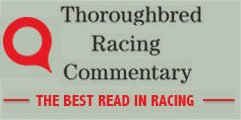 ---
Sat preview: Thirteen set for G1 Black Caviar Lightning at Flemington
Mon results: Winx polished and powerful in G2 Apollo at Randwick
Timeform review: 2017 Apollo Stakes
Timeform review: 2017 Orr Stakes

---
Current forecasts for N American tracks
---
Racetrack abbreviation codes
---
[AUS] FOXSPORTS.AU
[AUS] RACING AND SPORTS
[AUS] SMH.COM.AU
[AUS/NZ] THOROUGHBRED NEWS
[AUS] VIRTUAL FORM GUIDE
[ASIA] S CHINA MORNING POST
BALTIMORE SUN
BLOOD HORSE
CBS.SPORTSLINE
CHICAGO SUN-TIMES
DAILY RACING FORM
ESPN
FOX SPORTS
FRANCE GALOP
[JAPAN] HORSERACING IN JAPAN
KENTUCKY.COM
LA TIMES
LOUISVILLE COURIER JOURNAL
MIAMI HERALD
MSNBC
NY DAILY NEWS
NY POST
NY TIMES
THE RACING BIZ [Mid-Atlantic region]
SEATTLE TIMES
SIGNONSANDIEGO.COM
SINGAPORE TURF CLUB
SOUTH AFRICAN HORSERACING
THISISHORSERACING.COM
ThoroughbredRacing.com
TIMES PICAYUNE
[U.K.] BBC
[U.K.] GUARDIAN
[U.K.] RACING POST
[U.K.] SPORTINGLIFE.COM
[U.K.] TELEGRAPH
[U.K.] TIMES
USA TODAY
WASHINGTON POST

Irish War Cry jumps to first-place in NTRA top 3YO poll... Arrogate unanimous first-place Top Thoroughbred Poll
---
Latest NTRA weekly polls
---
Look where Arrogate is now in the world all-time earnings list
---
Arrogate nominated for World Cup
---
Dubai Racing Club releases Dubai World Cup Day 2017 nominations
---
3YO Watch: 'War Cry', 'Empire' to target different paths
---
Oppenheim: "Is [the Pegasus] a new model [for racing]? Doubtful."
---
Personalities get behind Equestricon as countdown to historic new racing convention gets underway
---
Treve's first foal: What do you get when you breed a great mare and a great sire? With luck, it'll be something like this little guy
---
Jock Watch: Sue Martin - A great-grandmother, a winning ride and a story that's worth a lot more than 15 minutes
---
Pegasus final time lowered to a track record
---
Timeform blog's analysis of the original posted Pegasus race-time
---
Retired jockey Garrett Gomez died of meth overdose
---
TDN Derby Top Ten
---
Haskin's Derby Dozen
---
Pedigree insights: Irish War Cry
---
Tepin to miss Endeavour, could face males at GP in seasonal bow
---
Jock Watch: Irad Ortiz riding in Saudi Arabia for two days
---
Hong Kong racing chief says no to a Pegasus-like race: "I firmly believe that these 'limited number of owners financing majority of prize money races' will be difficult to sustain."
---
Big Dubai representation shows how far Hong Kong racing has come
---
ARCI conference to tackle drug testing, stewards
---
Arlington releases 2017 stakes schedule
---
US plan falls though for South African shipment... Plan to boost S African bloodstock falters due to shipment costs
---
Fans win big in Meadowlands Own-A-Horse promotion
---
Betfair US/TVG joins NTRA
---
Children of Secretariat: the son who ran 144 times - and is still thriving at 31
---
Nearly 600 trainers to compete in Thoroughbred Makeover
---
Plonk: Classic Empire and Unique Bella - let's temper the reaction to weekend results
---
China: Officially, there's one thing missing from Chinese horse races: gambling. In reality, a gargantuan off-course gray market exists. Will the Party respond?
---
Photos: Horse racing returns to Rillito Park
---
Gulfstream lowers P3 minimum to fifty cents
---
Arrogate turns Pegasus World Cup into one-horse show
---
Total handle for Pegasus World Cup was $15.68 million... Total handle for GP/Sat $40.2mil
---
Watchmaker: Arrogate's Pegasus World Cup victory comes as no surprise
---
Racing Post: "... a thoroughly downbeat showing [by Chrome] ... a sequel lacking the drama of the original."
---
Dale Romans [Prayer for Relief, 10th], "This thing worked. It's one of the most enjoyable days I've ever participated in horse racing."
---
Sat results: Gulfstream stakes recaps
---
---
Idaho: Horse racing revival efforts reveal rift... Lawmakers, governor differ on lucrative betting machines
---
Want to own a racehorse? Pony up $500 at the Fair Grounds
---
Nebraska: Senator pulls bill that would have taxed horse tracks 'out of existence'
---
Breeders' Cup, Qatar Racing announce partnership
---
What the world's third-ranked trainer [Baffert] said to the number four [Waller]
---
Emerald Downs opens 70-date horse racing season on April 8
---
Ballerina turned bettor in handicapping Super Bowl
---
Hall of Famer Bob Baffert makes it back where he first made it big ... Looks back at Thirty Slews' upset in 1992 BC Sprint at GP
---
Road to the Kentucky Derby: likeable Guest Suite needs to make plenty of improvement
---
International panel names Arrogate best horse of 2016
---
When Arrogate's prodigious talent was the best-kept secret in racing
---
IFHA: World's top G1 races for 2016
---
2016 World's Best Racehorse Rankings summary
---
California Chrome named HOTY
---
2016 Eclipse Award winners - with vote totals
---
Watchmaker: Form holds up in Eclipse Award voting
---
Powell: New York racing being dealt a body blow
---
Canada: Sovereign Award finalists
---
Triple Crown nominees for 2017 rise to 418
---
Europe: Churchill is 2016 champ 2YO
---
Baltimore mayor: Keeping Preakness top economic priority
---
Ehalt: The moment the racing gods refused to smile on California Chrome
---
Who needs a whip? Some riders just use a bit of persuasion... Whip use is an ongoing issue but jockeys say it's about education and safety, not causing pain
---
Why Effinex may represent a golden opportunity for New York breeders
---
Industry representatives urge lawmakers to return NYRA to private hands
---
Illinois board ponders plan to pump $500K into purses
---
Ideas: Attracting more fans to increase the handle and enticing more owners to join to increase investment
---
Remembering trainer Glenn DiSanto
---
Can 'crazy' horse names keep Hong Kong racing down? ... As Hong Kong racing looks to lift the profile of its big races in the eyes of the breeding world, does the jurisdiction need to stop owners from giving horses crazy names?
---
Stronach still seeking new heights for racing
---
Could this new device be the next big step forward in equine healthcare?... Monitors a horse's health and welfare round-the-clock
---
Trainer Watch: Former Pletcher exercise rider Antonio Arriaga starting to get noticed
---
NY proposal would require reports on bleeding episodes
---
Jumps: Injury costs Eclipse champ Rawnaq chance for Cheltenham
---
NY: Horse racing owners now required to watch video on responsible horse aftercare
---
Haskin's Derby Dozen
---
For claiming trainers, different approaches in search of similar results
---
BC Betting Challenge winners chasing $3mil bonus in weekend's NHC, "I'll worry about the bonus if I'm [in contention] on Sunday."
---
Man o' War's 100th birthday a year-long celebration at Kentucky Horse Park
---
Nebraska: Tax would 'devastate' local horse racing
---
California Chrome earns top 2016 Equibase speed figure
---
Arrogate's Classic Brisnet's top performance of 2016
---
Mon results: Uncontested romps in $150K Smarty Jones at OP
---
California Chrome puts in solid work at GP on Sat
---
Art Sherman: bracing himself for life without California Chrome
---
New York lawmaker plans NYRA discussion
---
"First and foremost I'm a racing fan."... Vic Stauffer steps into Oaklawn announcer's booth
---
More Fair Grounds horses test positive for equine herpes
---
Times-Picayune: Equine herpes virus outbreak threatens Fair Grounds racing
---
It might be interesting to examine just how impressive a feat like this was: Closer look at the 1981 perfect 9-for-9 Belmont handicapping performance
---
Organization of Racing Investigators to hold training conference
---
Graded racing in America: who are the human champions of 2016?
---
76 Irish thoroughbreds flown to China as horse racing connections enhanced
---
National Museum of Racing courtyard to honor Marylou Whitney
---
Why Cheltenham is the most special horse racing event in the world
---
Hovdey: Pegasus World Cup provides awards postmortem
---
Op-ed: Racing's data dilemma
---
The all-female syndicate, the star filly and a date with a million dollars
---
3YO Watch: Why Gormley looks a strong contender for the Santa Anita Derby
---
Ariz: Rillito horse racing faces up-or-down vote by Pima County supervisors Tues
---
Strong 2016 for historic racing company Exacta Systems
---
Maryland Jockey Club announces strong 2016 handle growth
---
Trainer Ron Ellis banned from 2017 Breeders' Cup
---
British racecourse Kempton Park may close... Hosts King George VI Chase
---
Fair Grounds bringing in disease expert to assess recent EHV-1 outbreak among horses
---
Trainer Watch/international: Doug Watson - the American trainer sweeping all before him at Meydan
---
Improving the game: Streamlining to process of becoming a new owner
---
Comeback: Jockey Kevin Krigger planning to return after two year absence
---
Mare in foal to American Pharoah tops second day of the Keeneland Jan Sale
---
Significant drop in key figures at Keeneland Jan sale
---
No live racing on Sundays at Parx until April 2
---
Sat results: Candid Desire wins first stakes in Hollie Hughes... Send It In captures thrilling edition of Haynesfield
---
---
Grand National weights
Cheltenham to close bars early and limit drinks

---
MISCELLANEOUS INDEX:
Where we put things that don't fit into any of the other index categories
---
Track visit/reviews
---
THE FANS SPEAK:
Where we occasionally search the web to explore various discussions and topics
---
OPINION:
equidaily.com's occasional thoughts on various topics regarding the horse racing game

---
equidaily.com's Coast-to-coast
---
Saratoga's Best Bets
---
Click here to e-mail any questions, comments, or suggestions to equidaily.com
---
AQUEDUCT, Jamaica, NY
ARAPAHOE PARK, Aurora, CO
ARLINGTON PARK, Arlington Heights, IL
ASSINIBOIA DOWNS, Winnipeg, Manitoba
BELMONT, Elmont, NY
BELTERRA PARK, Cincinnati, OH
BEULAH PARK, Grove City, OH
CALDER, Miami, FL
CALIFORNIA FAIRS, CA
CANTERBURY PARK, Shakopee, MN
CHARLES TOWN, Charles Town, WV
CHURCHILL DOWNS, Louisville, KY
COLONIAL DOWNS, New Kent, VA
DELAWARE PARK, Wilmington, DE
DEL MAR, Del Mar, CA
DELTA DOWNS, Vinton, LA
DOWNS AT ALBUQUERQUE, Albuquerque, NM
ELLIS PARK, Henderson, KY
EMERALD DOWNS, Auburn, WA
EVANGELINE DOWNS, Opelousas, LA
FAIR GROUNDS, New Orleans, LA
FAIR MEADOWS, Tulsa, OK
FAIRMOUNT PARK, Collinsville, IL
FAIRPLEX, Pomona, CA
FINGER LAKES, Farmington, NY
FORT ERIE, Fort Erie, Ontario
GOLDEN GATE, Albany, CA
GREAT LAKES DOWNS, Muskegon, MI
GULFSTREAM PARK, Hallandale, FL
HASTINGS PARK, Vancouver, BC
HIALEAH PARK, Hialeah, FL
HAWTHORNE RACE COURSE, Cicero, IL
HOLLYWOOD PARK, Inglewood, CA
HOOSIER PARK, Anderson, IN
INDIANA DOWNS, Shelbyville, IN
KEENELAND, Lexington, KY
KENTUCKY DOWNS, Franklin, KY
LAUREL PARK, Laurel, MD
LONE STAR PARK, Grand Prairie, TX
LOUISIANA DOWNS, Bossier City, LA
Los Alamitos, Los Alamitos, CA
MAHONING VALLEY, Youngstown, OH
MARQUIS DOWNS, Saskatoon, Saskatchewan
MEADOWLANDS, E Rutherford, NJ
MONMOUTH PARK, Oceanport, NJ
MOUNTAINEER, Chester, WV
NORTHLANDS PARK, Edmonton, Alberta
OAKLAWN PARK, Hot Springs, AR
PENN NATIONAL, Grantville, PA
PARX, Bensalem, PA
PIMLICO, Baltimore, MD
PINNACLE RACE COURSE, New Boston, MI
PORTLAND MEADOWS, Portland, OR
PRAIRIE MEADOWS, Des Moines, IA
PRESQUE ISLE DOWNS, Erie, PA
REMINGTON PARK, Oklahoma City, OK
RETAMA PARK, San Antonio, TX
RIVER DOWNS, Cincinnati, OH
ROCKINGHAM PARK, Salem, NH
RUIDOSO DOWNS, Ruidoso Downs, NM
SAM HOUSTON, Houston, TX
SANTA ANITA, Arcadia, CA
SARATOGA, Saratoga Springs, NY
STAMPEDE PARK, Calgary, Alberta
SUFFOLK DOWNS, Boston, MA
SUNLAND PARK, Sunland Park, NM
SUNRAY PARK, Farmington, NM
TAMPA BAY DOWNS, Tampa, FL
THISTLEDOWN, Cleveland, OH
TURF PARADISE, Phoenix, AZ
TURFWAY PARK, Florence, KY
WILL ROGERS DOWNS, Claremore, Oklahoma
WOODBINE, Rexdale, Ontario
WOODLANDS, Kansas City, KS
YAVAPAI DOWNS, Prescott Valley, AZ
ZIA PARK, Hobbs, NM

---


Note: Pages on this site are labelled with the equidaily.com logo. Some links lead to pages at other sites. equidaily.com is responsible only for the pages on this site. equidaily.com assumes no responsibility for errors or omissions. Always check with official sources to verify info.

---
Copyright 2016 equidaily.com

---