Sat results: Sky Kingdom captures G3 $100K Tokyo City Cup for second time
Second annual Santa Anita Derby Millionaire Contest to be offered on SA Derby Day, Apr 4

---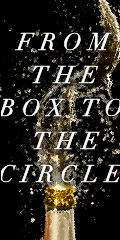 ---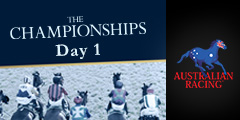 ---
Sun results: Aerovelocity scores in G1 Takamatsunomiya Kinen in Japan
Delicacy wins G3 W.A. Oaks at Ascot
Stewards adjourn first NSW inquiry into alleged greyhound live baiting offences
Sat results: Hartnell superior in G1 The BMW at Rosehill Gardens
Sat results: Fenway victorious in G1 Vinery Stud at Rosehill
AUS: Moonee Valley launches Trakus technology on-course

---
Current forecasts for N American tracks
---
Racetrack abbreviation codes
---
[AUS] FOXSPORTS.AU
[AUS] RACING AND SPORTS
[AUS] SMH.COM.AU
[AUS/NZ] THOROUGHBRED NEWS
[AUS] VIRTUAL FORM GUIDE
[ASIA] S CHINA MORNING POST
BALTIMORE SUN
BLOOD HORSE
CBS.SPORTSLINE
CHICAGO SUN-TIMES
DAILY RACING FORM
ESPN
FOX SPORTS
FRANCE GALOP
[JAPAN] HORSERACING IN JAPAN
KENTUCKY.COM
LA TIMES
LOUISVILLE COURIER JOURNAL
MIAMI HERALD
MSNBC
NY DAILY NEWS
NY POST
NY TIMES
THE RACING BIZ [Mid-Atlantic region]
SEATTLE TIMES
SIGNONSANDIEGO.COM
SINGAPORE TURF CLUB
SOUTH AFRICAN HORSERACING
THISISHORSERACING.COM
ThoroughbredRacing.com
TIMES PICAYUNE
[U.K.] BBC
[U.K.] GUARDIAN
[U.K.] RACING POST
[U.K.] SPORTINGLIFE.COM
[U.K.] TELEGRAPH
[U.K.] TIMES
USA TODAY
WASHINGTON POST

Santa Anita exercise rider - brother to Euro champ Pat Eddery - held by immigration officials
---
Golden Gate Fields: Jockey Juan Sanchez breaks arm
---
Oaklawn to end meet with third purse increase
---
Keeneland Spring Meet: Closer look - news and highlights
---
Plonk: Countdown to the Crown - Mar 27 edition [pdf]
---
By the numbers: Productive KY Derby preps
---
DRF: Kentucky Derby - Who's Hot, Who's Not for Mar 25
---
Jerardi: Searching for Derby prospects to use with Dortmund
---
Derby Trail: UAE Derby winner Mubtaahij enters the Ky Derby conversation
---
NY: Fields shaping up for Wood Memorial Day
---
Derby Trail: One Lucky Dane to join Dortmund in SA Derby
---
3YO Watch: G1 Hopeful winner Competitive Edge blitzes 'em in return
---
Jock Watch: Luis Saez rides with heavy heart but not fear... Lost brother to a racing accident last year
---
Hovdey: Tedesco the constant in changing surfaces at Del Mar
---
Turfway's successful winter-spring meet comes to a close
---
Criminal charges filed against four vets for med violations at Penn Nat
---
Mid-Atlantic tracks reach simulcast deal with Monarch
---
Groupie Doll's first foal arrives early, under veterinary care
---
Shared Belief headed for Charles Town Classic
---
Wise Dan making progress, yet to resume jogging
---
Sulky side: Tony Morgan becomes only the third N American harness driver to compile 15,000 career wins
---
Swan song for Fasig-Tipton Texas
---
NYRA handle dips slightly in 2014
---
Breeders' Cup Classic winner Concern dies in Oklahoma
---
DRF: Jeff Gural, the man and his missions
---
72-hour surveillance before Santa Anita Derby, Oaks
---
Blue Grass entrants to be monitored around the clock
---
Ky: Trainer Tevis McCauley charged with administering 'milkshake' on race day
---
Stories from Cot Campbell: The one that got away
---
NY: VLT expansion proposals shot down
---
Churchill Downs Inc's reinvestments at New Orleans Fair Grounds drawing rave reviews
---
The strict rules that enable German stallions to flourish
---
Saeed Bin Surour: A man for all reasons
---
Hayward: A racetrack model to improve racing - right here in the US
---
AP: California Chrome ready to shine in world's richest race
---
'Tourism up 30 per cent thanks to Dubai World Cup'... Frank Gabriel Jr says world's richest race has encouraged huge growth in interest in host city
---
Jockey Richard Mullen proves that success comes to those who wait for it at Dubai World Cup
---
Punters across the globe converge to bet on the Dubai World Cup - with mixed results
---
Del Mar's new dirt has arrived... Red, rich El Segundo sand will give Del Mar a new look and new racing surface in 2015
---
Jicha: Dubai Sky and Firing Line head to Derby with questionalble points credentials... Also, why the dissent towards Ky's no-Lasix races?
---
West: With a little luck, this year's Triple Crown chase could be historic
---
3YO Watch: Preakness probable target for Divining Rod
---
Derby Trail: Will Ami's Flatter run in the Kentucky Derby? - or is Queen's Plate on the agenda?
---
Top Ky Derby hopeful Carpe Dien targeting Blue Grass
---
Jock Watch: Joe Talamo hopes return to Big Easy is a winner... At Fair Grounds for La Derby mount on War Story
---
White: First 2015 Derby Strikes
---
New York breeders continue to up the ante with 2015 foals from top-flight first crop sires
---
$46mil Delaware casino aid package stalls
---
Idaho House kills 'Instant Horse Racing' gambling, bill heads to governor
---
Idaho: Legislators debate Instant Racing machines... "This bill is not about the survival of horse racing as an industry. This bill is about the survival of instant horse racing."
---
NJ: Assembly approves bill to protect horse racing simulcasts in Atlantic City
---
RMTC approves cobalt threshold
---
Timothy Snyder, owner of Lisa's Booby Trap, dies
---
Canada: Weather makes racetrack prep a challenge at Hastings
---
Ky: Tent caterpillars hatching - high numbers could pose danger to mares
---
Laurel Park begins final week of winter meet
---
Celebrating Secretariat's birthday - at The (historic) Meadow
---
Photo: Jockey Maragh provides a selfie next to his Dubai hotel rooftop swimming pool
---
West Virginia jockey charged with attempted murder
---
With stability in S Florida, Stronach Group seeks momentum in Maryland
---
Latest NTRA t-bred and 3YO polls
---
Haskin's latest Derby Dozen
---
Watchmaker Watch: Weekly divisional ratings
---
AP's latest Derby Ten: Firing Line at #4
---
DRF: Training legend Allen Jerkens gets proper send-off at Tues morning memorial in Florida
---
Bloodhorse: Jerkens remembered at Gulfstream Park service
---
Veitch: Allen Jerkens - He was in a class by himself
---
Trainer Chuck Simon remembers his time working for Allen Jerkens, "A day does not go by where I don't think of something he taught me and something he said. He treated me like family..."
---
Davidowitz remembers Jerkens... Also, Derby prep thoughts
---
Scott: "Think how much more compelling the run-up to the Derby would be, though, if the seven highest-ranked 3-year-olds weren't running in seven different final preps."
---
Dubai Sky among 9 late nominees to Triple Crown
---
Ehalt: Upstart hopes to make it 'official' this time
---
War Story looks to turn tables in La Derby
---
VIDEO: Art Sherman - in Dubai - says California Chrome is ready
---
Virginia: The passage of racing legislation leads to the next question: How does racing in Virginia get rebuilt?
---
Talks to bring casino to Woodbine back on at Toronto City Hall... Mayor's Executive Committee to debate issue at Mar 25 meeting
---
Kentucky approves Lasix-free races
---
Horses in eleven G1 races at NYRA tracks to face enhanced security
---
Idaho: Les Bois Park threatens closure if Instant Racing ban passes
---
Illinois: Legislation introduced to allow Instant Racing machines at racetracks
---
Horse racing season begins at Fairmount Park with new push for slots at tracks
---
Shared Belief, California Chrome, Bayern among the Charles Town Classic noms
---
Mine That Bird among noms for Canadian Hall of Fame
---
Fast Company [magazine "about the most progressive business leaders"] profiles Saratoga Springs marketing company owner - and his hobby: Owning a racehorse is not just an expensive hobby (although, it's also that)
---
Florida: Racetrack operators come together to push their casino-side agenda, "Right now, we are handcuffe. We feel we are in a race but started 40 yards behind."
---
Euro Jock Watch: Kieren Fallon - I come from nothing so everything I ever got was a bonus... Six-time champion jockey is struggling for rides right now and is keen to post a few reminders in the Dubai World Cup on Sat
---
Down Under: The boom, and the bust, of returning MelCup winners
---
Calif: Racetracks want to be part of online poker
---
New York to study use of race-day furosemide [Lasix]
---
3YO Watch: With Unrivaled, trainer Marya Montoya following footsteps
---
Australia: Gai Waterhouse has no plans at this stage to send her unbeaten champion 2YO Vancouver to Royal Ascot in June
---
UK: Female jump jockey Lizzie Kelly insists gender discrimination is rife in horse racing
---
Twitter accounts to follow for the Florida Derby
---
CNN: Qatar gallops towards goal of hosting world-class horse race
---
Sun results: Firing Line rolls in G3 $800K Sunland Derby
---
Privman: Road to the Derby analysis - Sunland Derby
---
John McGary named announcer for NoCal fair circuit
---
UPI's US/international weekend racing recap
---
Female syndicate - Fast Women LLC - gets first win
---
>>> Are we beating our horses to the finish line?... VIDEO: Australian TV program examines use of the whip in horse racing... Race horses are bred to race, but does the whip really make them run faster, or is it just an unnecessary tool that inflicts pain?
---
Wed preview: $29K P6 carryover
Saratoga: Reserved seat tickets, season passes for 2015 meet on sale beginning Mon, Mar 30

---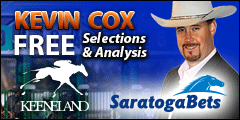 ---
---
Solid start to season for Ryan Moore, Aidan O'Brien, Ballydoyle team
More support for Epsom Derby favourite John F Kennedy
Newmarket on high alert over strangles positive

---
MISCELLANEOUS INDEX:
Where we put things that don't fit into any of the other index categories
---
Track visit/reviews
---
THE FANS SPEAK:
Where we occasionally search the web to explore various discussions and topics
---
OPINION:
equidaily.com's occasional thoughts on various topics regarding the horse racing game

---
equidaily.com's Coast-to-coast
---
Saratoga's Best Bets
---
Click here to e-mail any questions, comments, or suggestions to equidaily.com
---
AQUEDUCT, Jamaica, NY
ARAPAHOE PARK, Aurora, CO
ARLINGTON PARK, Arlington Heights, IL
ASSINIBOIA DOWNS, Winnipeg, Manitoba
BELMONT, Elmont, NY
BELTERRA PARK, Cincinnati, OH
BEULAH PARK, Grove City, OH
CALDER, Miami, FL
CALIFORNIA FAIRS, CA
CANTERBURY PARK, Shakopee, MN
CHARLES TOWN, Charles Town, WV
CHURCHILL DOWNS, Louisville, KY
COLONIAL DOWNS, New Kent, VA
DELAWARE PARK, Wilmington, DE
DEL MAR, Del Mar, CA
DELTA DOWNS, Vinton, LA
DOWNS AT ALBUQUERQUE, Albuquerque, NM
ELLIS PARK, Henderson, KY
EMERALD DOWNS, Auburn, WA
EVANGELINE DOWNS, Opelousas, LA
FAIR GROUNDS, New Orleans, LA
FAIR MEADOWS, Tulsa, OK
FAIRMOUNT PARK, Collinsville, IL
FAIRPLEX, Pomona, CA
FINGER LAKES, Farmington, NY
FORT ERIE, Fort Erie, Ontario
GOLDEN GATE, Albany, CA
GREAT LAKES DOWNS, Muskegon, MI
GULFSTREAM PARK, Hallandale, FL
HASTINGS PARK, Vancouver, BC
HIALEAH PARK, Hialeah, FL
HAWTHORNE RACE COURSE, Cicero, IL
HOLLYWOOD PARK, Inglewood, CA
HOOSIER PARK, Anderson, IN
INDIANA DOWNS, Shelbyville, IN
KEENELAND, Lexington, KY
KENTUCKY DOWNS, Franklin, KY
LAUREL PARK, Laurel, MD
LONE STAR PARK, Grand Prairie, TX
LOUISIANA DOWNS, Bossier City, LA
Los Alamitos, Los Alamitos, CA
MAHONING VALLEY, Youngstown, OH
MARQUIS DOWNS, Saskatoon, Saskatchewan
MEADOWLANDS, E Rutherford, NJ
MONMOUTH PARK, Oceanport, NJ
MOUNTAINEER, Chester, WV
NORTHLANDS PARK, Edmonton, Alberta
OAKLAWN PARK, Hot Springs, AR
PENN NATIONAL, Grantville, PA
PARX, Bensalem, PA
PIMLICO, Baltimore, MD
PINNACLE RACE COURSE, New Boston, MI
PORTLAND MEADOWS, Portland, OR
PRAIRIE MEADOWS, Des Moines, IA
PRESQUE ISLE DOWNS, Erie, PA
REMINGTON PARK, Oklahoma City, OK
RETAMA PARK, San Antonio, TX
RIVER DOWNS, Cincinnati, OH
ROCKINGHAM PARK, Salem, NH
RUIDOSO DOWNS, Ruidoso Downs, NM
SAM HOUSTON, Houston, TX
SANTA ANITA, Arcadia, CA
SARATOGA, Saratoga Springs, NY
STAMPEDE PARK, Calgary, Alberta
SUFFOLK DOWNS, Boston, MA
SUNLAND PARK, Sunland Park, NM
SUNRAY PARK, Farmington, NM
TAMPA BAY DOWNS, Tampa, FL
THISTLEDOWN, Cleveland, OH
TURF PARADISE, Phoenix, AZ
TURFWAY PARK, Florence, KY
WILL ROGERS DOWNS, Claremore, Oklahoma
WOODBINE, Rexdale, Ontario
WOODLANDS, Kansas City, KS
YAVAPAI DOWNS, Prescott Valley, AZ
ZIA PARK, Hobbs, NM

---


Note: Pages on this site are labelled with the equidaily.com logo. Some links lead to pages at other sites. equidaily.com is responsible only for the pages on this site. equidaily.com assumes no responsibility for errors or omissions. Always check with official sources to verify info.

---
Copyright 2015 equidaily.com

---