Sat preview: Iotapa heads field of seven in G1 $300K Clement Hirsch
Fri preview: $239K P6 carryover
Wed results: Wake Up Nick wins $100K Graduation
Week 2/Week 3: Look back, look ahead

---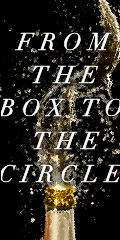 ---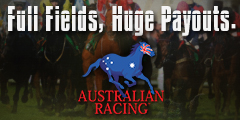 ---
Sat results: Thiamandi wins G3 Bletchingly Stakes at Caulfield
---
Current forecasts for N American tracks
---
Racetrack abbreviation codes
---
[AUS] FOXSPORTS.AU
[AUS] RACING AND SPORTS
[AUS] SMH.COM.AU
[AUS/NZ] THOROUGHBRED NEWS
[AUS] VIRTUAL FORM GUIDE
[ASIA] S CHINA MORNING POST
BALTIMORE SUN
BLOOD HORSE
CBS.SPORTSLINE
CHICAGO SUN-TIMES
DAILY RACING FORM
ESPN
FOX SPORTS
FRANCE GALOP
[JAPAN] HORSERACING IN JAPAN
KENTUCKY.COM
LA TIMES
LOUISVILLE COURIER JOURNAL
MIAMI HERALD
MSNBC
NY DAILY NEWS
NY POST
NY TIMES
THE RACING BIZ [Mid-Atlantic region]
SEATTLE TIMES
SIGNONSANDIEGO.COM
SOUTH AFRICAN HORSERACING
THISISHORSERACING.COM
ThoroughbredRacing.com
TIMES PICAYUNE
[U.K.] BBC
[U.K.] GUARDIAN
[U.K.] RACING POST
[U.K.] SPORTINGLIFE.COM
[U.K.] TELEGRAPH
[U.K.] TIMES
USA TODAY
WASHINGTON POST

Bertha Wright, the last of her family to live at Lexington's iconic Calumet Farm, dies at 94
---
Churchill buys into Saratoga [it's not quite what you think]
---
Churchill reports record second-quarter revenues on strong Kentucky Oaks, Derby week
---
RCI meets this week in Del Mar
---
International: "Taghrooda herself must have a tremendous chance of becoming the fourth 3-year-old filly to win the Arc in seven years, because she is an outstanding runner."
---
Blasi rejoins Asmussen's stable
---
Key factors in the remarkable success of the Juddmonte empire
---
Fort Erie gets national attention, track sale close
---
Pensioners on Parade: Double Bill... '89 and '90 winner of NY Turf Writers jumps stake at SAR
---
Delaware Park Monday card pushed back to Wednesday
---
Bayern's Haskell win is three of a kind for Pin Oak Lane
---
Haskell day in pictures
---
Jerardi: Borislow was larger than life
---
Tragedy averted at Del Mar... Rider Amir Cedeno saved from serious injuries by trainers Phil D'Amato, Gary Mandella and outrider
---
Jock Watch: Van Dyke, Blanc injured in spills last week and are set to return to riding Wednesday at Del Mar
---
Trainer Watch: Tom Amoss earns 3,000th victory (also 3,001, 3,002)
---
Keeneland's Shadwell moves to $1 million
---
All-sources handle down, ontrack business strong for first 10 days of Saratoga
---
Noonan: Spa's second week... The big story was the attendance... It's time to free the paddock
---
Allen Jerkens 'The Chief' in Florida rather than Saratoga, "There's something so special about Saratoga. I miss being there."
---
Trainer Watch: Elizabeth Voss takes on her father's job too soon
---
Hall of Fame jockey Eddie Delahoussaye is #25 on Louisiana's list of all-time top 51 athletes
---
International: Aidan O'Brien's dual Derby winner Australia is back in full work ahead of his end-of-season targets
---
Wed results: Kingman over Tornonado in G1 Sussex at Glorious Goodwood
---
Goodwood: A "Glorious" garden party
---
Hong Kong study shows Lasix does not prolong horses' racing careers
---
Tonalist, Kid Cruz exit Jim Dandy well
---
Watchmaker: Bayern capitalizes in Haskell, Tonalist preps in Jim Dandy
---
Chinese millionaire is leading a drive to transform China into a global horse-racing centre
---
Del Mar off turf on Sunday after breakdowns
---
Del Mar Thoroughbred Club statement concerning turf course
---
Hovdey: Grief and thanks hover over shed rows at DMR
---
Art Sherman to receive Pincay Award... Given annually to those who have served the sport 'with integrity, extraordinary dedication, determination and distinction'
---
Delaware cancels Wed due to lack of entries
---
Haskin: The Saint of Saratoga... Former exercise rider Val Buck now dedicated to providing second careers for retired racehorses
---
Santa Anita raises purses for 10 stakes at fall meeting
---
Delaware Park cuts purses
---
As greyhound racing declines nationwide, Alabama's Birmingham Race Course is in 'survival mode'
---
Keeneland's Instant Racing plans delayed
---
Detroit: Developer of failed $50mil Pinnacle Race Course who walked away from its $2.5mil tax bill four years ago - is now working to open an Indian casino just a mile away
---
TOBA schedules events in Saratoga Springs
---
G1 Blue Grass winner Dance With Fate euthanized due to severe leg injury suffered in training incident at DMR
---
From the "It's the Same All Over" Dept: Aussie scribe, "Drab Sydney Saturdays, lacking field size, thus betting substance, are hardly a recent problem..."
---
Sulky side: World record for Archangel in Cashman elims at Meadowlands
---
Pricci: "It will be interesting to see whether the subtle pressures that journalists occasionally face from the [racing] industry is a temporary development or the new normal."
---
Rees: 2015 Kentucky Derby - Super Saver's son impresses at Saratoga
---
Trainer Wayne Catalano still hospitalized but improving
---
Crist: Jim Dandy has substance over Haskell's flash
---
Apprentice Watch: Trevor McCarthy knew his career path early... Retired jock/Dad Michael, "In the first grade, he couldn't even spell it, but he wrote down, 'I want to be a jokey'."
---
Sat preview: Palace Malice, Will Take Charge among field of nine for G1 $1.5 mil Whitney at SAR on Sat
"The Whitney" - A simple name hides a rich history
Fri preview: $32K P6 carryover
Wed results: Euro-transplant Stars Above Me wins $100K Coronation Cup
---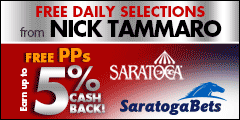 ---
---
Fri results: Take Cover wins G2 King George at Goodwood
---
MISCELLANEOUS INDEX:
Where we put things that don't fit into any of the other index categories
---
Track visit/reviews
---
THE FANS SPEAK:
Where we occasionally search the web to explore various discussions and topics
---
OPINION:
equidaily.com's occasional thoughts on various topics regarding the horse racing game

---
equidaily.com's Coast-to-coast
---
Saratoga's Best Bets
---
Click here to e-mail any questions, comments, or suggestions to equidaily.com
---
AQUEDUCT, Jamaica, NY
ARAPAHOE PARK, Aurora, CO
ARLINGTON PARK, Arlington Heights, IL
ASSINIBOIA DOWNS, Winnipeg, Manitoba
BELMONT, Elmont, NY
BEULAH PARK, Grove City, OH
CALDER, Miami, FL
CALIFORNIA FAIRS, CA
CANTERBURY PARK, Shakopee, MN
CHARLES TOWN, Charles Town, WV
CHURCHILL DOWNS, Louisville, KY
COLONIAL DOWNS, New Kent, VA
DELAWARE PARK, Wilmington, DE
DEL MAR, Del Mar, CA
DELTA DOWNS, Vinton, LA
DOWNS AT ALBUQUERQUE, Albuquerque, NM
ELLIS PARK, Henderson, KY
EMERALD DOWNS, Auburn, WA
EVANGELINE DOWNS, Opelousas, LA
FAIR GROUNDS, New Orleans, LA
FAIR MEADOWS, Tulsa, OK
FAIRMOUNT PARK, Collinsville, IL
FAIRPLEX, Pomona, CA
FINGER LAKES, Farmington, NY
FORT ERIE, Fort Erie, Ontario
GOLDEN GATE, Albany, CA
GREAT LAKES DOWNS, Muskegon, MI
GULFSTREAM PARK, Hallandale, FL
HASTINGS PARK, Vancouver, BC
HIALEAH PARK, Hialeah, FL
HAWTHORNE RACE COURSE, Cicero, IL
HOLLYWOOD PARK, Inglewood, CA
HOOSIER PARK, Anderson, IN
INDIANA DOWNS, Shelbyville, IN
KEENELAND, Lexington, KY
KENTUCKY DOWNS, Franklin, KY
LAUREL PARK, Laurel, MD
LONE STAR PARK, Grand Prairie, TX
LOUISIANA DOWNS, Bossier City, LA
Los Alamitos, Los Alamitos, CA
MARQUIS DOWNS, Saskatoon, Saskatchewan
MEADOWLANDS, E Rutherford, NJ
MONMOUTH PARK, Oceanport, NJ
MOUNTAINEER, Chester, WV
NORTHLANDS PARK, Edmonton, Alberta
OAKLAWN PARK, Hot Springs, AR
PENN NATIONAL, Grantville, PA
PARX, Bensalem, PA
PIMLICO, Baltimore, MD
PINNACLE RACE COURSE, New Boston, MI
PORTLAND MEADOWS, Portland, OR
PRAIRIE MEADOWS, Des Moines, IA
PRESQUE ISLE DOWNS, Erie, PA
REMINGTON PARK, Oklahoma City, OK
RETAMA PARK, San Antonio, TX
RIVER DOWNS, Cincinnati, OH
ROCKINGHAM PARK, Salem, NH
RUIDOSO DOWNS, Ruidoso Downs, NM
SAM HOUSTON, Houston, TX
SANTA ANITA, Arcadia, CA
SARATOGA, Saratoga Springs, NY
STAMPEDE PARK, Calgary, Alberta
SUFFOLK DOWNS, Boston, MA
SUNLAND PARK, Sunland Park, NM
SUNRAY PARK, Farmington, NM
TAMPA BAY DOWNS, Tampa, FL
THISTLEDOWN, Cleveland, OH
TURF PARADISE, Phoenix, AZ
TURFWAY PARK, Florence, KY
WILL ROGERS DOWNS, Claremore, Oklahoma
WOODBINE, Rexdale, Ontario
WOODLANDS, Kansas City, KS
YAVAPAI DOWNS, Prescott Valley, AZ

ZIA PARK, Hobbs, NM

---


Note: Pages on this site are labelled with the equidaily.com logo. Some links lead to pages at other sites. equidaily.com is responsible only for the pages on this site. equidaily.com assumes no responsibility for errors or omissions. Always check with official sources to verify info.

---
Copyright 2014 equidaily.com

---