Sat results: Enola Gray takes $100K California Distaff Hcp
---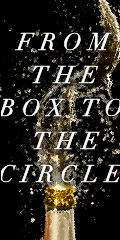 ---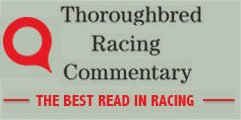 ---
Sat results: Jameka takes G1 Caulfield Cup
---
Current forecasts for N American tracks
---
Racetrack abbreviation codes
---
[AUS] FOXSPORTS.AU
[AUS] RACING AND SPORTS
[AUS] SMH.COM.AU
[AUS/NZ] THOROUGHBRED NEWS
[AUS] VIRTUAL FORM GUIDE
[ASIA] S CHINA MORNING POST
BALTIMORE SUN
BLOOD HORSE
CBS.SPORTSLINE
CHICAGO SUN-TIMES
DAILY RACING FORM
ESPN
FOX SPORTS
FRANCE GALOP
[JAPAN] HORSERACING IN JAPAN
KENTUCKY.COM
LA TIMES
LOUISVILLE COURIER JOURNAL
MIAMI HERALD
MSNBC
NY DAILY NEWS
NY POST
NY TIMES
THE RACING BIZ [Mid-Atlantic region]
SEATTLE TIMES
SIGNONSANDIEGO.COM
SINGAPORE TURF CLUB
SOUTH AFRICAN HORSERACING
THISISHORSERACING.COM
ThoroughbredRacing.com
TIMES PICAYUNE
[U.K.] BBC
[U.K.] GUARDIAN
[U.K.] RACING POST
[U.K.] SPORTINGLIFE.COM
[U.K.] TELEGRAPH
[U.K.] TIMES
USA TODAY
WASHINGTON POST

California Chrome remains Iin first-place on NTRA Top Thoroughbred Poll... Lady Eli moves into tenth
---
NTRA Poll: Oct 10
---
Thoroughbred Racing Commentary set to release TRC Global Rankings, a comprehensive system that produces a rolling weekly set of standings for each of four categories - jockeys, trainers, owners and stallions
---
Belmont winner Creator sold, to stand stud in Japan
---
Exaggerator retired
---
Trainer Watch: Tom Morley - Breeders' Cup next stop for a Yorkshire lad who just couldn't leave New York
---
Wonder mare Winx wins again... Scores in G1 Caulfield in Australia - Cox Plate up next
---
Oz: TCox Plate could be the race of the year in Australia, with wondermare Winx bidding to take her winning sequence to 13 against the red-hot Melbourne Cup favourite Hartnell
---
Oz: Govt backs down on proposed ban on greyhound racing
---
WOW! Always B Miki paced the fastest mile in harness racing history Sunday - 1:46 !!!
---
Weekend preview: The Pizza Man aims for second Woodbine G1 win
---
Woodbine's EP Taylor has become one of the most significant races in the world as far as breeding is concerned
---
Aidan O'Brien has rivals running scared ahead of Champions Day
---
Classic Empire, Tepin on to Santa Anita
---
At Delaware Park, taking a ;try harder' approach
---
Jock Watch: Stewart Elliott finds niche in SoCal
---
Pricci: Clip and save BC prep trip notes from Super Saturday
---
Santa Anita planning to give turf course short rest next spring
---
Breeders' Cup announces post times for 2016 World Championships
---
Jock Watch: Edgar Prado scores G1 victory for Graham Motion with Miss Temple City... "We've been lucky together through the years. He's been one of my greatest supporters for many years; I can't thank him enough."
---
Jock Watch/international: Christophe Patrice Lemaire - rider who left France in despair returns a superstar
---
KEE announcer Kurt Becker: "The Horse Who Changed Everything for me..."
---
Fasig-Tipton Midlantic Fall Yearling shows solid gains
---
Kentucky Downs follows live meet with record historical horse racing month
---
What to know as racing returns to Keeneland
---
NoCal: Horse racing dates at Sonoma County Fair trigger high-stakes fight
---
Shah weighing options for Dortmund
---
Three little stories that tell you so much about Songbird
---
Haskin: Saluting those who always show up
---
Sat preview/sulky side: Resolve favored in $1mil Yonkers International Trot
---
UPI: Weekend stakes recaps
---
Sat results: Miss Temple City is first filly to win G1 $1mil Shadwell Turf Mile at KEE
---
Fri results: AP Indian, Dancing Rags wins opening day stakes at KEE
---
Irwin: Are we ever going to get serious about drug testing in American racing?
---
McCarron: Federal intervention a must
---
Meet the one-of-a-kind race-caller opening up new horizons for NYRA
---
So which horse will be America's champion 3YO male now?
---
Winx adds Australian Horse of the Year title to her honor roll
---
Pennsylvania takes step towards solving breeding snafu
---
Monmouth Park struggling, but 'we will survive'
---
Pennsylvania Derby day easy to like –- but should we? High takeout, integrity concerns among knocks on Parx venue
---
Santa Anita unveils state-of-the-art stable area surveillance system, establishing the most comprehensive safety and integrity monitoring in N American racing
---
BC Distaff winner Stopchargingmaria in F-T November Sale
---
Zayat active at Goffs yearling sale in Ireland
---
Expect fireworks when these yearlings come under the hammer next week
---
Robust upper and middle market fuels successful Keeneland September Yearling Sale
---
Here's a guy who really wants to reduce takeout!!! India: Billionaire offers racing jurisdiction Rs 50cr [five hundred million rupees/about $US7.5mil] to reduce betting tax on horse racing
---
They're tough over there: Jocks's career in the balance as Hong Kong stews questions rides, check phone messages
---
White: Songbird now 11-0... Just four of the 348 Eclipse Award winners to date have won their first 11 starts
---
Powell: "The next big riding star in America," CJ McMahon
---
British Horseracing Authority teams with tech company to further enhance integrity analysts' ability to identify and investigate irregular betting patterns in real time
---
International: Where does French racing go from here?
---
Remembering Rockingham
---
Jock Watch: Family - and wins - drive Erick Rodriguez
---
Good guys: Churchill jockeys visit children's hospital
---
Victor Espinoza wins three of the five G1s Santa Anita on Saturday
---
LA Times: California Chrome's star power keeps growing
---
Sat results: Runhappy off the board in 2016 debut at CD on Sat
---
Preakness winner Exaggerator to be freshened at WinStar Farm... Breeders' Cup plans uncertain for multiple G1 winner
---
Jock Watch: Antonio Gallardo changes plans, will move tack to NY... Splits with longtime agent
---
2YO Watch: Three Rules demolishes competition in $500K In Reality at GP
---
Mirahmadi will call races at Golden Gate Fields
---
Gulfstream meet leaders/final: Gaffalione, Sano take summer titles
---
Sat results: Theory best in G3 $200K Futurity
Sat results: Thundering Sky earns first career turf win in strong $200K Pebbles showing

---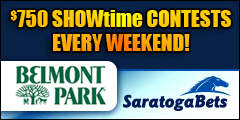 ---
---
Sat results: Champions Day at Ascot99
---
MISCELLANEOUS INDEX:
Where we put things that don't fit into any of the other index categories
---
Track visit/reviews
---
THE FANS SPEAK:
Where we occasionally search the web to explore various discussions and topics
---
OPINION:
equidaily.com's occasional thoughts on various topics regarding the horse racing game

---
equidaily.com's Coast-to-coast
---
Saratoga's Best Bets
---
Click here to e-mail any questions, comments, or suggestions to equidaily.com
---
AQUEDUCT, Jamaica, NY
ARAPAHOE PARK, Aurora, CO
ARLINGTON PARK, Arlington Heights, IL
ASSINIBOIA DOWNS, Winnipeg, Manitoba
BELMONT, Elmont, NY
BELTERRA PARK, Cincinnati, OH
BEULAH PARK, Grove City, OH
CALDER, Miami, FL
CALIFORNIA FAIRS, CA
CANTERBURY PARK, Shakopee, MN
CHARLES TOWN, Charles Town, WV
CHURCHILL DOWNS, Louisville, KY
COLONIAL DOWNS, New Kent, VA
DELAWARE PARK, Wilmington, DE
DEL MAR, Del Mar, CA
DELTA DOWNS, Vinton, LA
DOWNS AT ALBUQUERQUE, Albuquerque, NM
ELLIS PARK, Henderson, KY
EMERALD DOWNS, Auburn, WA
EVANGELINE DOWNS, Opelousas, LA
FAIR GROUNDS, New Orleans, LA
FAIR MEADOWS, Tulsa, OK
FAIRMOUNT PARK, Collinsville, IL
FAIRPLEX, Pomona, CA
FINGER LAKES, Farmington, NY
FORT ERIE, Fort Erie, Ontario
GOLDEN GATE, Albany, CA
GREAT LAKES DOWNS, Muskegon, MI
GULFSTREAM PARK, Hallandale, FL
HASTINGS PARK, Vancouver, BC
HIALEAH PARK, Hialeah, FL
HAWTHORNE RACE COURSE, Cicero, IL
HOLLYWOOD PARK, Inglewood, CA
HOOSIER PARK, Anderson, IN
INDIANA DOWNS, Shelbyville, IN
KEENELAND, Lexington, KY
KENTUCKY DOWNS, Franklin, KY
LAUREL PARK, Laurel, MD
LONE STAR PARK, Grand Prairie, TX
LOUISIANA DOWNS, Bossier City, LA
Los Alamitos, Los Alamitos, CA
MAHONING VALLEY, Youngstown, OH
MARQUIS DOWNS, Saskatoon, Saskatchewan
MEADOWLANDS, E Rutherford, NJ
MONMOUTH PARK, Oceanport, NJ
MOUNTAINEER, Chester, WV
NORTHLANDS PARK, Edmonton, Alberta
OAKLAWN PARK, Hot Springs, AR
PENN NATIONAL, Grantville, PA
PARX, Bensalem, PA
PIMLICO, Baltimore, MD
PINNACLE RACE COURSE, New Boston, MI
PORTLAND MEADOWS, Portland, OR
PRAIRIE MEADOWS, Des Moines, IA
PRESQUE ISLE DOWNS, Erie, PA
REMINGTON PARK, Oklahoma City, OK
RETAMA PARK, San Antonio, TX
RIVER DOWNS, Cincinnati, OH
ROCKINGHAM PARK, Salem, NH
RUIDOSO DOWNS, Ruidoso Downs, NM
SAM HOUSTON, Houston, TX
SANTA ANITA, Arcadia, CA
SARATOGA, Saratoga Springs, NY
STAMPEDE PARK, Calgary, Alberta
SUFFOLK DOWNS, Boston, MA
SUNLAND PARK, Sunland Park, NM
SUNRAY PARK, Farmington, NM
TAMPA BAY DOWNS, Tampa, FL
THISTLEDOWN, Cleveland, OH
TURF PARADISE, Phoenix, AZ
TURFWAY PARK, Florence, KY
WILL ROGERS DOWNS, Claremore, Oklahoma
WOODBINE, Rexdale, Ontario
WOODLANDS, Kansas City, KS
YAVAPAI DOWNS, Prescott Valley, AZ
ZIA PARK, Hobbs, NM

---


Note: Pages on this site are labelled with the equidaily.com logo. Some links lead to pages at other sites. equidaily.com is responsible only for the pages on this site. equidaily.com assumes no responsibility for errors or omissions. Always check with official sources to verify info.

---
Copyright 2016 equidaily.com

---