Sun preview: $166K P6 carryover
Sat results: Lexie Lou scores in G3 $100K Autumn Miss
Sat preview: $34K P6 carryover

---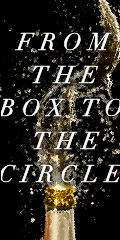 ---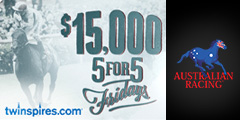 ---
Sat results/VIDEO: Moonee Valley replays - the last 400m of each race from Cox Plate Day
Fawkner looms as Australia's only hope to avoid international clean sweep of spring features
Sat results: Cox Plate 2014: Adelaide delivers billionaires ultimate prize while battler Mick Burles' The Cleaner fairytale is over
>>> Fri results: Lankan Rupee wins G1 Manikato at Moonee Valley - after 50min inquiry

---
Current forecasts for N American tracks
---
Racetrack abbreviation codes
---
[AUS] FOXSPORTS.AU
[AUS] RACING AND SPORTS
[AUS] SMH.COM.AU
[AUS/NZ] THOROUGHBRED NEWS
[AUS] VIRTUAL FORM GUIDE
[ASIA] S CHINA MORNING POST
BALTIMORE SUN
BLOOD HORSE
CBS.SPORTSLINE
CHICAGO SUN-TIMES
DAILY RACING FORM
ESPN
FOX SPORTS
FRANCE GALOP
[JAPAN] HORSERACING IN JAPAN
KENTUCKY.COM
LA TIMES
LOUISVILLE COURIER JOURNAL
MIAMI HERALD
MSNBC
NY DAILY NEWS
NY POST
NY TIMES
THE RACING BIZ [Mid-Atlantic region]
SEATTLE TIMES
SIGNONSANDIEGO.COM
SOUTH AFRICAN HORSERACING
THISISHORSERACING.COM
ThoroughbredRacing.com
TIMES PICAYUNE
[U.K.] BBC
[U.K.] GUARDIAN
[U.K.] RACING POST
[U.K.] SPORTINGLIFE.COM
[U.K.] TELEGRAPH
[U.K.] TIMES
USA TODAY
WASHINGTON POST

From the "It's Not Just Us" Dept: British Horseracing Authority announces "a series of measures designed to address issues regarding the increasing number of uncompetitive, small-field races."
---
Handle drops at Delaware Park
---
Europe: Cartier Award category race-point totals
---
Nebraska: 2015 racing schedule mirrors previous year
---
LA Times: Doug O'Neill's suspension shows why little makes sense in horse racing
---
Commentary: Racing's slow regulatory process
---
Trainer David Wells reaches plea deal in race-fixing case
---
Md: Trainer Juan Vazquez fined, suspended in odd non-appearance case
---
La Racing Commission orders Churchill Downs Inc to put $2.7mil back into purse structure for upcoming Fair Grounds meet
---
Keeneland, Red Mile partner on Instant Racing
---
Ky: Keeneland proceeding on track purchase alone for now
---
NY: New claiming rule for layoff horses
---
British Champions Day: Did it live up to its billing?
---
UK: Noble Mission moves up Cartier Award points ladder
---
Trakus' Cummings: Time for a change - Why North America must stop perpetually mis-timing races
---
Sun results: Euro-invader Hillstar takes G1 $1mil Canadian Int at Woodbine... Brown Panther scratches after dumping jock
---
Finley: Europeans invade American turf... Toronto massacre doesn't bode well for Americans in Breeders' Cup
---
Champion Beholder continues to recover from fever
---
Jockeys' Guild sets up fund for Saez's family
---
Jockeys nationwide to honor late teenage rider Juan Saez on BC weekend
---
'China Jockey Club' apparently launched in Beijing last month exposed as hoax
---
Apprentice Watch: 19YO Michael Ritvo making a big impression
---
Desormeaux set to return Sunday
---
Breeders' Cup tickets at Keeneland will be limited to 28,000
---
Nelson Bunker Hunt, former owner-breeder, dies at 88
---
Raffetto signs on as consultant to New England HBPA
---
Tears and talking in Maryland Million winner's circles
---
Kentucky officials to meet with drug lab on testing delays
---
Kentucky dates approved for 2015 - but not without drama
---
The Jockey Club releases 2014 report of mares bred statistics
---
Sun preview/international: Three winners of the Hong Kong HOTY title are set will meet in Sha Tin Trophy
---
AUDIO: ESPN's In The Gate... Caroline and Gregory Bentley, who along with their son with Down Syndrome, Andrew, own unlikely Breeders' Cup Turf hopeful Hardest Core, share their amazing story
---
---
>>> Racing becomes a college sport! Cambridge triumphed over Oxford in the inaugural Varsity Horse Race last weekend
>>> VIDEO REPLAY: The Varsity Horse Race, 10/17/14... Cambridge vs Oxford at Newmarket
>>> Cambridge Varsity Horse Race Facebook page
>>> Oxford Varsity Horse Race Facebook page
---
Pro-active stews?
>>> Hong Kong jockey suspended for 18 meetings... did not take all reasonable and permissible measures throughout the race to win or to obtain the best possible placing in the field
>>> You be the judge: Chart and VIDEO REPLAY [click on "Multi-Angle Race Replay"... Jun Ju #14]... runs 5th with a late run at 12-1]

---
Roanoke Times: What next for silent Colonial Downs racetrack?
---
Talking horse racing and Shared Belief with Jim Rome
---
Powell: "I have said many times that I believed that the old system of 'a foul is a foul' is the best and that all riding infractions need to be punished."
---
Illinois casino group exec pens opinion piece: "The [racing] industry wants to pass a large gaming expansion bill that uses thousands of slot machines to subsidize the sport that in turn would take money away from local government budgets and classrooms. This is something we simply cannot afford."
---
Top-class turf: Woodbine's EP Taylor Course celebrates 20 years
---
Britain's Channel 4 commissions Frankel documentary
---
Forbes values Derby brand at $99mil
---
For Massachusetts slots parlor, all bets could be off after Nov 4
---
Charismatic's Belmont cited by NY sports scribe as being among NY's worst sports injuries [along with the likes of Mickey Mantle, Patrick Ewing and Frank Gifford]
---
Q&A with Guy Torsilieri - the guy behind Far Hills
---
Sat results: Russell Road rallies to win third West Virginia Breeders' Classic
---
Sat results: Md Millions results at LRL
---
Tom Durkin paid $440K for 100 days calling races in 2014
---
Sun preview: $50K P6 carryover
Sat results: Salutos Amigos wins G3 $200K Bold Ruler Hcp, targets BC Sprint
Sat preview: $15K P6 carryover
Wed preview: $27K P6 carryover

---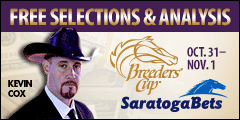 ---
---
O'Brien and Weld to finish Flat campaign with a flourish
Tony McCoy won't let injury force him into early retirement from racing
Ruler Of The World retired to Coolmore for 2015

---
MISCELLANEOUS INDEX:
Where we put things that don't fit into any of the other index categories
---
Track visit/reviews
---
THE FANS SPEAK:
Where we occasionally search the web to explore various discussions and topics
---
OPINION:
equidaily.com's occasional thoughts on various topics regarding the horse racing game

---
equidaily.com's Coast-to-coast
---
Saratoga's Best Bets
---
Click here to e-mail any questions, comments, or suggestions to equidaily.com
---
AQUEDUCT, Jamaica, NY
ARAPAHOE PARK, Aurora, CO
ARLINGTON PARK, Arlington Heights, IL
ASSINIBOIA DOWNS, Winnipeg, Manitoba
BELMONT, Elmont, NY
BEULAH PARK, Grove City, OH
CALDER, Miami, FL
CALIFORNIA FAIRS, CA
CANTERBURY PARK, Shakopee, MN
CHARLES TOWN, Charles Town, WV
CHURCHILL DOWNS, Louisville, KY
COLONIAL DOWNS, New Kent, VA
DELAWARE PARK, Wilmington, DE
DEL MAR, Del Mar, CA
DELTA DOWNS, Vinton, LA
DOWNS AT ALBUQUERQUE, Albuquerque, NM
ELLIS PARK, Henderson, KY
EMERALD DOWNS, Auburn, WA
EVANGELINE DOWNS, Opelousas, LA
FAIR GROUNDS, New Orleans, LA
FAIR MEADOWS, Tulsa, OK
FAIRMOUNT PARK, Collinsville, IL
FAIRPLEX, Pomona, CA
FINGER LAKES, Farmington, NY
FORT ERIE, Fort Erie, Ontario
GOLDEN GATE, Albany, CA
GREAT LAKES DOWNS, Muskegon, MI
GULFSTREAM PARK, Hallandale, FL
HASTINGS PARK, Vancouver, BC
HIALEAH PARK, Hialeah, FL
HAWTHORNE RACE COURSE, Cicero, IL
HOLLYWOOD PARK, Inglewood, CA
HOOSIER PARK, Anderson, IN
INDIANA DOWNS, Shelbyville, IN
KEENELAND, Lexington, KY
KENTUCKY DOWNS, Franklin, KY
LAUREL PARK, Laurel, MD
LONE STAR PARK, Grand Prairie, TX
LOUISIANA DOWNS, Bossier City, LA
Los Alamitos, Los Alamitos, CA
MARQUIS DOWNS, Saskatoon, Saskatchewan
MEADOWLANDS, E Rutherford, NJ
MONMOUTH PARK, Oceanport, NJ
MOUNTAINEER, Chester, WV
NORTHLANDS PARK, Edmonton, Alberta
OAKLAWN PARK, Hot Springs, AR
PENN NATIONAL, Grantville, PA
PARX, Bensalem, PA
PIMLICO, Baltimore, MD
PINNACLE RACE COURSE, New Boston, MI
PORTLAND MEADOWS, Portland, OR
PRAIRIE MEADOWS, Des Moines, IA
PRESQUE ISLE DOWNS, Erie, PA
REMINGTON PARK, Oklahoma City, OK
RETAMA PARK, San Antonio, TX
RIVER DOWNS, Cincinnati, OH
ROCKINGHAM PARK, Salem, NH
RUIDOSO DOWNS, Ruidoso Downs, NM
SAM HOUSTON, Houston, TX
SANTA ANITA, Arcadia, CA
SARATOGA, Saratoga Springs, NY
STAMPEDE PARK, Calgary, Alberta
SUFFOLK DOWNS, Boston, MA
SUNLAND PARK, Sunland Park, NM
SUNRAY PARK, Farmington, NM
TAMPA BAY DOWNS, Tampa, FL
THISTLEDOWN, Cleveland, OH
TURF PARADISE, Phoenix, AZ
TURFWAY PARK, Florence, KY
WILL ROGERS DOWNS, Claremore, Oklahoma
WOODBINE, Rexdale, Ontario
WOODLANDS, Kansas City, KS
YAVAPAI DOWNS, Prescott Valley, AZ
ZIA PARK, Hobbs, NM

---


Note: Pages on this site are labelled with the equidaily.com logo. Some links lead to pages at other sites. equidaily.com is responsible only for the pages on this site. equidaily.com assumes no responsibility for errors or omissions. Always check with official sources to verify info.

---
Copyright 2014 equidaily.com

---