Mon results: Prize Exhibit sweeps by in G3 $100K Megahertz
---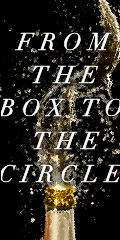 ---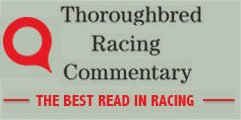 ---
Oz: Record average at Magic Millions
---
Current forecasts for N American tracks
---
Racetrack abbreviation codes
---
[AUS] FOXSPORTS.AU
[AUS] RACING AND SPORTS
[AUS] SMH.COM.AU
[AUS/NZ] THOROUGHBRED NEWS
[AUS] VIRTUAL FORM GUIDE
[ASIA] S CHINA MORNING POST
BALTIMORE SUN
BLOOD HORSE
CBS.SPORTSLINE
CHICAGO SUN-TIMES
DAILY RACING FORM
ESPN
FOX SPORTS
FRANCE GALOP
[JAPAN] HORSERACING IN JAPAN
KENTUCKY.COM
LA TIMES
LOUISVILLE COURIER JOURNAL
MIAMI HERALD
MSNBC
NY DAILY NEWS
NY POST
NY TIMES
THE RACING BIZ [Mid-Atlantic region]
SEATTLE TIMES
SIGNONSANDIEGO.COM
SINGAPORE TURF CLUB
SOUTH AFRICAN HORSERACING
THISISHORSERACING.COM
ThoroughbredRacing.com
TIMES PICAYUNE
[U.K.] BBC
[U.K.] GUARDIAN
[U.K.] RACING POST
[U.K.] SPORTINGLIFE.COM
[U.K.] TELEGRAPH
[U.K.] TIMES
USA TODAY
WASHINGTON POST

Maryland Jockey Club announces strong 2016 handle growth
---
Trainer Ron Ellis banned from 2017 Breeders' Cup
---
British racecourse Kempton Park may close... Hosts King George VI Chase
---
Fair Grounds bringing in disease expert to assess recent EHV-1 outbreak among horses
---
Trainer Watch/international: Doug Watson - the American trainer sweeping all before him at Meydan
---
Improving the game: Streamlining to process of becoming a new owner
---
Comeback: Jockey Kevin Krigger planning to return after two year absence
---
Mare in foal to American Pharoah tops second day of the Keeneland Jan Sale
---
Significant drop in key figures at Keeneland Jan sale
---
No live racing on Sundays at Parx until April 2
---
2016 Eclipse Award Finalists
---
US handle bumps up slightly in 2016
---
NTRA prez, "The 2016 wagering and purse report suggests that Thoroughbred racing in the US has stabilized..."
---
Oaklawn Park to reduced takeout on on-track show bets
---
Parx daily handle rises 5 percent in 2016
---
Hawthorne: Fewer races leads to lower handle
---
Jockey Club: New RCI rule on out-of-competition testing needs to be adopted to avoid future scandals
---
The great Pegasus World Cup game of cat and mouse
---
NYRA TV host Jason Blewitt let go
---
Haskin: Inside the Kentucky Derby Trail
---
DRF: 2016 in memoriam
---
Jock Watch: Comeback. Doctors told jockey Jean Claude Medina he should find another occupation after 2015 spill. Back in winner's circle this week at 64-1
---
This is Horse Racing's Top 10 for 2016
---
Tampa racetrackers create a New Year's wish list for the sport
---
Hovdey: Baffert-Shah split just part of the game
---
The three fastest-rising trainers in the world in 2016
---
Q&A with Eclipse winning fotog Tod Marks... "Frankly, though, I don't think I could sit still as a fan anymore. If I didn't have my camera, I'd feel completely naked at the track."
---
Jock Watch: Moreira, Rosario and Prat on the move in world rankings
---
Yonkers: Strong European wagering numbers in 2016
---
Jock Watch: Irad Ortiz Jr serving five-day ban for Oct infraction
---
Hovdey: At 6, Ring Weekend still playing at high level
---
UPI weekend stakes previews
---
Fri: Turfway cancels due to extreme cold
Castellano, Ramseys and Brown leading 2016 earners

---
West: Riding the waves of populism... "Shouldn't the bettors and the rank and file among horsemen rebel against the sport's ruling class, just as people throughout the world rebelled in 2016?"
---
Legal: Say goodbye to the racehorse tax break
---
NYRA to offer bonus for Japan-based Belmont winner
---
Shah, Baffert part ways
---
Jockey Jose Ortiz to ride at Oaklawn during Opening Weekend
---
Fair Grounds put under quarantine
---
2016 NYRA leaders: J Ortiz, Brown, Dubb
---
Mary Eppler wins historic training title at Laurel Park
---
Angst: Wins often followed 2016 steroid treatments in California
---
Angst: Reporting, withholding revisions would be game-changing
---
Department of Treasury and IRS issue proposed regs to modernize pari-mutuel withholding and reporting
---
LA Times: One of the most misunderstood wagers: the show bet... Lately, this low-risk, low-reward bet is in serious need of a makeover
---
From the "It's the Same All Over" Dept: Brit racing TV host has rejected criticism of so-called dumbing down of racing and warned the sport has to extend its appeal to a broader audience
---
TRC: The three jockeys who made the biggest moves in the rankings in 2016
---
International: Mike De Kock 2017 Dubai World Cup Carnival stable tour
---
Plonk/handicapping: Not the bomber you once were? The longer you last, the more conservative you become
---
Overcoming the vig is the secret to making money on horse racing bets
---
The lost racecourses of Maryland
---
NJ: Despite modest start, officials bullish on exchange wagering
---
2016 in review: Of controversies, freaks, and madmen
---
Improved Laurel leads to chance of Breeders' Cup
---
Florida: Horse racing, pari-mutuel operations face challenges
---
NY: Legislation that would transfer NYRA from state control back to private control was sent to the governor recently, though what action he will take is unclear
---
Jock Watch: Riding high once more - the amazing comeback of Rajiv Maragh
---
Jock Watch: Turfway to honor Perry Ouzts
---
New England's colorful 'King of the Fair's' dies at 88... Anyone who ever attended the old Massachusetts fairs circuit knew the larger-than-life Carlos Figueroa well
---
MelCup-winning jockey Michelle Payne has announced a women's-only syndicate to attract more female investors and owners into the sport of kings
---
International jock watch: Jim Crowley - Sheikh Hamdan's new #1 rider not one to 'sit back and take it easy'
---
Racing Post: Japanese 3YO Satono Diamond wins December stake and looks to have Arc potential
---
Oz: Debut third for Black Caviar daughter Oscietra
---
Oz: Winx nearing return
---
Commentary: Curbing drug cheaters in racing - theory vs practice
---
Always B Miki voted harness racing Pacer of the Year and Horse of the Year
---
Trainer Takter, driver Miller honored by harness writers
---
Masochistic officially DQd from BC Sprint placing
---
Bloodhorse: One horse, two scandals... Masochistic - steroids, betting coup
---
Fair Grounds president Tim Bryant leaving position
---
California Chrome now up to sixth in world's all-time highest-earners table
---
Global Rankings show US-based riders lead the world for strength in depth
---
Jock Watch: Mario Gutierrez gets one-day suspension for violating previous suspension
---
Legendary handicapper Russ Harris dies at 93
---
Photo: Korean racecourse ready for a big Christmas holiday racing program
---
Poignant blog from racecaller Jason Beem as he visits Dad's grave overlooking Emerald Downs, "Whenever I go visit him I walk a few feet towards the edge of the hill and stare at Emerald."
---
CBS to profile 40YO former racehorse
---
Acapulco moves from Wes Ward to Aidan O'Brien with Royal Ascot goal
---
Mon results: Green Gratto grinds out win in G3 $125K Toboggan
---
---
Financing boost for British racing
---
MISCELLANEOUS INDEX:
Where we put things that don't fit into any of the other index categories
---
Track visit/reviews
---
THE FANS SPEAK:
Where we occasionally search the web to explore various discussions and topics
---
OPINION:
equidaily.com's occasional thoughts on various topics regarding the horse racing game

---
equidaily.com's Coast-to-coast
---
Saratoga's Best Bets
---
Click here to e-mail any questions, comments, or suggestions to equidaily.com
---
AQUEDUCT, Jamaica, NY
ARAPAHOE PARK, Aurora, CO
ARLINGTON PARK, Arlington Heights, IL
ASSINIBOIA DOWNS, Winnipeg, Manitoba
BELMONT, Elmont, NY
BELTERRA PARK, Cincinnati, OH
BEULAH PARK, Grove City, OH
CALDER, Miami, FL
CALIFORNIA FAIRS, CA
CANTERBURY PARK, Shakopee, MN
CHARLES TOWN, Charles Town, WV
CHURCHILL DOWNS, Louisville, KY
COLONIAL DOWNS, New Kent, VA
DELAWARE PARK, Wilmington, DE
DEL MAR, Del Mar, CA
DELTA DOWNS, Vinton, LA
DOWNS AT ALBUQUERQUE, Albuquerque, NM
ELLIS PARK, Henderson, KY
EMERALD DOWNS, Auburn, WA
EVANGELINE DOWNS, Opelousas, LA
FAIR GROUNDS, New Orleans, LA
FAIR MEADOWS, Tulsa, OK
FAIRMOUNT PARK, Collinsville, IL
FAIRPLEX, Pomona, CA
FINGER LAKES, Farmington, NY
FORT ERIE, Fort Erie, Ontario
GOLDEN GATE, Albany, CA
GREAT LAKES DOWNS, Muskegon, MI
GULFSTREAM PARK, Hallandale, FL
HASTINGS PARK, Vancouver, BC
HIALEAH PARK, Hialeah, FL
HAWTHORNE RACE COURSE, Cicero, IL
HOLLYWOOD PARK, Inglewood, CA
HOOSIER PARK, Anderson, IN
INDIANA DOWNS, Shelbyville, IN
KEENELAND, Lexington, KY
KENTUCKY DOWNS, Franklin, KY
LAUREL PARK, Laurel, MD
LONE STAR PARK, Grand Prairie, TX
LOUISIANA DOWNS, Bossier City, LA
Los Alamitos, Los Alamitos, CA
MAHONING VALLEY, Youngstown, OH
MARQUIS DOWNS, Saskatoon, Saskatchewan
MEADOWLANDS, E Rutherford, NJ
MONMOUTH PARK, Oceanport, NJ
MOUNTAINEER, Chester, WV
NORTHLANDS PARK, Edmonton, Alberta
OAKLAWN PARK, Hot Springs, AR
PENN NATIONAL, Grantville, PA
PARX, Bensalem, PA
PIMLICO, Baltimore, MD
PINNACLE RACE COURSE, New Boston, MI
PORTLAND MEADOWS, Portland, OR
PRAIRIE MEADOWS, Des Moines, IA
PRESQUE ISLE DOWNS, Erie, PA
REMINGTON PARK, Oklahoma City, OK
RETAMA PARK, San Antonio, TX
RIVER DOWNS, Cincinnati, OH
ROCKINGHAM PARK, Salem, NH
RUIDOSO DOWNS, Ruidoso Downs, NM
SAM HOUSTON, Houston, TX
SANTA ANITA, Arcadia, CA
SARATOGA, Saratoga Springs, NY
STAMPEDE PARK, Calgary, Alberta
SUFFOLK DOWNS, Boston, MA
SUNLAND PARK, Sunland Park, NM
SUNRAY PARK, Farmington, NM
TAMPA BAY DOWNS, Tampa, FL
THISTLEDOWN, Cleveland, OH
TURF PARADISE, Phoenix, AZ
TURFWAY PARK, Florence, KY
WILL ROGERS DOWNS, Claremore, Oklahoma
WOODBINE, Rexdale, Ontario
WOODLANDS, Kansas City, KS
YAVAPAI DOWNS, Prescott Valley, AZ
ZIA PARK, Hobbs, NM

---


Note: Pages on this site are labelled with the equidaily.com logo. Some links lead to pages at other sites. equidaily.com is responsible only for the pages on this site. equidaily.com assumes no responsibility for errors or omissions. Always check with official sources to verify info.

---
Copyright 2016 equidaily.com

---