Sat results: Wild Dude wins G2 $200K Kona Gold
---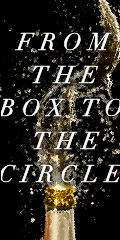 ---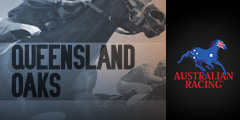 ---
Sun results: Blazing Speed takes G1 Champions and Chater Cup in Hong Kong
Sun results: Sinhalite wins G1 Japanese Oaks
Sat results: Our Ivanhowe victorious in G1 Doomben Cup

---
Current forecasts for N American tracks
---
Racetrack abbreviation codes
---
[AUS] FOXSPORTS.AU
[AUS] RACING AND SPORTS
[AUS] SMH.COM.AU
[AUS/NZ] THOROUGHBRED NEWS
[AUS] VIRTUAL FORM GUIDE
[ASIA] S CHINA MORNING POST
BALTIMORE SUN
BLOOD HORSE
CBS.SPORTSLINE
CHICAGO SUN-TIMES
DAILY RACING FORM
ESPN
FOX SPORTS
FRANCE GALOP
[JAPAN] HORSERACING IN JAPAN
KENTUCKY.COM
LA TIMES
LOUISVILLE COURIER JOURNAL
MIAMI HERALD
MSNBC
NY DAILY NEWS
NY POST
NY TIMES
THE RACING BIZ [Mid-Atlantic region]
SEATTLE TIMES
SIGNONSANDIEGO.COM
SINGAPORE TURF CLUB
SOUTH AFRICAN HORSERACING
THISISHORSERACING.COM
ThoroughbredRacing.com
TIMES PICAYUNE
[U.K.] BBC
[U.K.] GUARDIAN
[U.K.] RACING POST
[U.K.] SPORTINGLIFE.COM
[U.K.] TELEGRAPH
[U.K.] TIMES
USA TODAY
WASHINGTON POST

Desormeaux brothers atop racing world, eyeing Belmont after Exaggerator win in Preakness
---
King Leatherbury on Ben's Cat
---
Fri results: Go Maggie Go wins G2 $250K Black-Eyed Susan
---
After the Preakness, a muddy cleanup for the Pimlico staff
---
In Preakness infield, party is the only event that matters
---
Sun preview: Golden Pick 6 grows to $934K
---
NBC acquires rights to broadcast Royal Ascot starting 2017
---
Jock Watch: Daniel Centeno, with broken collarbone, to be released from hospital today, per agent Witte
---
Songbird fleet in first work back
---
"Leading web-based science, research and technology news service" looks at the large-betting computer players and asks, "How are [the computer players] with their big-time technology and seemingly unlimited funds really affecting everyone else involved in wagering on horse racing?"
---
Much like the NFL, Maryland horse racing heightens focus on concussion safety for jockeys
---
Meet 14 billionaires in the business Of horse racing
---
Presque Isle set for Sunday opener
---
Without help, could Michigan horse racing be in the final stretch?
---
Vegas newspaper: Horse racing losing ground with bettors
---
Horse racing seeing massive growth after last year's Triple Crown
---
Collmus makes mark as NBC's Triple Crown voice
---
Nyquist may cure Pharoah hangover
---
Have Nyquist, Pharoah and Co. transformed the US classics into 'extended sprints'?
---
Can tournament play jump-start horse racing betting?
---
Consultants to study viable Pimlico upgrades
---
A day in the life of Nyquist: ice boots, exercise, maybe even acupuncture
---
Farrier Jimenez proves to be an asset for O'Neill barn
---
Children of Secretariat: extraordinary daughter who left a major legacy - Weekend Surprise
---
Jumps results: Rawnaq wins G1 Iroquois
---
Hall of Fame jock Edgar Prado shifts tack to Maryland
---
Ten years since Barbaro, laminitis still a challenging foe
---
Trainer Umarov ejected from Churchill Downs
---
Balt Sun: As money pours into Maryland horse racing, the future of breeding here looks promising
---
Toronto Star: Woodbine's wrong-way test run a success
---
Horses removed from struggling Maria Borell
---
Tennessee: Study needed on state comeback of horse racing
---
Hong Kong scribe: Nyquist and the Pegasus World Cup: American racing's Bold and the Beautiful week
---
Inside look at horse racing from a female jockey's perspective
---
First Frankel offspring to race wins career debut
---
Losing mount fees increased in Kentucky
---
Stronach vs DerbyWars lawsuit gets streamlined
---
Jenny Bowman named PennNat racing secretary
---
NYRA announces new national ADW
---
Laurel spring meet leaders/final" Trevor McCarthy, Kieron Magee
---
Stronach to run $12mil Pegasus World Cup
---
Bloodhorse comment from January: Stronach race plan targets business model... "The basic idea is how can racing compete with other great sports?"
---
Gene Stevens, Post Time USA publisher, dead at 81
---
UPI: Weekend stakes recaps
---
Lessons learned from betting the 2016 Kentucky Derby
---
Trainer Dale Romans escapes serious injury in auto accident
---
>>> Only female full-time race caller: Angela Hermann brings change to Golden Gate Fields, horse racing
>>> The forgotten legacy of Ann Elliott... America's first female race caller
>>> VIDEO: Vintage edition of TV's "What's My Line" featuring racetrack announcer Ann Elliott
---
Monmouth pushes forward for 71st season... Set for Sat opener
---
American Pharoah 12 months on: the team on a year etched in racing history
---
Frankel's offspring near to racecourse debuts
---
Solid Mother's Day opening weekend at Arlington... "Mother's Day has always been one of our largest days."
---
Slots as savior: Masschusetts legislators reexamine racing slots subsidies... "I don't think it's time to pull the plug yet, but we should be thinking about whether or not that's eventually going to have to be revised."
---
Illinois: Industry, lawmakers say struggling Fairmount needs gaming expansion
---
Utah: Horse racing returns to Ogden after a 20 year absence
---
Utah: Can horse racing without gambling be a success? Weber Downs is betting on it... "Horse racing without betting? Isn't that a bit like a frat house throwing a kegger and expecting everyone to drink responsibly?"
---
Michigan: Senate approves bills to update horse racing law without ADW provision
---
Memories of Barbaro, and a doctor's regret 10 years later
---
Sat preview/Jumps: G1 Iroquois becomes international event
---
VIDEO: Watch New Orleans Saints coach Sean Payton give the 'riders up' call at the Kentucky Derby
---
VIDEO: Pre-Derby 'walk-over' with Mo Tom
---
Mshawish, an ace pinhooker and a breeze-up sale on the crest of a wave
---
Jock Watch/international: Aussie champ Damien Oliver stood down for 29 days over failed breath test
---
Trainer Watch: Navarro's big Derby Day
---
Hovdey: Beholder has unfinished business
---
UPI: Weekend stakes recaps
---
Charles Town resurfacing placed on hold by weather
---
Laurel handle numbers up
---
A year after American Pharoah, U.S. horse racing faces uneasy future
---
TV: Derby coverage averages 15 Million viewers
---
'Scratched' horse wins race at Parx/A>

---
>>> Nyquist scores in G1 $2muil Ky Derby
>>> Second-highest Derby attendance, Handle
>>> Ky Derby post-race quotes/jockeys
>>> Ky Derby post-race quotes/trainers
>>> VIDEO: Quick, heavy rainstorm hits Churchill Downs an hour prior to the Derby
---
Sat results: Paulassilverlining delivers in G3 $150K Vagrancy
Sat results: Unbeaten Lightstream takes $100K Soaring Softly

---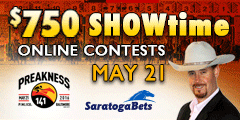 ---
---
Sat results: Jet Setting shocks Minding to win G1 1000 Irish Guineas
Irish 2000 Guineas hero Awtaad likely to sidestep Derby and head to St James's Palace Stakes at Royal Ascot
---
MISCELLANEOUS INDEX:
Where we put things that don't fit into any of the other index categories
---
Track visit/reviews
---
THE FANS SPEAK:
Where we occasionally search the web to explore various discussions and topics
---
OPINION:
equidaily.com's occasional thoughts on various topics regarding the horse racing game

---
equidaily.com's Coast-to-coast
---
Saratoga's Best Bets
---
Click here to e-mail any questions, comments, or suggestions to equidaily.com
---
AQUEDUCT, Jamaica, NY
ARAPAHOE PARK, Aurora, CO
ARLINGTON PARK, Arlington Heights, IL
ASSINIBOIA DOWNS, Winnipeg, Manitoba
BELMONT, Elmont, NY
BELTERRA PARK, Cincinnati, OH
BEULAH PARK, Grove City, OH
CALDER, Miami, FL
CALIFORNIA FAIRS, CA
CANTERBURY PARK, Shakopee, MN
CHARLES TOWN, Charles Town, WV
CHURCHILL DOWNS, Louisville, KY
COLONIAL DOWNS, New Kent, VA
DELAWARE PARK, Wilmington, DE
DEL MAR, Del Mar, CA
DELTA DOWNS, Vinton, LA
DOWNS AT ALBUQUERQUE, Albuquerque, NM
ELLIS PARK, Henderson, KY
EMERALD DOWNS, Auburn, WA
EVANGELINE DOWNS, Opelousas, LA
FAIR GROUNDS, New Orleans, LA
FAIR MEADOWS, Tulsa, OK
FAIRMOUNT PARK, Collinsville, IL
FAIRPLEX, Pomona, CA
FINGER LAKES, Farmington, NY
FORT ERIE, Fort Erie, Ontario
GOLDEN GATE, Albany, CA
GREAT LAKES DOWNS, Muskegon, MI
GULFSTREAM PARK, Hallandale, FL
HASTINGS PARK, Vancouver, BC
HIALEAH PARK, Hialeah, FL
HAWTHORNE RACE COURSE, Cicero, IL
HOLLYWOOD PARK, Inglewood, CA
HOOSIER PARK, Anderson, IN
INDIANA DOWNS, Shelbyville, IN
KEENELAND, Lexington, KY
KENTUCKY DOWNS, Franklin, KY
LAUREL PARK, Laurel, MD
LONE STAR PARK, Grand Prairie, TX
LOUISIANA DOWNS, Bossier City, LA
Los Alamitos, Los Alamitos, CA
MAHONING VALLEY, Youngstown, OH
MARQUIS DOWNS, Saskatoon, Saskatchewan
MEADOWLANDS, E Rutherford, NJ
MONMOUTH PARK, Oceanport, NJ
MOUNTAINEER, Chester, WV
NORTHLANDS PARK, Edmonton, Alberta
OAKLAWN PARK, Hot Springs, AR
PENN NATIONAL, Grantville, PA
PARX, Bensalem, PA
PIMLICO, Baltimore, MD
PINNACLE RACE COURSE, New Boston, MI
PORTLAND MEADOWS, Portland, OR
PRAIRIE MEADOWS, Des Moines, IA
PRESQUE ISLE DOWNS, Erie, PA
REMINGTON PARK, Oklahoma City, OK
RETAMA PARK, San Antonio, TX
RIVER DOWNS, Cincinnati, OH
ROCKINGHAM PARK, Salem, NH
RUIDOSO DOWNS, Ruidoso Downs, NM
SAM HOUSTON, Houston, TX
SANTA ANITA, Arcadia, CA
SARATOGA, Saratoga Springs, NY
STAMPEDE PARK, Calgary, Alberta
SUFFOLK DOWNS, Boston, MA
SUNLAND PARK, Sunland Park, NM
SUNRAY PARK, Farmington, NM
TAMPA BAY DOWNS, Tampa, FL
THISTLEDOWN, Cleveland, OH
TURF PARADISE, Phoenix, AZ
TURFWAY PARK, Florence, KY
WILL ROGERS DOWNS, Claremore, Oklahoma
WOODBINE, Rexdale, Ontario
WOODLANDS, Kansas City, KS
YAVAPAI DOWNS, Prescott Valley, AZ
ZIA PARK, Hobbs, NM

---


Note: Pages on this site are labelled with the equidaily.com logo. Some links lead to pages at other sites. equidaily.com is responsible only for the pages on this site. equidaily.com assumes no responsibility for errors or omissions. Always check with official sources to verify info.

---
Copyright 2015 equidaily.com

---