Sun preview: $116K P6 carryover
Sat results: Mischief Clem upsets $250K Cal Cup Derby

---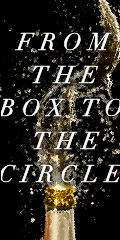 ---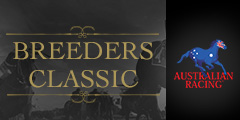 ---
Oz: Champion trainer Peter Moody has been called to front a Racing NSW inquiry after another of his horses failed a drug test
Sun preview: Veterans out to prove a point in HK G1 Stewards' Cup
Godolphin happy with Blue Diamond Preview duo
Sat preview: It Is Written ready to take on Dissident in G2 Australia Stakes at Moonee Valley
Oz: Vets support racing's new rule on Cobalt

---
Current forecasts for N American tracks
---
Racetrack abbreviation codes
---
[AUS] FOXSPORTS.AU
[AUS] RACING AND SPORTS
[AUS] SMH.COM.AU
[AUS/NZ] THOROUGHBRED NEWS
[AUS] VIRTUAL FORM GUIDE
[ASIA] S CHINA MORNING POST
BALTIMORE SUN
BLOOD HORSE
CBS.SPORTSLINE
CHICAGO SUN-TIMES
DAILY RACING FORM
ESPN
FOX SPORTS
FRANCE GALOP
[JAPAN] HORSERACING IN JAPAN
KENTUCKY.COM
LA TIMES
LOUISVILLE COURIER JOURNAL
MIAMI HERALD
MSNBC
NY DAILY NEWS
NY POST
NY TIMES
THE RACING BIZ [Mid-Atlantic region]
SEATTLE TIMES
SIGNONSANDIEGO.COM
SINGAPORE TURF CLUB
SOUTH AFRICAN HORSERACING
THISISHORSERACING.COM
ThoroughbredRacing.com
TIMES PICAYUNE
[U.K.] BBC
[U.K.] GUARDIAN
[U.K.] RACING POST
[U.K.] SPORTINGLIFE.COM
[U.K.] TELEGRAPH
[U.K.] TIMES
USA TODAY
WASHINGTON POST

Just A Way honoured as the 2014 Longines World's Best Racehorse
---
KHRC: PETA failed to cooperate during investigation
---
Famed announcer Tom Durkin busy in retirement
---
Bloodhorse: In Durkin's own words [with AUDIO]
---
Timeform ratings show some races in North America are not pulling their weight
---
HOTY Calif Chrome works at LosAl on Mon morn
---
3YO Watch: Far Right enters Derby picture with Smarty Jones win
---
Colonial Downs looks to legislature to offer solution to current problems... "It's unfortunate that we're in the situation we're in right now, but we'd like to make the right improvements to the system so that this is behind us."
---
NTRA safety chief Ziegler namd to new Churchill Downs dir of racing post
---
Oaklawn's invention, Instant Racing, runs into legal trouble in Idaho
---
Demand growing for incentive schemes that help reduce risk for breeders
---
Seabiscuit saddle sale tops $104K at auction
---
My favorite racehorse: Deep Impact
---
NY Times/Drape: "The Big A, as it is known, has never been one of the nation's most glamorous tracks, but lately it has been among its deadliest."
---
Pedulla: dissatisfying season that led industry members to question whether racing's highest honor might be deteriorating into a popularity contest influenced by social media
---
Wildcat Red has leg injury, will be sidelined
---
Stories from Cot Campbell: How not to buy a horse at auction
---
VIDEO: Eclipse Award clips from HRTV
---
Jockeys' Guild Assembly

>>> Track executives work to promote jockeys
>>> Advances in jockey safety hailed
>>> Helmet tests revealing for Jockeys' Guild

---
---
>>> Sam Houston Park suspends jockey Chapa over suspicion of buzzer use
>>> Texas jockey ban reignites PETA Ky beefs
---
>>> California Chrome captures Horse of the Year title
>>> Eclipse category winners and vote totals
>>> Full voting breakdown
---
>>> Kentucky commission exonerates Asmussen
---
Comment: World racing deserves its own Oscars, similar to America's Eclipse Awards
---
TV: The Jockey Club Tour on FOX Sports 1 kicks off with Donn Hcp, San Antonio on Feb 7
---
California Chrome's Kentucky Derby win named NTRA Moment of the Year
---
>>> Innovation! Aussies experiment with 8-20 concept... Eight races with only 20 minute intervals between each... "The feedback we have received and the official attendance figures demonstrate that the trial was successful."
---
Tom Durkin to join West Point Thoroughbreds
---
West: In search of a Derby hero... Triple Crown contenders will rise and fall over the next few months
---
The man behind Old Friends: For former horseplayer Michael Blowen, a risky venture becomes a life's reward
---
From the "It's the Same All Over" Dept: Aussie comment, "For all that racing provides, politicians really don't care."
---
Record low for fatal thoroughbred breakdowns in Kentucky
---
Rich pickings go begging on the Dubai dirt as US trainer is forced to stay home... "The owners called me one by one to say they didn't want to pull the trigger."
---
Atlantic City Race Course taking last bets... Ends run on Friday
---
Take Charge Brandi to get early 2015 start ... Lukas eyes Martha Washington Jan 31 at Oaklawn
---
Plonk: "I firmly believe that 90 percent of what you read and hear from trainers is bunk."
---
Delaware Park to race 81 days in 2015
---
Keeneland January: Sale concludes four-day run with declines
---
Gulfstream poker events raises $8,500 for jockeys' fund
---
California expands 'Ship and Win' bonus program
---
Racing and the law: Who gets to collect their debt first in an equine lien situation?
---
Often copied, rarely equaled: Magic Millions... Magic Millions concluded trading last week with the largest-grossing yearling sale conducted in the Southern Hemisphere in almost seven years
---
Oz: Horse racing's insiders knew the industry was rife with cobalt
---
CHRB approves Galway Downs as training site
---
New Parx racing secretary Sam Elliott sees 'untapped potential'
---
Maryland's Bonita Farm on the market
---
Ride On Curlin returns a winner at Oaklawn
---
Haskin: Racing's winter of discontent
---
Mitchell: Awakening to aftercare
---
Perl new asst racing secretary at NYRA
---
AUDIO: ESPN's In the Gate... Charles Town Races steward Larry Dupuy on transparency & rules uniformity amongst states
---
Livingston PHOTO GALLERY: 2014 In Memoriam
---
>>> Plonk: Jan 16 edition of Countdown to the Crown
---
Heavy rain floods temporary stalls at Calder
---
Latest Vegas Derby Future oods
---
Ky Derby points standings
---
History on Chrome's side in 3YO Eclipse race, but will it be enough?
---
Atlantic City Race Course shutting down
---
Memories of Atlantic City Racecourse: From 1995 Mid-Atlantic Thoroughbred - profiling the track on its 50th anniversary
---
Monmouth group interested in Atlantic City
---
Mid-Atlantic Thoroughbred editorial: A to-do list for region's racing industry
---
Ritvo looking to dig Maryland racing out of hole
---
Sal Sinatra/Maryland: Big events, Bowie are future keys
---
Australia: Champion trainer Peter Moody [Black Caviar] faces a possible three-year ban for running a doped galloper in a G1 race during the spring carnival
---
Horses with two more Aussie trainers test positive for cobalt
---
AUS: RV chairman of stewards' comments on cobalt positive samples
---
Mace: Summer with Tom... "No one could be more (dare I say) 'responsible' for my becoming a full-timer in the world of Thoroughbred racing (New York racing that is) than Tom Durkin."
---
Why do Florida track owners want to stop greyhound racing?
---
Trainer Watch: Chad Brown... Deliberate and dedicated, 'Team Brown' focused on the future
---
W Va: Cuts in subsidies to horse racing considered to address budget gap
---
Kentucky regulators to get Asmussen report Thursday
---
Finley: Asmussen should be on HOF ballot
---
Ky: Candidate opens race for governor by backing expanded gambling
---
Giauque/Ocala Star Banner: Shared Belief not a HOTY finalist??? "It is a miscarriage of justice that he is not among the three horses nominated."
---
Calculator connections plan next move for Sham winner
---
"It's a grassroots revolution to get more women involved in the business of racing."... $500K on the line for the first four all female owned horses to cross the line in Australia's Magic Millions — no matter where they finished overall
---
More Del Mar stabling has obstacles
---
Racing regulatory veterinarians support compounding rules
---
National Handicapping Championship tour winner crowned
---
Lea storms into Dubai World Cup contention
---
Australian racehorse wastage evaluated... Goal to keep more horses racing
---
International: Pair earn Breeders' Cup berths in South Africa
---
New racetrack in UK... Dormant Great Leighs reincarnated as Chelmsford City
---
Chicago harness track bets it can beat multimillion-dollar judgment
---
Jock Ruby Walsh questions BHA whip rules
---
3YO Watch: Ami's Flatter making positive strides
---
Jock Watch: Van Dyke ready to make jump to journeyman
---
Bayern bothered by quarter crack
---
Fasig-Tipton adjusts dates for Midlantic, Saratoga fall sales
---
Old Friends/NY mourns the passing of Thunder Rumble
---
Retired Racehorse Project, CANTER to team up
---
AUDIO: ESPN's In the Gate... Top 10 races of 2014, as voted by our listeners and our expert panel
---
VIDEO: The Stars Return: 'Movie trailer' for the 2015 racing season
---
>>> SoCal-based racehorse defies odds after born blind, deaf
>>> Tough Sunday race record
---
---
>>> NYRA provides update on equine safety reforms, implementation at Aqueduct
>>> NYTHA statement
>>> NYRA's Equine Safety Review Board... Can the Equine Safety Review Board play a significant role in addressing the recent surge in fatalities at Aqueduct? Perhaps not
---
---
Keeneland Jan Sale: Jan 12-15 Keeneland website
>>> Mare named Up brings $2.2 mil on Tues
>>> Restrained bidding marks start of Keeneland sale on Mon

---
---
JOCK WATCH:
---
Sat: Racing canceled due to weather

---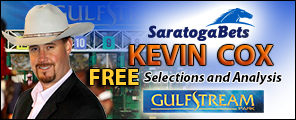 ---
---
Leading 'chasers back on track after major health issues
Three stallions have put French bloodstock on a whole new trajectory

---
MISCELLANEOUS INDEX:
Where we put things that don't fit into any of the other index categories
---
Track visit/reviews
---
THE FANS SPEAK:
Where we occasionally search the web to explore various discussions and topics
---
OPINION:
equidaily.com's occasional thoughts on various topics regarding the horse racing game

---
equidaily.com's Coast-to-coast
---
Saratoga's Best Bets
---
Click here to e-mail any questions, comments, or suggestions to equidaily.com
---
AQUEDUCT, Jamaica, NY
ARAPAHOE PARK, Aurora, CO
ARLINGTON PARK, Arlington Heights, IL
ASSINIBOIA DOWNS, Winnipeg, Manitoba
BELMONT, Elmont, NY
BEULAH PARK, Grove City, OH
CALDER, Miami, FL
CALIFORNIA FAIRS, CA
CANTERBURY PARK, Shakopee, MN
CHARLES TOWN, Charles Town, WV
CHURCHILL DOWNS, Louisville, KY
COLONIAL DOWNS, New Kent, VA
DELAWARE PARK, Wilmington, DE
DEL MAR, Del Mar, CA
DELTA DOWNS, Vinton, LA
DOWNS AT ALBUQUERQUE, Albuquerque, NM
ELLIS PARK, Henderson, KY
EMERALD DOWNS, Auburn, WA
EVANGELINE DOWNS, Opelousas, LA
FAIR GROUNDS, New Orleans, LA
FAIR MEADOWS, Tulsa, OK
FAIRMOUNT PARK, Collinsville, IL
FAIRPLEX, Pomona, CA
FINGER LAKES, Farmington, NY
FORT ERIE, Fort Erie, Ontario
GOLDEN GATE, Albany, CA
GREAT LAKES DOWNS, Muskegon, MI
GULFSTREAM PARK, Hallandale, FL
HASTINGS PARK, Vancouver, BC
HIALEAH PARK, Hialeah, FL
HAWTHORNE RACE COURSE, Cicero, IL
HOLLYWOOD PARK, Inglewood, CA
HOOSIER PARK, Anderson, IN
INDIANA DOWNS, Shelbyville, IN
KEENELAND, Lexington, KY
KENTUCKY DOWNS, Franklin, KY
LAUREL PARK, Laurel, MD
LONE STAR PARK, Grand Prairie, TX
LOUISIANA DOWNS, Bossier City, LA
Los Alamitos, Los Alamitos, CA
MARQUIS DOWNS, Saskatoon, Saskatchewan
MEADOWLANDS, E Rutherford, NJ
MONMOUTH PARK, Oceanport, NJ
MOUNTAINEER, Chester, WV
NORTHLANDS PARK, Edmonton, Alberta
OAKLAWN PARK, Hot Springs, AR
PENN NATIONAL, Grantville, PA
PARX, Bensalem, PA
PIMLICO, Baltimore, MD
PINNACLE RACE COURSE, New Boston, MI
PORTLAND MEADOWS, Portland, OR
PRAIRIE MEADOWS, Des Moines, IA
PRESQUE ISLE DOWNS, Erie, PA
REMINGTON PARK, Oklahoma City, OK
RETAMA PARK, San Antonio, TX
RIVER DOWNS, Cincinnati, OH
ROCKINGHAM PARK, Salem, NH
RUIDOSO DOWNS, Ruidoso Downs, NM
SAM HOUSTON, Houston, TX
SANTA ANITA, Arcadia, CA
SARATOGA, Saratoga Springs, NY
STAMPEDE PARK, Calgary, Alberta
SUFFOLK DOWNS, Boston, MA
SUNLAND PARK, Sunland Park, NM
SUNRAY PARK, Farmington, NM
TAMPA BAY DOWNS, Tampa, FL
THISTLEDOWN, Cleveland, OH
TURF PARADISE, Phoenix, AZ
TURFWAY PARK, Florence, KY
WILL ROGERS DOWNS, Claremore, Oklahoma
WOODBINE, Rexdale, Ontario
WOODLANDS, Kansas City, KS
YAVAPAI DOWNS, Prescott Valley, AZ
ZIA PARK, Hobbs, NM

---


Note: Pages on this site are labelled with the equidaily.com logo. Some links lead to pages at other sites. equidaily.com is responsible only for the pages on this site. equidaily.com assumes no responsibility for errors or omissions. Always check with official sources to verify info.

---
Copyright 2015 equidaily.com

---